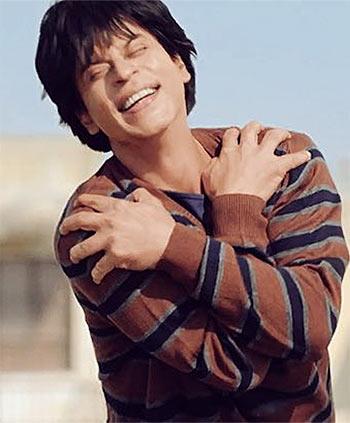 Do you think these actors *look* young when they play younger characters?
One of Shah Rukh Khan's characters in Fan is a young boy, aged 24.
The actor has done a good job with prosthetic to make himself look younger, and not be a spitting image of himself.
Do you think he nailed the look? VOTE below!
Do scroll down for other actors who have played much younger roles in the movies, and do tell us if they got the look right.

Amitabh Bachchan, Paa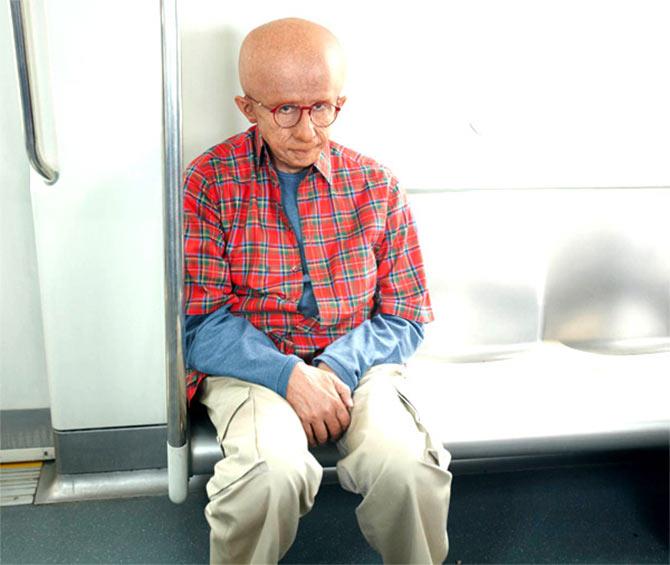 IMAGE: Amitabh Bachchan in Paa
Well in his 60s at the time, Amitabh Bachchan was game to play a 12 year old boy in Paa.
He was brilliant in the film and brought Auro to life quite naturally, with much help from director R Balki.

Akshay Kumar and Suniel Shetty, Jaani Dushman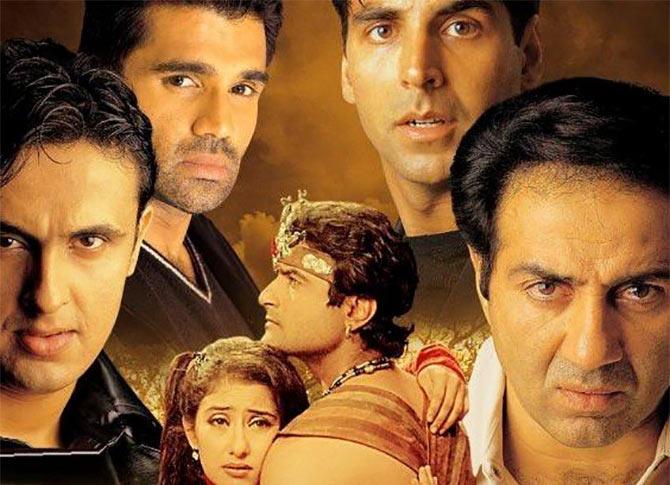 IMAGE: Sonu Nigam, Suniel Shetty, Akshay Kumar, Sunny Deol, Manisha Koirala and Armaan Kohli in Jaani Dushman
Akshay Kumar was in his 30s and Suniel Shetty was touching 40 when they played college students in Raj Kumar Kohli's Jaani Dushman.
Unlike Amitabh Bachchan, they looked way older for the part. Even though the film starred big stars, it was a damp squib at the box office.

Aamir Khan, 3 Idiots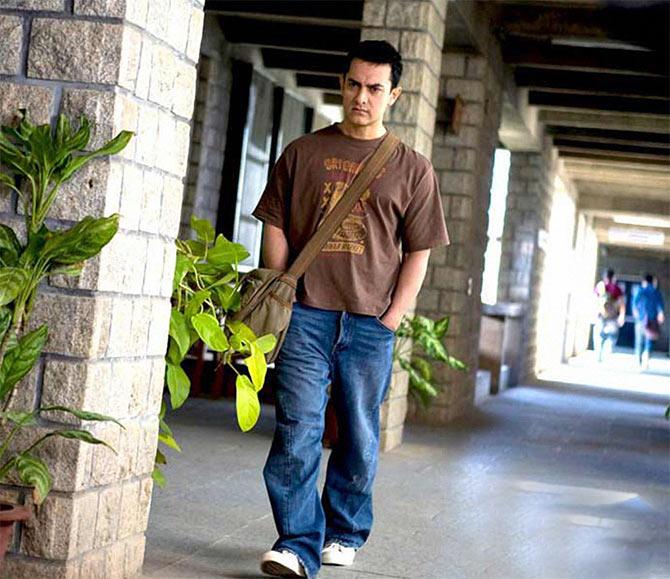 IMAGE: Aamir Khan in 3 Idiots
Aamir Khan dared to play a college student in 3 Idiots when he was 44 years old. And the actor, known to be a perfectionist, made sure he looked young enough for the role.
The film turned out to be a Rajkumar Hirani classic, and Aamir walked away with a blockbuster.



Salman Khan, Tere Naam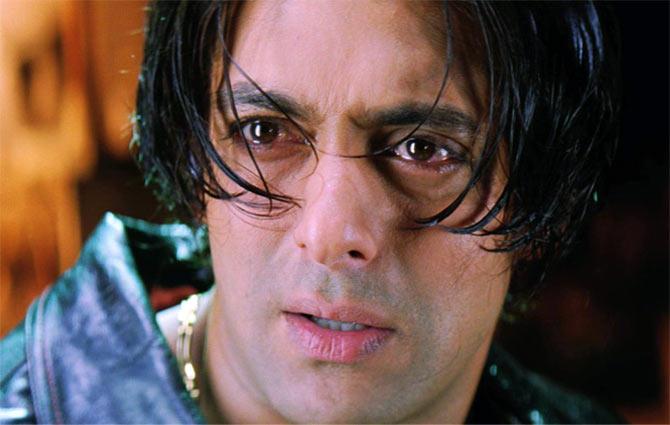 IMAGE: Salman Khan in Tere Naam
Salman Khan also scored a blockbuster in Tere Naam, where he played a college student. He was approaching 40 at the time.
The actor was quite convincing in the role, and his hairstyle became an instant rage.



Pulkit Samrat, Fukrey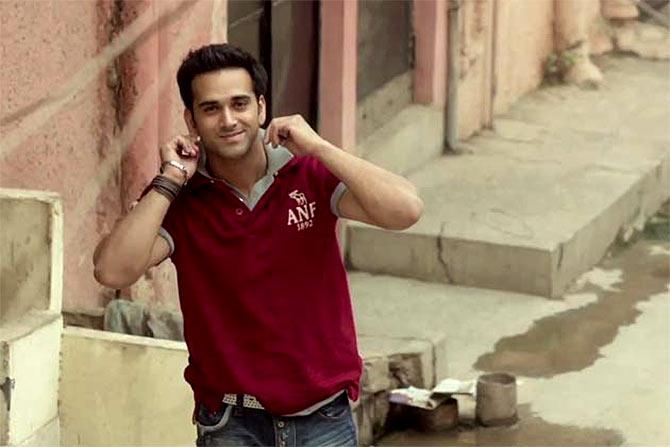 IMAGE: Pulkit Samrat in Fukrey
Pulkit Samrat played a character almost half his age in Fukrey.
His boyish looks managed to do the trick in this film on school students, and the actor did the rest with his confidence.

Dhanush and Sonam Kapoor, Raanjhanaa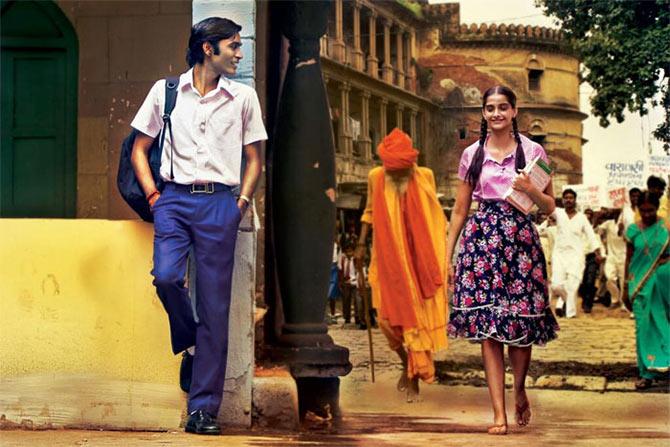 IMAGE: Dhanush and Sonam Kapoor in Raanjhanaa
While Dhanush is 32, Sonam Kapoor is 30 years old.
Three years ago, they played school students in Raanjhanaa. Director Aanand L Rai totally transformed them, and they played the parts with ease, without any awkwardness.
You probably fell in love with them when you watched the film!



Farhan Akhtar, Bhaag Milkha Bhaag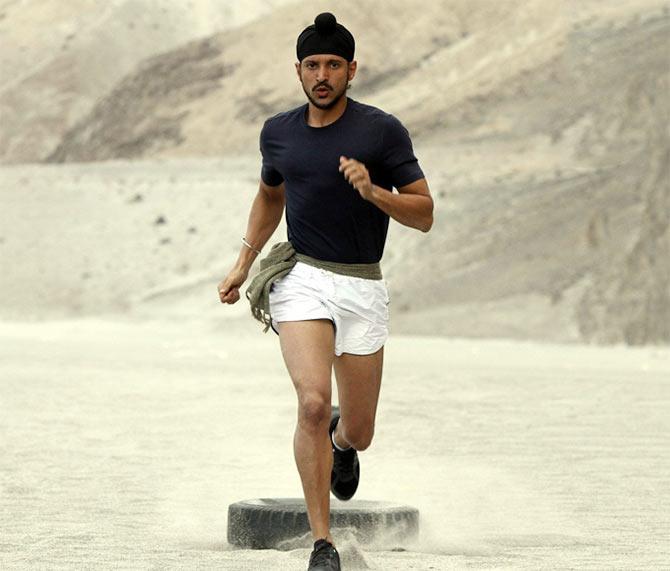 IMAGE: Farhan Akhtar in Bhaag Milkha Bhaag
Farhan Akhtar took up the challenge to play iconic athlete Milkha Singh in Bhaag Milkha Bhaag, right from his younger days to the time he became a champion. Farhan was 39 years old when he played the role.



Sushant Singh Rajput, MS Dhoni: The Untold Story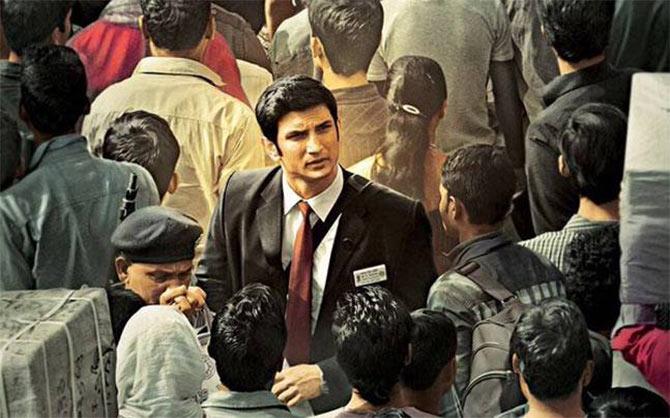 IMAGE: Sushant Singh Rajput in MS Dhoni - The Untold Story
Sushant Singh Rajput, 30, will play a 20-year-old Mahendra Singh Dhoni in the biopic on he Indian cricket skipper.
It would be interesting to see if he will be seen in an even younger version since the film will reportedly cover Dhoni's childhood as well.



Ranbir Kapoor, Jagga Jasoos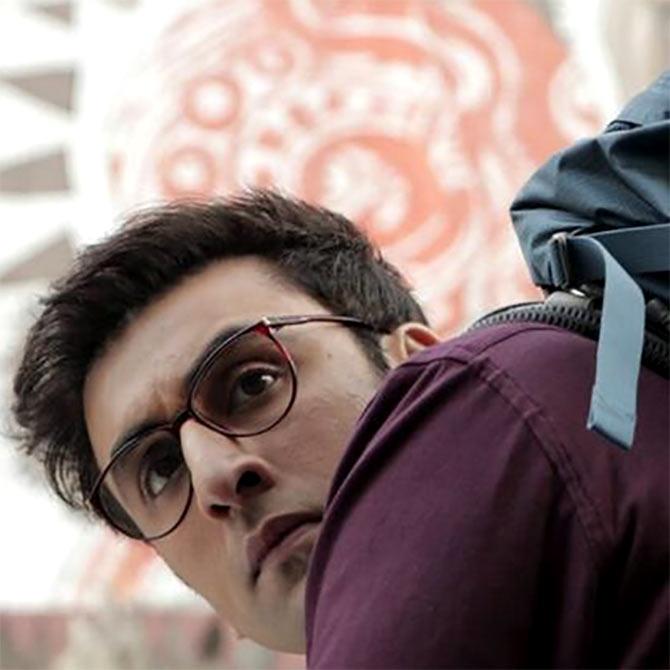 IMAGE: Ranbir Kapoor in Jagga Jasoos
In his next film Jagga Jasoos where he plays a detective, Ranbir Kapoor, 33, will play a boy half his age. Nothing much is known about the film yet, but the actor may just look the part.