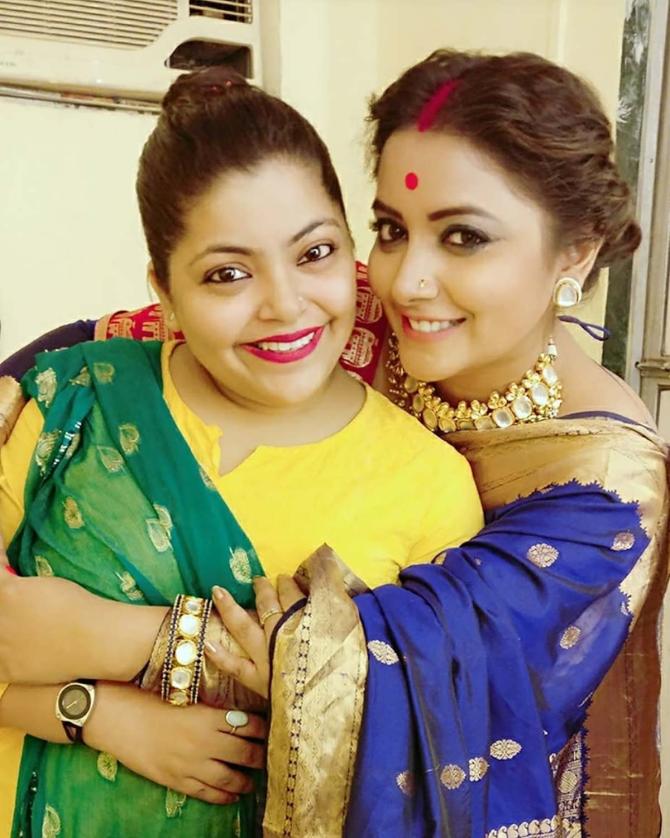 Actress Divya Bhatnagar, known for her performances in television shows like Yeh Rishta Kya Kehlata Hai, Vish, Udaan, Sanskaar and Tera Yaar Hoon Main succumbed to COVID-19 on Monday, December 7. The actress had been in hospital since November after contracting the virus.
Her good friend and Yeh Rishta Kya Kehlata Hai co-actor Nidhi Uttam still cannot get over it, and gets emotional when she talks about Divya.
"This was no age for her to go," she tells Rediff.com Senior Contributor Rajul Hegde.
I was Divya's first friend in Mumbai.
We started our Yeh Rishta journey together as Nandini and Gulabo on the same day.
She quit the show after five or six years, but we continued to remain friends.
I have known her for the last 11 years.
She had a cute baby face, was full of life and had an amazing soul.
Her laughter was infectious; she would laugh like a child.
We used to go to her place for Ganesha Chaturthi every year.
One of the nicest things about her was that her door was always open to struggling actors. She would accommodate them in her home without any hesitation.
Though she had a small house, she had a big heart.
Each time we went to her house, we would find a new actor in her house.
On her first birthday after marriage, when I called her at midnight to wish her from my hometown Kanpur, she was all alone.
That is when she told me about the mental trauma she was going through.
By then, her husband had already abandoned her.
She was crying like a baby on her birthday, I can't even imagine how bad it must have been for her.
Divya had a love marriage and she got married against the will of her family.
If he really loved his wife like he is claiming, he should have been at her funeral.
Divya's mother and brother are in a very bad state.
Every five minutes, her mother was fainting.
I was trying to console her.
Apart from COVID-19, she was going through emotional stress.
She couldn't fight back because she was emotionally drained out and her immunity was low.
She was ambitious and doing well on the work front.
This was no age for her to go.
God always needs good people like her.
Rest in peace, my friend.