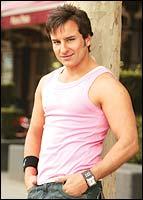 When he made his debut with Parampara in 1993, Saif Ali Khan was a strongly accented, scrawny 23 year old, newly married to actress Amrita Singh.

Today, he is a strongly accented 35 year old showing off serious sinew in his Salaaam Namaste avtaar.

These are not the only changes that have rocked this star, who may be at the peak of his career today but whose life and career in the last 12 years has alternated between giddy highs and abysmal lows.

So much so, Saif has become a source of inspiration today for young actors like Dino Morea, who are facing a seesawing career. Dino is hopeful for his own future after seeing Saif's much-delayed tryst with success. He says, "I think Saif has always been great -- he can act, he is a good-looking guy -- but it's just that people woke up to his potential rather late. Fortunately for him, Saif has proved that success is all about timing. One big banner like Yash Raj Films signs you and everyone just follows."

Success is no less sweet for Saif today, though it may have bloomed late. The actor got his first hit as a solo hero, Hum Tum, after working hard for 11 years; but has quickly followed it up with a National Award for the same film and delivered a one-two punch by delivering another success subsequently -- Parineeta.

So, there's no time like the present to track down the pendulum swings of fortune that have led to Saif's current hour of glory.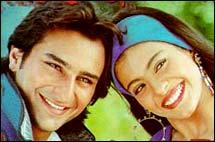 The Ole Ole Years (1993-1994)
Saif had been summarily thrown out of his original debut film, Rahul Rawail's Bekhudi (Kamal Sadanah, who took his place in the film, happily went on to become a close pal of the Chhote Nawab), but the Chhote Nawab landed on his feet.
After a nailbiting few weeks during which Amrita proved to be his anchor, Saif landed Yash Chopra's prestigious Parampara. The film tanked but Aashiq Awara, released in the same month, proved to be an unexpected saviour.

With Yeh Dillagi, Saif's career underwent as dramatic a makeover as the heroine's looks did in the film. The budding star's stock skyrocketed after this Yash Chopra production (the Ole Ole song particularly proved crowd-pleasing) and Main Khiladi Tu Anari. His ability to set lines crackling was appreciated and that year there was (premature in hindsight) talk of a 'takeover bid' by young stars like Akshay Kumar, Sunil Shetty and Saif.

The Failure Tag (1995-1998)
Soon, however, it looked as though Saif wouldn't get his 16th minute of fame as he was bushwhacked by a string of flops that lasted almost half a decade. He had 10 box-office disappointments in a row and his ratings plummeted. Even films he had relied on strongly, like the Sanjay Gupta directed Hamesha, proved to be washouts and Saif ran the serious risk of being dislodged from public memory. 

Baby Steps To Recovery (1999-2003)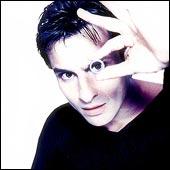 I remember speaking to Saif in 1999 and he had said his motto was carpe diem (seize the day). And he did grab the bull by the horns when Sooraj Barjatya, fresh from the monster hit Hum Aapke Hai Koun...!, cast him in Hum Saath Saath Hai.

Saif began building a reputation for playing the second hero, especially the comic foil in films like Kachhe Dhaage. But his unsteady position was evident when he was forced to play second fiddle even to juniors like Hrithik Roshan and Madhavan in Na Tum Jaano Na Hum and Rehna Hai Tere Dil Mein.

But those were films he had signed before his true turning point -- Dil Chahta Hai -- where Saif's well-burnished comic timing and ability to chuckle at himself won several laughs and new fans. Kal Ho Naa Ho further established that Saif could hold his own even in a comic jugalbandi with box-office favourite Shah Rukh Khan.   

Saif Ali Khan's career graph

Star

Year

Film

Co-star

*

1993

Parampara

Neelam

**

1993

Aashiq Awara

Mamta Kulkarni

*

1993

Pehchaan

Shilpa Shirodkar

*

1994

Imtihaan

Raveena Tandon

***

1994

Yeh Dillagi

Kajol

**

1994

Main Khiladi Tu Anari

Rageshwari

*
1994
Yaar Gaddar
Sneha
*
1994
Aao Pyar Karein
Shilpa Shetty
*
1995
Suraksha
Monica Bedi
*
1996
Ek Tha Raja
Pratibha
*
1996
Bombay Ka Chor
Vaishnavi
*
1996
Tu Chor Main Sipahi
Pratibha
*
1996
Dil Tera Deewana
Twinkle
*
1997
Hamesha
Kajol
*
1997
Udaan
Madhu
*
1998
Keemat
Sonali Bendre
*
1998
Humse Badhkar Kaun
Sonali Bendre
**
1999
Kachche Dhaage
Namrata Shirodkar
*
1999
Arzoo
Madhuri Dixit
*
1999
Yeh Hai Mumbai Meri Jaan
Twinkle
***
1999
Hum Saath Saath Hai
Karisma Kapoor
**
1999
Kya Kehna
Preity Zinta
*
2001
Love Ke Liye Kuch Bhi Karega
Sonali Bendre
**
2001
Dil Chahta Hai
Sonali Kulkarni
*
2001
Rehna Hai Tere Dil Mein
Dia Mirza
*
2002
Na Tum Jaano Na Hum
Esha Deol
*
2003
Darna Mana Hai
Boman Irani
***
2003
Kal Ho Naa Ho
Preity Zinta
*
2003
LoC-Kargil
Kareena Kapoor
*
2004
Ek Hasina Thi
Urmila Matondkar
***
2004
Hum Tum
Rani Mukerji
***
2005
Parineeta
Vidya Balan
*** = Hit
** = Semi-hit
* = Average to flop
Solo Hero Success Finally (2004-2005)
For 11 years after he started out in films, Saif had to consistently hear the accusation that he didn't sell on his own; that he needed other heroes to make his films successful. Vindication finally came with Hum Tum. The glossily-shot, romantic comedy exploited Saif's flair with his trademark comic glance as well as for emotional transactions.

Madhavan, who co-starred with Saif in Rehna Hai Tere Dil Mein, puts it succinctly: "Saif has become the aspirational icon of today's educated youth. He has definitely come a long way."

Saif's winning the National Award for Hum Tum may have been a case of overcompensation but he proved he was a fine actor once again with Parineeta, locating the poignance within his character's bull-headedness.

Saif played his cards right -- even after Hum Tum he didn't embark on a directionless, film-signing spree. He waited for the right roles and actively lobbied for Parineeta which was being made by the quality conscious Vinod Chopra.

Producer Vinod Chopra says, "Saif Ali Khan cast himself in my film, Parineeta, I didn't do so. Saif was initially considered for the role of Girish, eventually played by Sanjay Dutt, but he was keen to play Shekhar. After watching him in the film I am convinced that Saif's belief in himself has paid off."

For Parineeta, Saif had the full support of his director Pradeep Sarkar who reveals, "I knew Saif was my Shekhar when he walked into the room. Shekhar is human, his good and bad self are constantly in conflict with each other -- and I heard Saif says words to that effect about humanity at large in a radio interview. Saif is a volcano as an artiste. He works himself up for a scene -- if the scene demands anger, he behaves angrily with everyone on the sets so that he can get into the skin of the character."

Parineeta was a multiplex success and entrenched Saif in the Vinod Chopra banner. The back-to-back success of Hum Tum and Parineeta has ensured a fantastic opening for Saif's new Preity Zinta co-starrer, Yash Chopra's Salaam Namaste.

In the role of Nick, a man who would rather live-in than marry, Saif redefines the conventional Hindi film lover. His graph -- from a commitment-phobic, self-centred, neatness-obsessed egoist to a caring, compassionate husband and father -- exploits his capacity for both restrained acting and urbane humour.



Besides the off-the-wall Being Cyrus, the star's only forthcoming film currently is Vinod Chopra's Eklavya.