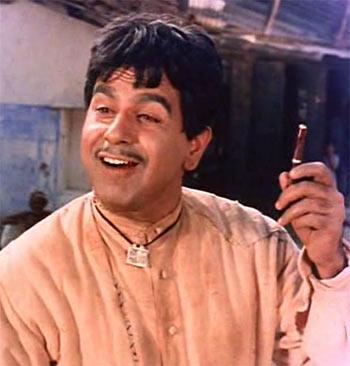 In his long career, Dilip Kumar has given us a wide range of brilliant movies, and each of us have our own favourites.
As we celebrate his 92nd birthday today, we asked members of the film fraternity to list their personal favourites. And here's what they chose:
Saira Banu: Ganga Jumna. It had the perfect script. It's the perfect film in every aspect. His performance was the best in every film and yet he outdid himself in this films.
Lata Mangeshkar: He is my all-time favourite hero, maybe because he's my bade bhaiyya (big brother) for years now. I love all his films but Mughal-e-Azam and Ganga Jumna are my favourites.
Naseeruddin Shah: My favourite Dilip Kumar film is Mughal-e-Azam. It is one of the greatest films made in India. Except for the wig which marred his look, his performance is exceptional for its understated intensity and dignity. His performance in Amar is another favourite.
Raakhee: I had the privilege of working with him in Shakti. There is so much to learn from him. All his performances are masterclasses. But if you insist, my favourites would be Ganga Jumna and Sagina.
Javed Akhtar: Dilip Kumar is to Indian film acting what Panini is to Sanskrit, Newton is to science and Ghalib is to poetry. Choosing a favourite Dilip Kumar film is tough. I like him equally in Ganga-Jumna, Madhumati and Devdas.
Asha Parekh: It's very difficult to pick a favourite. He was so good in all his movies. But I'd say Ganga Jumna. He carried off the rustic look so effectively.
Subhash Ghai: I had the privilege, honour and pleasure of directing India's greatest actor in three films (Saudagar, Karma and Vidhaata). It's hard to pick a favorite but it would have to be Devdas, Ganga Jumna and Mughal-e-Azam.
Amitabh Bachchan: Ganga Jumna.
Ustad Amjad Ali Khan: Ganga Jumna and Mughal-e-Azam.
In the picture: Dilip Kumar in Ganga Jumna