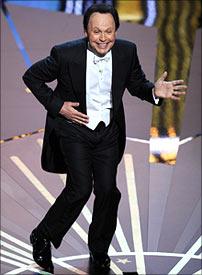 Billy Crystal show us why we love him so much as the host of the 84th Annual Academy awards.

After last year's Anne Hathaway-James Franco fiasco, the funny man brought his loaded arsenal, much to the viewers' delight.

There was a musical opening, a colourful montage featuring Justin Beiber, George Clooney and the delightfully funny Melissa McCarthy, and the easy poise that's usually missing given the pressure of performance on Oscar hosts.

Yet, not everyone enjoyed Crystal's hosting skills.

Twitter espcially saw a wave of hate after some of his controversial remarks, including a seemingly racial statement.

After Octavia Spencer picked up her Best Supporting Actress award for The Help, Crystal said: 'After I saw The Help I just wanted to hug the first black woman I saw, which from Beverly Hills is about a 45 minute drive.'
Well, this just might be Crystal's last year as Oscar host!
What did you think of Billy Crystal's hosting skills this year? Do you think he was funny? Vote now!