'Every opportunity, every disappointment, every rejection, every accolade...'
'Everything has contributed in shaping my character and my choices and who I have become.'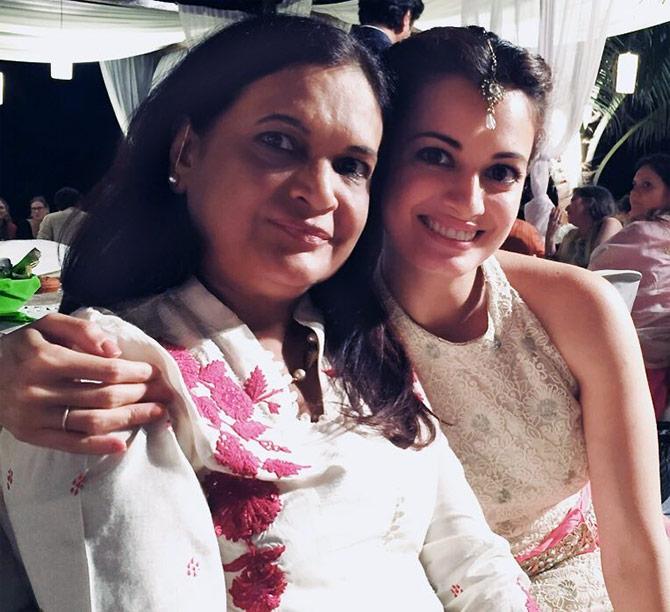 IMAGE: Dia Mirza with her mother Deepa. Photograph: Kind courtesy Dia Mirza/Instagram
Dia Mirza is excited about her role in the Sanjay Dutt biopic, which she spoke to Rediff.com's Patcy N in the first part of a lively telephone interview.
In this, the final segment of the interview, Dia looks back at her career in the movies, and that great adventure called Life.
What made you participate in the Miss India beauty pageant?
While growing up, I saw how finances can play havoc in anybody's life. While we were comfortable, money didn't come easy.
There would be birthdays and other occasions when we couldn't spend like other families.
There was a burning desire, at that young age, to become financially independent and my mother always encouraged that.
Every time I made ridiculous demands, she would look at me and say, 'Money doesn't grow on trees, you have to earn it and value it'.
She did not want to deprive me, but she was clear that she did not want me to take anything for granted.
Also, because I did have aspirations beyond our reach.
I needed to figure out a way to earn it.
I think that was a critical contributor to my desire to become financially independent.
I think about it now and laugh off this fight I had with my mother one day when she denied me these expensive, fancy, boots that I wanted.
I was hanging out with these young girls and their parents were buying them anything they wanted.
So I could not understand why my parents were refusing me.
She said I can't give you that and my ego was so hurt.
So I decided to make my own money by the time I turned 16, have a car by the time I turned 18, and have a house by the time I turned 21.
It was almost like a prophecy because I made it happen.
The funny thing is that with my first salary, I brought things for everybody else but me.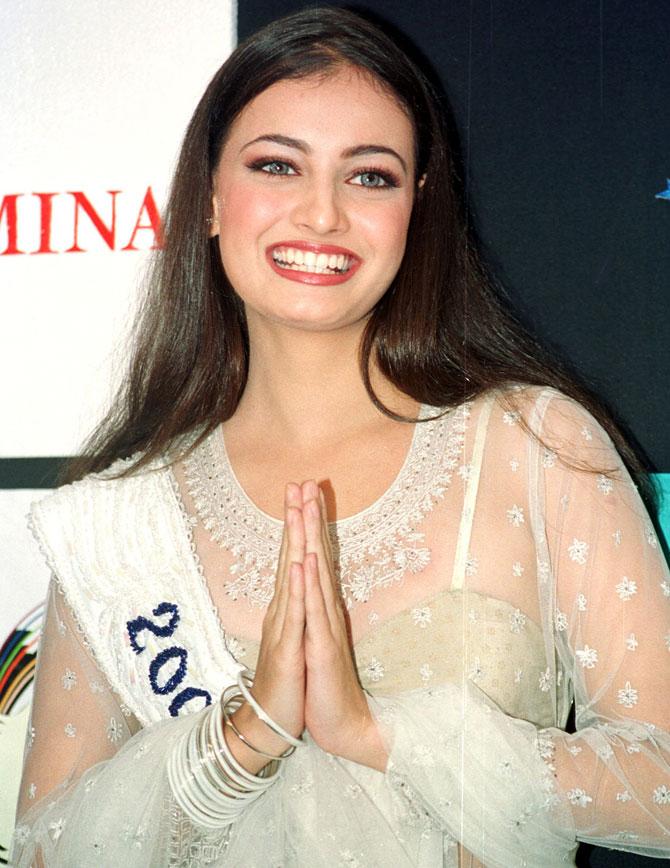 IMAGE: Dia Mirza arrives in Mumbai after winning the Miss Asia Pacific title in 2000. Photograph: Reuters
You became Miss Asia Pacific at 18. How did life change after that?
Honestly, an opportunity presented itself.
The reason why I entered it was because my father said, 'This is the way you will learn and grow. You will get exposure and it will add to the strength of character'.
I was getting a chance to live in another city. My mother was dead against it because she wanted me to go to law school.
I don't think either of them thought I could win.
Also, I was heartbroken at that time, so I was happy for a change of scene.
Everything changed overnight.
It was extraordinary living in Mumbai, navigating my course, understanding how to manage my finances on my own, mapping out my daily expenses...
Nobody took care of my stay and travel. I had to do everything myself, including my clothes. I had to figure out what I was going to wear.
I was 17-and-a-half at the training programme and I turned 18 before the Miss India pageant.
Now, when I see my 18-year-old nieces, who are least bothered about any kind of responsibility and are too busy having fun... At their age, I was running my home, and planning my future!
Are you happy with the way your life has turned so far?
Completely!
I think every opportunity, every disappointment, every rejection, every accolade... everything has contributed in shaping my character and my choices and who I have become.
I think you are always evolving through your life. I am still a work in progress.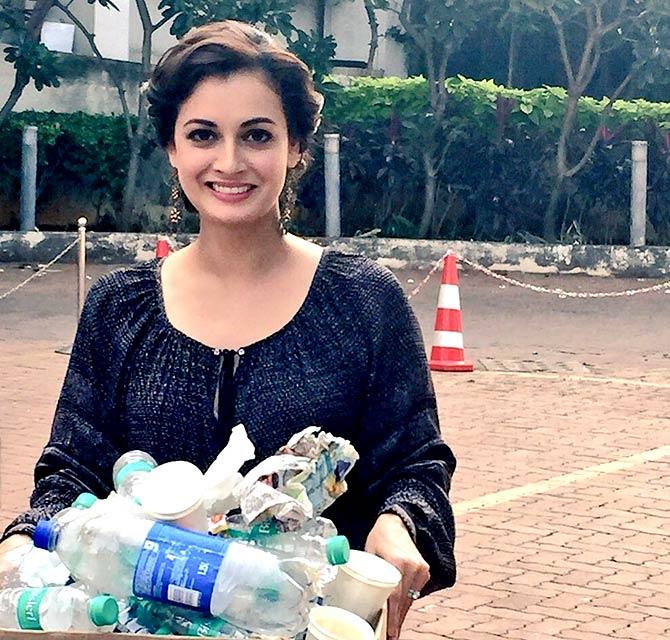 IMAGE: Dia Mirza says no to plastic. Photograph: Kind courtesy Dia Mirza/Instagram
You are now an UN Environment Goodwill Ambassador for India. What is your role exactly?
Essentially, it will be to spread awareness.
My communication skills will be utilised to help implement certain policies and essentially create awareness on areas that we are campaigning for within India.
Three specific areas of focus will be clean air, clean sea and wildlife protection.
The happy coincidence is that these are areas I am already immersed in.
Tips to save the environment
Reduce the use of plastic. There are so many alternatives available now.
Go back to basics. It starts with addressing consumption, with the question, 'Where did this product come from? Where will it go?'
Whether it is refusing to buy bottled water and replacing it with your own water from home, or using glass, ceramic or metal instead of plastic for storage.
Or, replacing basic items like plastic toothbrushes. Bamboo toothbrushes are available now.
Use biodegradable sanitary napkins and diapers. So many young mothers are going back to using cotton cloth diapers, instead of commercial diapers.
Create awareness that plastic is toxic and non-biodegradable. It is contributing severely to environmental pollution.
You are an avid traveller. Which is the cleanest city in India?
In the last one year, I have seen huge changes in some cities. Like Hyderabad.
Then, there are others like Bhopal, Bangalore and Indore. And Daman and Diu.

IMAGE: Dia Mirza celebrates World Environment Day. Photograph: Kind courtesy Dia Mirza/Instagram
What changes have you seen in Mumbai lately?
I work very closely with the additional commissioner of the H ward (of the Brihanmumbai Municipal Corporation), so I know the challenges we are combating.
We are working hard to get through to vendors, street hawkers and store owners to change their plastic bags to sustainable environmentally friendly alternatives.
I live in a society where we have implemented solutions, from segregation of the waste, and making compost.
We have water gauges in our tanks, so there is never any overflow and wastage of water.
We plan to solar panels in the society's terrace.
We produce close to 325 metric tons of garbage.
If we start doing segregation and composting, we can bring it down to 280 metric tons.
This waste, if not segregated, ends up at dumping grounds or goes into the sea, and we know how toxic plastic can create to the sea life, and our health in turn.