June 6 will see the year's biggest Tamil film, Dasavathaaram on the big screen. Directed by K S Ravi Kumar, the film stars Kamal Haasan in 10 roles.
Also Read: Showcasing Dasavathaaram
As the film edges nearer to it's release date, we chatted with music director Devisri Prasad, the composer of Dasavatharam's background music (not to be confused with Himesh Reshammiya, who is has done the film's music).
Over to Devisri.
Genesis
I have been one of the greatest fans of Kamal Sir and it has been one of my biggest dreams to work with him. But I never thought my dream would come true so early. I was really thrilled when I got this opportunity to work with him.
One day I got a call from his office asking me for a meeting. We had a casual meeting at his office. I asked about his films. He asked me about my work -- where I record and how. It was more of a general chat.
Also Read: Dasavathaaram's music is mediocre
Within a week, producer 'Oscar' Ravichandran called me up saying that he wanted to meet me. I told him he could do so any time. When he met me he told me, 'Kamal Sir wants you to do the background score for Dasavatharam and he wants to know if you would do it'.
I immediately said, 'What kind of a question is this? Who would not be interested in doing it for Mr Kamal?'
He perhaps had doubts because the songs were being done by somebody else (Himesh).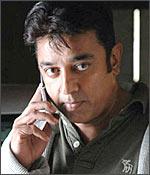 Till now I have not done only background score separately for any film. Normally I compose the songs as well as the background score; that is why they hesitated. The producer said that Kamal Sir had seen a few films of mine and loved my style. He said he would really be happy if I did the background score so he asked me to find out. I fell off my chair when I heard it. I told him I generally don't do background score separately but Dasavatharam being very different and one of the greatest films, I would definitely not miss the opportunity. I was going to work for one of the greatest actors and when he himself was interested in me doing the background score, how could I say no? The producer thanked me and told me we would sit together and decide on when to start.
When I spoke to Kamal Sir earlier, he did not mention anything about the film. I was completely clueless then. So it came as a big surprise.
Working with Kamal Sir
Nobody has the kind of interest Kamal Sir has for making films. He is a good creator. He told his people that, 'Devi and I will watch the film together'. I want to have the pleasure of watching the film together with him. That means a lot to me.
I went and we watched the film in the editing room. What was great about him was even though the voice work and other things were not done, like an assistant director he was prompting and telling me all the dialogues in sync with the scenes.
We watched the first half for about an hour and a half. Then we sat and talked for about half an hour. We watched the second half the next day. He asked me whether I would like to watch the second half before I start work. I told him, 'I would love to see the second half so that I would know the meaning of the entire film. Musically if I want to link anything to the second half I can work on it'.
So he asked, 'Could we watch it tomorrow, could you come tomorrow? The greatest thing about him is, he always asks for our time. He doesn't ask 'would you come tomorrow?' Rather he will say 'are you free tomorrow?'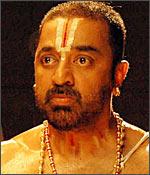 He is also a stickler for time and very punctual. If he says 10am he will be there 10 minutes earlier.
Working with him was a great experience and I learnt a lot. One experience stands out. One day he called me to his office to show the promos. He took me around and showed me his conference room, his home theatre etc. He did not act like a star. At that moment he was just a simple man switching on the lights, fans and DVD player. I was shocked to see him take such pains to show me around.
Composing the score
Kamal Sir wanted the background score to very stylish and western. I felt very happy because he had confidence in me.
After I did the background score for one or two reels, I called him up and asked him to watch it. He was very happy with the two reels I showed him. Director Ravi Kumar Sir was also there. Both were very happy and they told me this was what they were looking at and asked me to proceed.
After watching the first half, Kamal Sir would say if he liked any piece of mine, could you please repeat it here as it sounded nice. There was one particular portion where I thought the use of chants would be nice for the background score. I told Kamal Sir my idea. He fell in love with it even suggested using the chanting from Suprabhatam. He gave me some specific verse from Venkateswara Suprabhatam and I orchestrated the entire thing using those words. I even got the Sanskrit professors to check the Sanskrit pronunciation by the chorus.
Kamal Sir basically talked about things he likes -- symphonic orchestras, some background styles, some films we liked in unison -- things like that so that we understood each other's taste perfectly.
I thought the second half would have corrections. We used a lot of violins and chorus -- orchestral pieces -- which I was afraid of showing him. But my fears were allayed. There were hardly any changes in the second half too. He saw the second half and shook hands with me, a gesture I will never forget in my life. It was as though I received an Oscar award. I was on top of the world.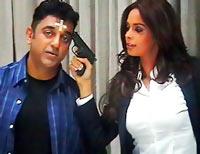 Symphonic sound
The whole music has a symphonic feel. Since the music is orchestral, I have used a lot of voices. It took a month to work on the background score which was recorded in Chennai.
Kamal Sir also asked me to compose the theme for the promo. It's a two and a half minute piece. When we met for the promo, he even enacted the fight sequence of Dasavatharam for me. We discussed various films including Sagaram Sangamam and his relationship with K Vishwanath for over two hours.
On the whole it was a wonderful experience working for Dasavatharam. I am looking forward to compose music for his films.
I love him as a singer too and I want to make him sing a song soon. I hope he would do it for me. Kamal Sir has been a great inspiration for me.