The film marks the second-most successful opening for leading man Shahid Kapoor after Shaandaar.
Urvi Malvania reports.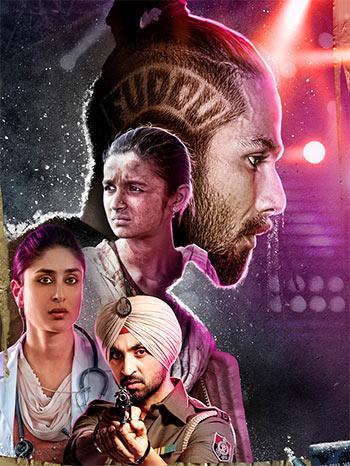 Controversy over its certification and leaked online prints failed to ground the flight of the Shahid Kapoor- and Alia Bhatt-starrer Udta Punjab, which collected Rs 10 crore (Rs 100 million) on its opening day.
After weeks of uncertainty and a court case, before being finally given an 'A' certificate, the makers of the film faced their biggest challenge: Merely a day before the film's release, a print which seemed to carry a 'For Censor' watermark was leaked online.
But the opening day collections -- as well as good reviews -- seem to have set director Abhishek Chaubey's big screen tale of drug addiction in Punjab on the route to box office glory.
Released in about 2,500 screens across the country, with majority prints carrying English subtitles, the film marks the second-most successful opening for leading man Shahid Kapoor. Shaandaar, his last release which also starred Alia Bhatt, was a commercial debacle but had managed to rake in Rs 12 crore (Rs 120 million) on its opening day.
Suniel Wadhwa, an independent distributor and box office analyst, said, "It is very difficult to quantify the dent in box office collections because of online leaks, but it definitely causes a dent. Moreover, the film's performance is very erratic as north India alone has contributed close to 45 per cent and it is the biggest opener of 2016 in Punjab."
"The film is mostly in Punjabi with English subtitles which may prove a challenge to ramp up collections, despite mostly positive word-of-mouth and curiosity," Wadhwa added.
The film was in the news much before its release when the censor board had demanded that the filmmakers make 89 cuts. The latter took the matter to the Bombay high court, where what seemed like a victory for creativity, the censor board was asked to clear the film with an 'A' certificate and a single cut.
Trade pundits peg Udta Punjab's weekend collection at Rs 30 crore to Rs 35 crore (Rs 300 million to Rs 350 million).
Given that the film seems to be besotted with challenges from multiple quarters, it may have to heavily depend on international box office collections, sale of digital (Indian and international) streaming rights and sale of broadcast rights.
Since it has received an 'A' certificate, digital rights may turn out to be easier to sell than broadcast rights, though television channels have been known to take risks in the past with controversial titles such as Haider and The Dirty Picture.
With Udta Punjab being given an 'A' certificate, Disney's Finding Dory had the family audiences all to itself. The sequel to 2003's Finding Nemo made Rs 1.02 crore (Rs 10.2 million) on its first day in India. The film has been released in more than 600 screens in the country.
It is the third major animated film to release this year and its performance seems to be in line with that of its predecessors.
Kung Fu Panda 3, released by Fox Star Studios in April, made Rs 2.1 crore (Rs 21 million) on its opening day. But the onset of summer vacations might have been one of the reasons. More recently, Sony Pictures Entertainment and Rovio's The Angry Birds Movie, also did well raking in close to Rs 12 crore (Rs 120 million) on the first weekend.