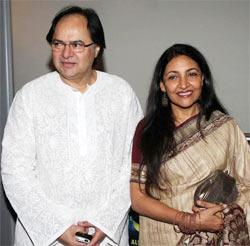 Deepti Naval made one of the most popular jodies with Farooque Sheikh in their time, having acting in some brilliant films like Chashme Badoor, Katha, Rang Birangi and their last film together Listen... Amaya.

When we spoke to this actress, she was very disturbed by Sheikh's sudden passing and broke into tears by the end of the coversation.

She speaks to Patcy N about her friend and co-star Farooque Sheikh.

Farooque Shaikh was not sick at all. In fact, when we were working together during Listen... Amaya, I was sick but he was totally fit and very energetic and enthusiastic. Nobody had slightest hint that such a calamity can happen to him.

His death was such a shattering news, first thing in the morning. I have no words. I have had such a nice and long association with him, suddenly I feel so lost. (she starts crying)

He was a very happy-go-lucky person. His sense of humour was strange and wacky. He would always pull my leg. Mostly I would be upset with him. I would often ask him to talk seriously, at least some times.

He would jokes on the sets as well. I was butt of all his jokes so I would get angry with him. I would tell him not to make me the centre of his jokes.

He would say, 'Why are you bothered when everybody is enjoying and laughing?' I would feel, can't he make fun at his own cause instead?

He was very sensitive and a very fine actor. He was well-educated and loved reading
books. He loved shayaris and memorised them too.
I have not been able to get in touch with his family, especially his wife Rupa and daughters. I'm trying to talk to them but I am in Himachal Pradesh at the moment. I just spoke to Shabanaji (
Azmi
). She told me he got a massive heart attack and he was in Dubai at the time.
We would always be concerned for him that he was overweight. Since he loved food, we would always tell him to lose weight but he would always say he's healthy.
This is such shocking news. It was not time for him to go away. In fact, it's time for him to work. We had wanted to work together after
Listen... Amaya
.
We have worked together in
Katha, Saath Saath
and
Listen... Amaya
. He is a natural actor. When he was in front of the camera, you would never feel is acting.
We had a comfort zone together. Our rapport was very magical. I have never experienced that rapport with anyone.
We last met two months ago in a Sharjah book fair, where we were both invited. I read short stories and poems from my books and Farooqueji interviewed me. We were there for two-three days and we discussed a lot of books. It was a very good experience.
After that, we would just text each other.
Whenever I had any problem, I would only have to call him. But he would never answer the phone. He would send a text message, asking '
Khairiyat
?' (All okay?). He never liked talking on the phone, he would always send text messages.
We met after a long gap and started working together. I will always regret that this was a very short-lived experience.