Padmaavat is yet to receive the censor certificate, without which it cannot be released.
Subhash K Jha reports.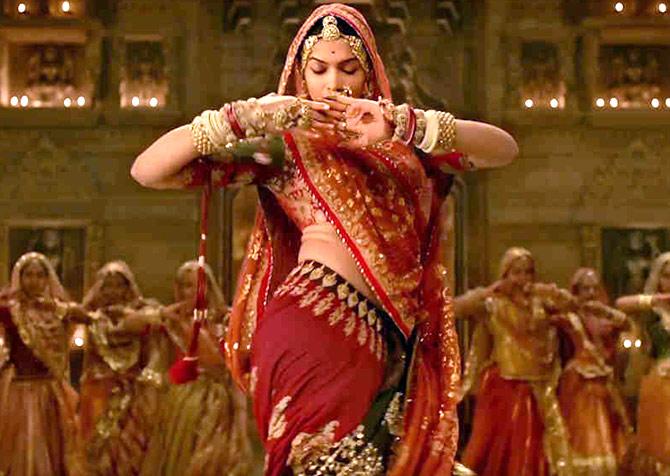 Puritanism acquired a new definition with Deepika Padukone being asked to cover up in the Ghoomar song in Sanjay Leela Bhansali's Padmavati, now titled Padmaavat.
Shots of Deepika's tummy peeping out of her elaborate ghagra-choli during the Ghoomar dance sequence were found to be 'unbecoming' for the character of the Rajput queen that the actress plays in Padmaavat.
"The CBFC's examining committee asked the film's producers -- the director was not present during the screening -- to remove shots where her stomach was visible," a source present at the screening tells me.
"Such editing would have disturbed the smooth choreographic flow of the elegant dance number," the source adds. "The director preferred to conceal Deepika's belly through computer graphics."
The film has been re-submitted to the Central Board of Film Certification with the modifications asked for.
Padmaavat is yet to receive the censor certificate, without which it cannot be released.
"The screening and the discussion after the screening went on from 5 pm till almost 2 am," the source reveals.
"CBFC Chairperson Prasoon Joshi was present. The historians and royal representatives raised many objections," the source adds. "But the CBFC board members found nothing objectionable in the content. They recommended a 'UA' with minor modifications."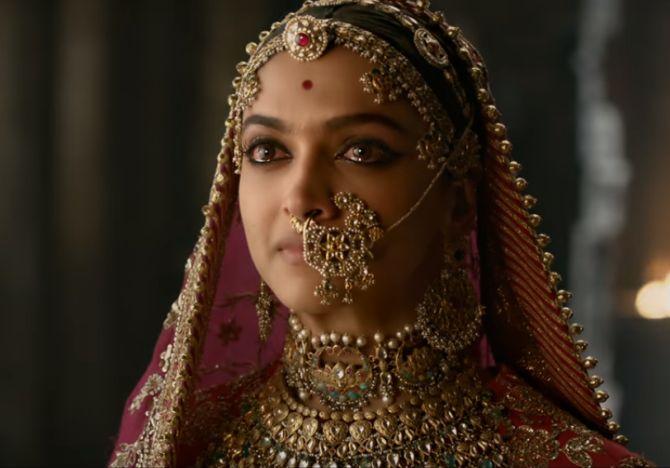 Padmaavat also needs a second disclaimer before the CBFC certificate can be be issued.
While the first disclaimer was about historical veracity, the second disclaimer has to do with geographical authenticity.
"The first disclaimer was regarding the historical facts that have gone into the film," a CBFC source tells me. "Rather than claim to be a work of fiction, as they had claimed earlier, the disclaimer suggested that the film was partially based on historical facts. This is when we had to bring in the expert opinion of historians."
The second disclaimer has to do with the names of places.
"Real cities are mentioned, but their geographical and historical accuracy is questionable in the film. Some of the places mentioned did not exist during the 14th century. So we've asked for a disclaimer regarding the use of the names of places," the CBFC source says.
"This is tricky since the places exist on maps, but not in the geopolitical perspective that they are mentioned in the film."
Given these obstacles, and the continuing controversy over the film -- the chief ministers of Gujarat, Madhya Pradesh and Rajasthan, all Bharatiya Janata Party-ruled states, have banned the film in their provinces -- it seems unlikely that Padmaavat will release on January 25.
Which, of course, would make the producers and star of PadMan, the film scheduled to release on the Republic Day weekend, relieved indeed.