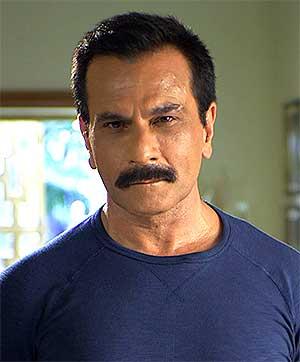 'A producer once told me that one doesn't get paid for his acting skills.'
' If you work here, you have to be either lovable or sellable.'
'Nobody talks about talent.'
'Here, people can pay huge stars in crores, but they will cry to pay actors like me in lakhs.'
'They will say, 'Budget nahin hai. Is baar kum le lo, next time we will see'.'
'But that 'next time' doesn't come.'
Pavan Malhotra, one of our finest actors, shows us another side of Bollywood.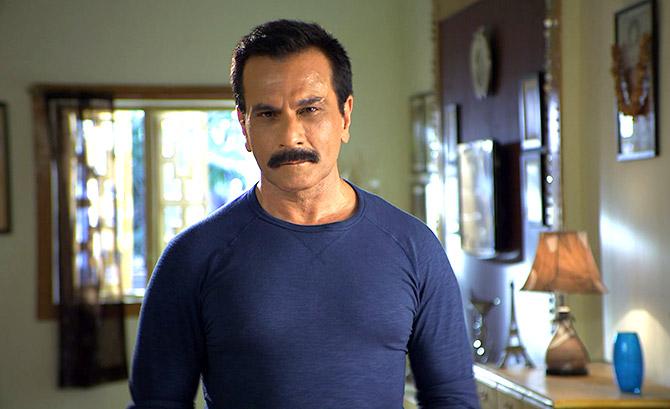 IMAGE: Pavan Malhotra
One of Bollywood's most versatile actors, Pavan Malhotra is also one of the most under-rated.
He has delivered top-notch performances in films like Salim Langde Pe Mat Ro, Black Friday and Jab We Met and we still remember him fondly from his earliest television serial, Nukkad.
After a four-hour chat over tea and cookies, the actor, a total gentleman, made sure to give Rediff.com's Patcy N a lift in his SUV.
'The first two roles that Faisal gave me were in English plays. I still don't know what I said in one of them'
My parents came to Delhi after Partition. It was difficult for them, but luckily, I did not see any hardships.
I was the youngest after three brothers and two sisters -- one sister passed away -- and by the time I was born, my father had established his business of making machine tools.
Towards the end of my schooling, a friend took me for a play. He was part of a theatre group called Ruchika. (Legendary theatre personality) Ebrahim Alkazi's son Faizal was also a part of it.
My friend asked if I would act in a play. I thought he was thinking of a play during Janmasthami in our society, so I agreed. But then I realised he was talking about a show where there would be a ticket. I wondered why anyone would cast me in such a show.
Anyway, I ended up doing six characters in that play, Tughlak. They were impressed and asked me to join Ruchika.
I didn't know much English because I went to a Hindi medium school and those people would converse in English. Sometimes I wouldn't even know what the topic was.
The first two roles that Faisal gave me were in English plays. I still don't know what I said in one of them.
Then I was cast in a Hindi play, Father. I played an orderly and for the first time, I saw my name in a newspaper. It said: 'Pavan Malhotra, as an orderly, was impressive.' I kept looking at the cutting for a week.
I did a lot of theatre in college.
My father did not mind it, but one day, he told me, very emotionally, that I needed to learn the family business. After that day, I stopped doing theatre.
'We would get a daily allowance of Rs 350 for Gandhi'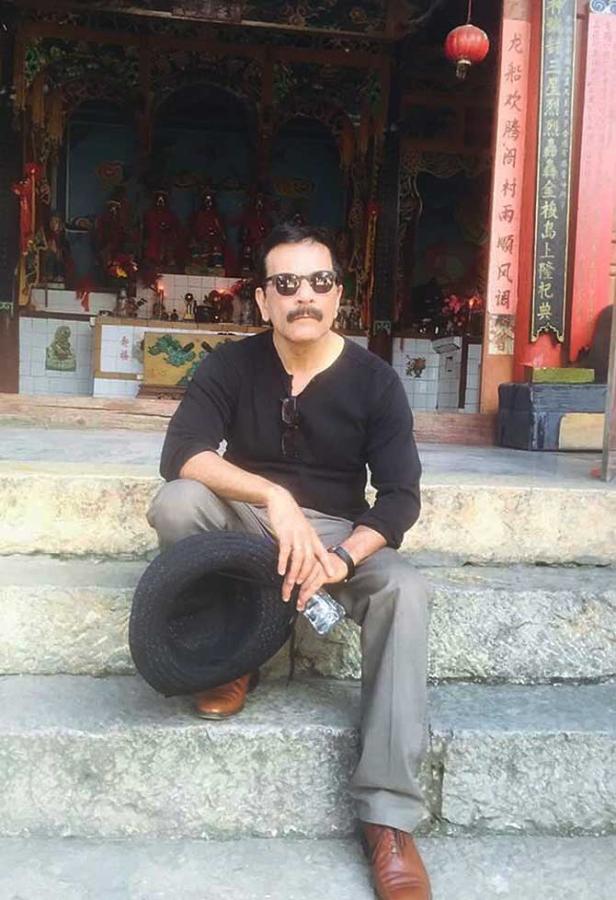 IMAGE: Pavan Malhotra near a temple in China.
One day, someone came from Gandhi's production team to our office to buy spirit. That's when we learnt that an English film on Mahatma Gandhi was being shot.
After a week, a friend called and said the Gandhi film unit wanted a wardrobe assistant. I didn't know anything about it, but she said it would be just like what we used to do for theatre.
I assured my father that it would be my last job in the performing arts) theatre, and he said okay.
I had never seen a film shoot before that. We shot for a week and really enjoyed it. Then the shoot shifted to Bombay.
In Bombay, they had booked the entire floor at Rajkamal studio, where our wardrobes were set up. We were put up at the Sea Rock Hotel.
The shooting for the satyagraha scene where Om Puri comes to meet Gandhi happened in the nearby bylanes.
From Bombay, we went to Pune, Patna and other locations.
We would get a daily allowance of Rs 350.
After that, I never went back to our business.
I got an offer for Jaane Bhi Do Yaaro and told my parents about it. The salary was Rs 750.
My father was worried. He wondered how I would survive in the city with so little money. He said he would help me.
When you are the youngest, you can get away with anything!
'The money was so little, it was a struggle to survive'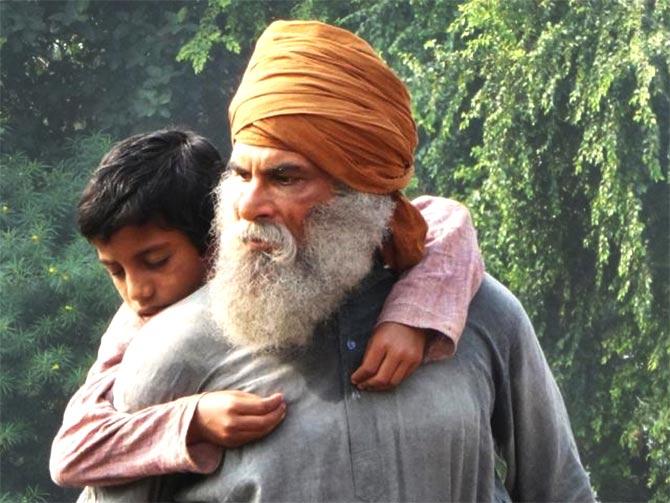 IMAGE: Pavan Malhotra play Bhagat Puran Singh in the Punjabi film, Eh Janam Tumhare Lekhe.
When I came to Bombay, I asked Sudhir Mishra (who wrote the story and screenplay of Jaane Bhi Do Yaaron) about the food and accommodation arrangements.
He said we would get food on the sets and as far as staying was concerned, I could share an apartment with him and his friend Devlin Bose (the film's assistant cameraman).
(Director) David Dhawan, (actor) Rakesh Bedi, (theatre director) Raman Kumar and (actor) Sunil Sharma stayed on the ground floor of the building, (actor) Ravi Baswani, (actor) Alok Nath and (Tamil film director) K S Ravi were on the first floor and the three of us were on the second floor.
In Jaane Bhi Do Yaaron, I did the props. Sometimes, when Kundan (Shah, director) insisted, I did costumes with Sujata Desai. I also worked as an assistant. I enjoyed all of it.
If there was a film on the making of Jaane Bhi Do Yaaron, it would have been a bigger hit because there were so many incidents on the sets.
Bhakti Barve gave a tough time; her voice had to be dubbed with Anita Kanwar.
Naseer (Naseeruddin Shah) would always argue with the director, especially during the telephone scene because he could not make sense of it.
He bought a camera -- which was also used in the film -- and would click our pictures, print it and give it to us.
I used that photograph of mine as my portfolio picture.
After Jaane Bhi Do Yaaron, I worked in the production for Saeed Mirza's Mohan Joshi Haazir Hoand Vidhu Vinod Chopra's Khamosh.
Even though I was an actor, I did production work because I had to survive. Plus, this group was very intellectual (laughs).
In Khamosh, everybody had two jobs. I was the actor as well as the production manager. I did props and costumes.
Naseer was the actor and the official photographer.
Only Shabana Azmi, Avtar Gill and Pankaj Kapur only acted -- Shabana contributed by sharing her room with another actress.
After that, I assisted on the television serial, Yeh Jo Hain Zindagi. The money was so little it was a struggle to survive. But I never asked my father for money.
I have done odd jobs in between my acting work like selling leftover bread from the bread factory or feed cows in a cowshed.
'They were seeking autographs, pulling shirts...'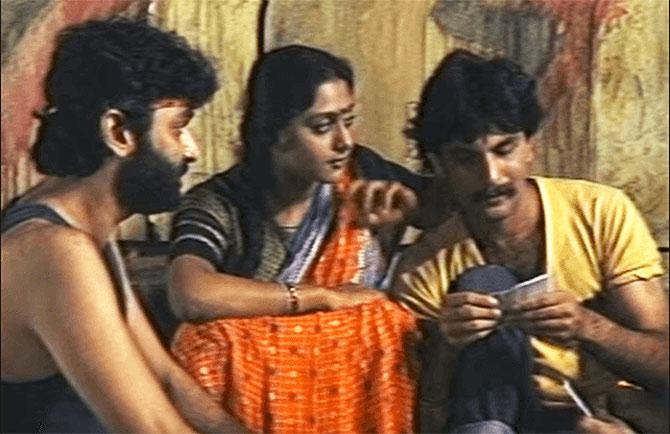 IMAGE: Dilip Dhawan, Sangeeta Nair and Pavan Malhotra in Nukkad, the much loved television serial of the 1980s.
It gave Pavan the break he needed.
During the time I got an offer in Nukkad. My parents bought me a house on Yari Road (in Versova, northwest Mumbai).
It was such a small role that in the first two episodes of the total 13, my character Hari did not have anything to do. He would just stand there. But it clicked with the audience.
The love triangle between Madhu (Mamta), Radha (Sangeeta Naik) and Hari worked very well.
I remember after the 13 episodes, when we were attending a function, the girls went crazy! Of course, everybody was popular, but Dilip Dhawan (who played Guru), Sameer Khakkar (who played Khopdi) and I were mobbed the most.
They were seeking autographs, pulling shirts...
There, the makers realised that Hari was very popular and increased my role.
During this time, I had gone to visit my father in Delhi and all the people gathered near his factory to see me.
They were yelling 'Hari Hari' and started entering the factory. We had to stop them as the machinery would get spoilt.
My father was very proud of me that day.
He passed away after that, but I was so happy he got to see my fame a little bit.
'The only common thing, when you play the underworld, is the aggression in the body language'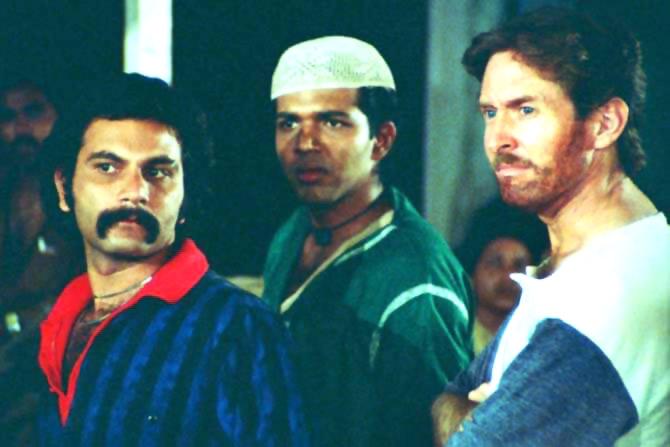 IMAGE: Pavan Malhotra couldn't believe that he, and not Ashutosh Gowariker, was playing the title role in Salim Langde Pe Mat Ro.
The film also stars Tom Alter.
Saeed Mirza wrote the script of Salim Langde Pe Mat Ro with Naseer in mind. He would go to Dongri (the Muslim-dominated area in south Mumbai) at night just to meet the locals and speak to them. One day, I asked if I could join him.
We went to a gambling den, where they showed us how it was played. People knew him because he had doneNukkad.
Then I was told they were looking to cast someone younger for that role, not Naseer. If you see, the biggest strength of Nukkad was its casting. The beggar looked like a beggar, the sweeper looked like a sweeper...
Saeed was doing a reading session with Makarand Deshpande, Ashutosh Gowariker, me and a few others. I shaved off my moustache thinking that I would get to play the character Abdul, which was eventually done by Ashutosh. I wasn't even thinking about Salim.
One day, when I went to Saeed's office, he asked me if I was working out. I said I was not into that. So he said, "You better start gyming because you are going to play Karim." (The character was initially called Karim, not Salim).
I came out and told Makarand, who was sitting outside, that I would take him on a ride around Dongri and Chor Bazaar (also in south Mumbai), observing people and their mannerisms.
I picked up the walk, playing with the crotch, and other things.
People ask me why I do a policeman or an underworld character again and again. But I think even in the underworld, there are different characters.
Tiger Memon in Black Friday and Salim in Salim Langde Pe Mat Ro are totally different people. Their body language and expressions are different. Their speech patterns are different.
There's a reason behind Salim's cocky walking style -- he wants people to notice him. The Mamuin Bhendi Bazaar or Sikandar in My Name is Anthony Gonsalvesare different.
The only common thing, when you play (characters from) the underworld, is the aggression in the body language.
But in Farhan Akhtar's Don, I didn't keep any aggression.
'Salim Langde and Bagh Bahadur got National Awards, but I did not get any award'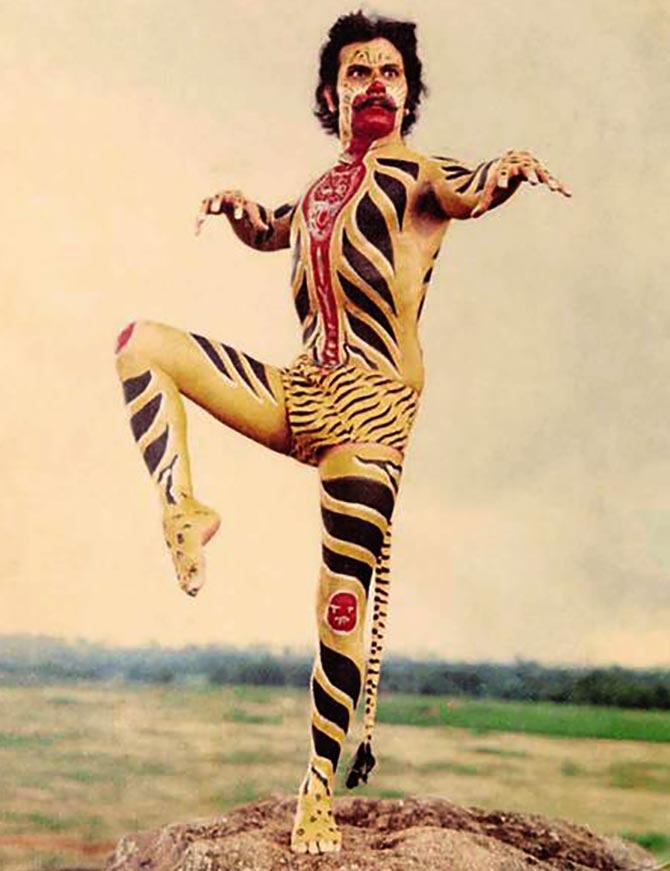 IMAGE: Pavan Malhotra would be in pain every time the paint was applied on his body for his role in Bagh Bahadur.
While I was shooting for Salim Langade Pe Mat Ro, I bagged Buddhadeb Dasgupta's Bagh Bahadur.
Every day before the shoot, I had to get enamel paint on my body. It would take three -and-a-half hours from the face to the legs. Then I had to sit in the sun and dry myself.
After the shoot, two boys would remove the paint with kerosene.
Because I had to use paint on my body, I had to remove the hair from my body. Usually, you have to apply hair removing cream for 10 minutes and then it comes out. I kept it on for 20 minutes and then took a shower. But the hair was still on my body.
So I read the instructions again. It was written that you have to wipe it after 10 minutes of application. So I applied it once again and wiped after 10 minutes. The hair came out, but my skin got burnt.
When the boys would rub my body with kerosene to remove the paint, I would be in pain. And I had to do it for 17 days!
Both Salim Langde Pe Mat Ro and Bagh Bahadur got National Awards for Best Feature Film in the same year, but I did not get any award.
I got a National Award for Gautam Ghosh's Fakhir.
'Whenever I have asked for work, I have never got it'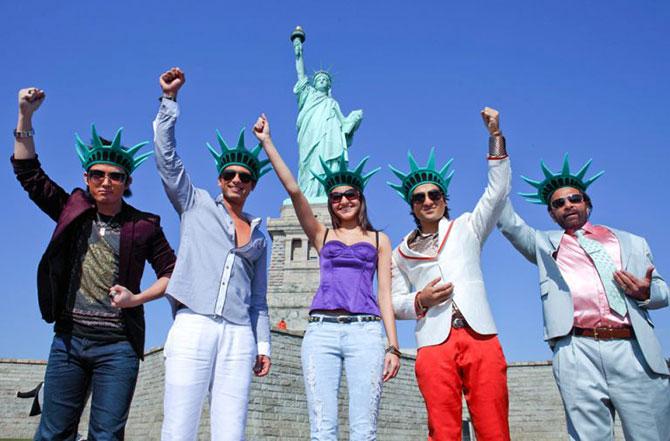 IMAGE: Meiyang Chang, Shahid Kapoor, Anushka Sharma, Vir Das and Pavan Malhotra in Badmaash Company.
Whatever work I have done till date has been offered to me. Whenever I have asked for work, I have never got it.
I learnt that Yash Chopra was making Mashaal, which was on four young actors. I went to Raj Kamal Studio where he was, with one photograph of mine that Naseer had clicked.
I gave Yashji that. He spoke to me for 10 minutes and said that he had a role for me. He asked me to come back after 10 days. When I went the next time, he offered me tea, took me on the sets and asked me to come the next day.
The next day, I saw more than 100 boys standing outside the gate for the role. Yashji's chief assistant was there. I told him that Yashji had called me for the role, but he yelled at me so badly that I started walking out quickly. I was humiliated.
Later, I worked in Yashji's Badmaash Company. He would look at me and smile, but I don't think he remembered.
I went to Subhash Ghai's office for work and gave him a video cassette of Salim Langde Pe Mat Ro. He saw the first 10 minutes and returned it to me without saying anything.
I did work with him later in Pardes, but realised that I did not miss anything.
I could never sell myself.
I remember once Shah Rukh Khan had said that when you walk into a producer's office, one should feel that a hero has come. I couldn't do that.
Two of my films -- Salim Langde Pe Mat Ro and ;Bagh Bahadur -- won National awards and I played the lead in both. But still...
The National awards didn't make any difference.
Even Om Puri won National awards, but he didn't get any work either. I think in the real sense if anybody has worked in Hollywood, it is is Om Puri.
Now Deepika Padukone and Priyanka Chopra are doing it and to some extent, Irrfan did. Some of the films that Irrfan did made a lot of noise, but his role was very small.
Not many people know that I played the lead in a foreign film, Brothers in Trouble about illegal immigrants. It never released in Asia.
I also did City Of Joy, but my role was cut. I am there just for a few scenes.
I did feel bad that even after doing hero roles, I never got a lead role. I don't know if I'm good looking even though this industry made me feel I'm handsome. I had no make-up for Salim Langde Pe Mat Ro; I only dyed my moustache black.
I noticed one thing: Kundan Shah, Saeed Mirza and Vinod Chopra did not offer me roles after that film even though I was part of their group.
'Some people call me Tigerbhai. A director friend of mine says it's a huge compliment if they remember your characters'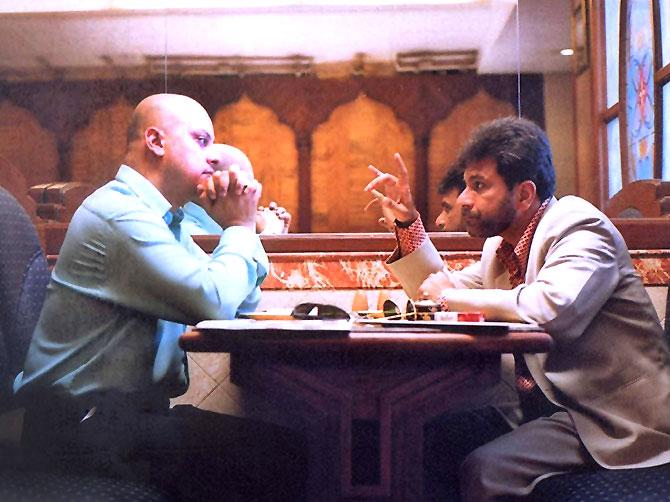 IMAGE: Director Aditya Bhattacharya has a small role in Black Friday. Here, he chats with Pavan Malhotra's Tiger Memon in Black Friday.
Anurag Kashyap had seen my films Salim Langde Pe Mat Ro, Bagh Bahadur and Brothers in Trouble and that's how I got Black Friday.
I read the script and asked Anurag if he was sure he wanted to use real names. He said there would no problem. But there was a problem and the film did not release for two years.
When it finally released, a friend of the producer told me that they (the underworld) were happy with it. I asked, "Really? They are not going to bump me off?"
Anurag gave me the script and asked me to read the book as well because it was very close to the script.
I also asked everyone connected to that place if they had ever met him (Tiger Memon, the mastermind of the 1993 Bombay bomb blasts whom Pavan Malhotra played). One person said he had met him for 10 minutes and had noticed that whenever he spoke to someone, he would lean towards that person.
There is a scene where I am speaking to Badshah Khan in a hotel room. That is the only place in the entire film where I have leaned towards him. I think one should not overdo it.
Like in Salim Langde Pe Mat Ro, the character scratches his crotch. I didn't do it for the camera. It would be noticed only if someone had to notice.
The only thing I didn't do was go to Mahim or Dongri to talk to people and do my research. I didn't want to rub it in their face.
People call me Tiger in Yari Road, some people call me Tigerbhai. Some even call me Salimbhai or Hari. A director friend of mine says it's a huge compliment if they remember your characters.
'If you work here, you have to be either lovable or sellable. Nobody talks about talent.'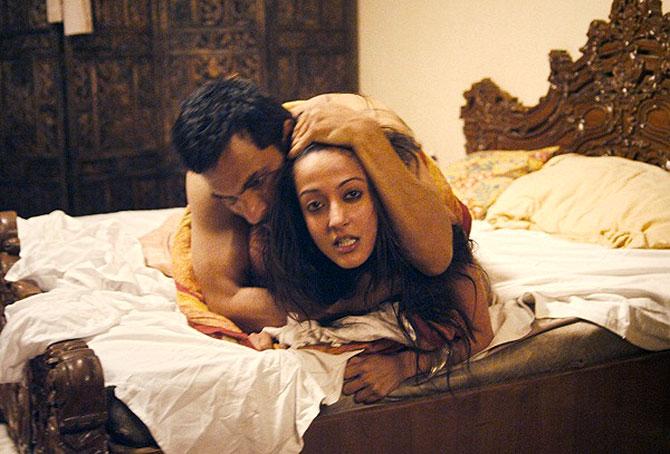 IMAGE: Pavan Malhotra gets ruthless in a rape scene with Raima Sen in Children of War. He won the Best Actor award in France.
I was paid Rs 750 for my first film, Jaane Bhi Do Yaaron, Rs 10,000 for Salim Langde Pe Mat Ro and Rs 15,000 for Bagh Bahadur.
Commercial filmmakers consider us as art filmwallahs, and so think we work for less money.
I know a competent actor who was charging Rs 10 lakh (Rs 1 million) for a particular film. Another actor was ready to do it for half at amount because he was in need of money. And the makers replaced that competent actor just to save money.
A producer once told me that one doesn't get paid for his acting skills. If you work here, you have to be either lovable or sellable. Nobody talks about talent.
I was not paid for Shaitaan because it went into losses. Here, people can pay huge stars in crores, but they will cry to pay actors like me in lakhs.
They will say, "Budget nahin hai. Is baar kum lelo, next time we will see."
But that 'next time' doesn't come.
I have done Punjabi films, which have been hits and given me awards.
I have done 4, 5 South Indian movies. My first Telugu film, Aithe, was the most interesting and I got Filmfare and state awards.
The last film I did was Andru, another hit. Someone else did the dubbing for me. But when I saw the film, I wondered why I was doing such films.
I didn't know the language and was not happy with the director. He would explain the scene and ask me to cry. I would tell him that the particular emotion was not required in that scene. But he would insist because he felt the audience would like it.
Nowadays I don't do South Indian movies. I thought if I am doing it just for the money, why not do television serials?
The last TV serial I did was Karishma, starring Karisma Kapoor. When they were narrating the story, they promised it would be done well, but it didn't turn out that way.
These days, sometimes they finish the shoot of an episode the previous night of its telecast. One of the reasons is because they fear someone will copy their ideas.
Earlier, stories were not based in villages, but when Balika Vadu became a hit, everyone went for similar ideas.
If a Gujarati set-up works, everyone will make that.
No one will make a serial likemNukkad today because the audience doesn't want to see it.
Times have changed, values have changed. The human connect has gone.
In my days, I would watch half a film on Saturday and the other half on Sunday because Doordarshan gave us only that much. Everyone would run home to watch Chitrahaar.
Today, you have a remote control and 350 channels to choose from. The audience decides what to watch.
Everything works on TRPs and advertisers now. They are clear that they are not here to reform society.
Their product has to be noticed by the viewers no matter what you show them.
People complain that there some movies with double meaning dialogues. Well, don't watch it.
There are people who want to watch that and that's why such movies are made.
Sex is an important thing, but it depends how you shoot it.
Sometimes, in foreign movies, you feel that the character has actually made love because of the way they shot it.
It looks so sensuous and beautiful, not titillating.
My first scene in Children of War was a rape scene, but there, we wanted to show the ruthlessness. You should not show negativity in a way that you glorify it.
I got the Best Actor award in France for Children of War.
'Shah Rukh Khan talks to me nicely whenever we meet, but I can't say he is my close friend'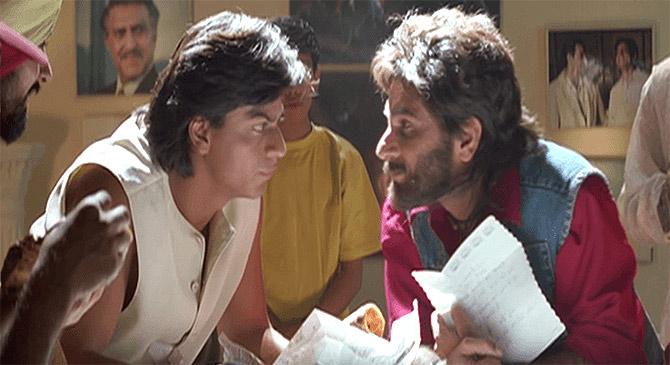 IMAGE: Both Shah Rukh Khan and Pavan Malhotra, seen here in Pardes, hail from Rajendra Nagar in Delhi.
I met Amrish Puri for the first time while shooting for a children's film.
He came to me with a lot of respect and said, "You are that boy from Salim Langda and Bagh Bahadur?"
I said yes.
He said, "Have today's lunch with me."
During lunch, he told me, "You have the capacity to be in this field for a long time, so you keep trying. One day, your work will be noticed."
I carry that advice very closely in my heart.
I have done two films with Shah Rukh Khan -- Don and Pardes -- but I know him since Circus.
Plus, we come from the same area in Delhi: New Rajendra Nagar.
He talks to me nicely whenever we meet; we talk about our Delhi days. But I can't say he is my close friend.
I worked with Akshay Kumar in Rustom. He is very disciplined and focused.
He comes on the sets on time -- reports at 9 am and leaves at 6 pm. Not once do we have to wait for him.
He has his own style of working. He does 4, 5 films a year and there is so much variety -- he does Holiday, Rowdy Rathore, Houseful, Airlift and Rustom... so much range!
Among the new generation of actors, I like Ranbir Kapoor. His last few movies have not done well, but we cannot blame him.
He chose good films with good directors, but they did not do well. He has potential.
I like Priyanka Chopra and Deepika Padukone. Alia Bhatt is very natural. She was so good in Kapoor & Sons.
The best thing about Udta Punjab is Alia Bhatt.