It takes reserves of resilience to play Mohandas Karamchand Gandhi onscreen but Darshan Jariwala, who essays the poignant role of Bapu in Anil Kapoor's Gandhi My Father, is confident that audiences will accept him.
A name to reckon vis-à-vis gujarati theatre, Darshan has done some small roles in films like Style Honeymoon Travels Pvt Ltd and Guru. He also starred in Himesh Reshammiya's acting debut Aap Kaa Surroor, as a villain.
Darshan believes Gandhi My Father will be a landmark film in the history of Indian cinema. Swati R Chaudhary chats up the vibrant actor.

You're essentially a theatre artiste. Your roots lie in Gujarati theatre.
Yes. I've been associated with theatre for over three decades. I was in my last year of school when I started off with Gujarati plays. My mother, Leela (contemporary of Deena Pathak and Pratap Oza) was a famous actress and was one amongst those who formed the Gujarati theatre group, Rangbhoomi.
Some of my cherished Gujarati plays include Hathedi Par Baat Baaki, Patro Mitro, Mulraj Mansion and Andhalo Pato. I've also done a Hindi play titled Uncle Samjha Karo.
In 2000, I ventured into English theatre. Vikram Kapadia's Going Solo 2 was the first set of monologues that won me acclaim. People still recall that brilliant piece, especially my character Yusuf Lakdawala. Then there was Musk Maiden, It Happens Only In India, 30 Days In September, Too Hot To Handle and many more. 
How did Bapu's role fall into your kitty?
Gandhi My Father happened in a curious way. Feroz Abbas Khan (director, veteran theatre personality) had approached me for Gandhi's role in his famous play Mahatma v/s Gandhi. I was his first choice. Unfortunately, I was preoccupied with other business interests then, and it was my misfortune that I couldn't do it. So here I am, playing Gandhi in his directorial debut. 
The film explores a lesser-known fact about Gandhi's personal life.
 
True. This one delves into the father-son relationship -- Gandhi's strained relationship with his son, Harilal. It is a relatively unknown facet of Gandhi's life -- his poignant and troubled relationship that was full of life and irony. There are ideological differences but there is immense love as well. As Ba (Kasturba Gandhi) puts it, Harilal is unfortunate but he's not bad.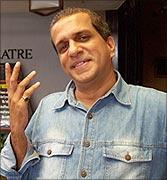 Gandhi feels that Harilal can save a lot of time by avoiding the mistakes that he has made. He can learn from his father's mistakes. On the contrary, Harilal opines that he should be allowed to commit his own mistakes. Bapu, of course, presents his viewpoint but ultimately lets his son do what he wishes to do. Great leaders, who wish to serve humanity, do it at a great cost. And in this case, Gandhi pays the price by sacrificing his family.
 
How did you understand the character in totality? How did you get into the skin of the character?
I feel one doesn't need to 'study' Gandhi to imbibe his body language or how he behaved. Gandhi has been an inherent part of our Indian legacy though his emotional bonding with his son, his profound pathos and sorrow was never openly spoken about. To understand that, you're internal noise has to cease completely.
Moreover, being a Gujarati myself, I could understand what Gandhi and Harilal wanted to convey through their letters since they are written in Gujarati. I could read in between the lines and relate to the subtle silences that followed.
I underwent immense physical and mental training. I followed a rigorous diet regime and lost oodles of weight. I had to exercise, not merely to get rid of my physical weight, but also the mental baggage that I, as an actor, had accumulated over a period of time.
It was a lot spiritual also. As a person, I had to liberate myself of all the limitations of being Darshan Jariwala. I went for a 12-day vipassna (meditation) to Igatpuri at an ashram. It is a period of silence and meditation for about 14 hours a day. I had to let go of myself totally.
Gandhi exhibits calm and equanimity on his face. Yoga and meditation helped me a lot in that respect.
Did you watch any films as a part of your training program?
I have not consciously or unconsciously tried to adapt Gandhi's mannerisms. I have not specifically seen any films and neither do I have a favourite Gandhi film. It would've been counter productive for me to see other actors' works.
Incidentally, I had seen a small chunk of Hey! Ram because Kamal Haasan is one of my favourite actors. I also admire Dilip Prabhavalkar. I think he's one of the finest actors we have.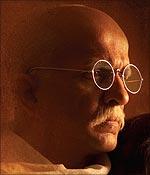 You played a villain in Aap Kaa Surroor. Any qualms about being accepted as the father of the nation?
I am convinced that people will accept me as Gandhi. As an actor, one needs to exhibit versatility. Just recently a girl asked me for an autograph. She remembered me as Principal Sardesai in the film Style. And now, I am the same man.
Be it theatre, my blink-and-miss role as cashier Patekar in Guru or the crude North Indian bus driver in Honeymoon Travels Pvt Ltd, people remember the characters I've played. They don't remember me as Darshan Jariwala. I don't have an image because as an actor I subsume myself; let the character take over.
Apparently, even Anil Kapoor had reservations?
That was a figment of some journalist's imagination. It was pure speculation. Mr Kapoor himself has played so many varied characters. How can he feel dismayed? He himself has undertaken so many creative risks, the greatest being venturing into production with a film like Gandhi My Father. He has done his job remarkably well.
 
What was most challenging about playing Mahatma Gandhi?
Subsuming into the character and at the same time totally self-effacing myself has been the most difficult aspect of playing Gandhi. You will see Gandhi in the film; you will not see Darshan Jariwala.
What was the most difficult scene?
There were a few tough moments in the film. There is a particular scene where Shefali Shah (Ba) and I receive the news of Harilal's marriage. We discuss it in a normal lighthearted way. But Harilal hurries into marriage. Gandhi very coolly and calmly expresses his disapproval.
He firmly tells Ba that he'll have to stop thinking of Harilal as his son if Harilal wants to marry against his wish. It is Ba's reaction that makes the viewers realise the gravity of the situation. 
It was testing to be very serious about what I was saying without appearing serious. That quality of absolute firmness in what I was saying, leaving no room for any further argument and yet maintaining a normal tone was hugely challenging. 
Then there is a scene where I get to know of Harilal's conversion to Islam. The way I had to balance the larger than life universal father of the nation Gandhi and Harilal's father Gandhi was very tough. You cannot view the two in isolation. I had to constantly be both and couldn't let go one for the other.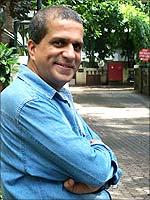 The film was recently premiered in Johannesburg, South Africa. How was the response?
The response was stupendous. People were fighting back their tears, they were feeling embarrassed of being emotional.
Former President Nelson Mandela had kind words to say. Thabo Mbeki (current President) said that the film was a gift to humanity. He attended the premier with almost whole of his cabinet. What more can you ask for? It excels in all departments and is one of the best films to come out in a long time.
 
How was the experience of working with your colleague, Feroz Abbas Khan?
Feroz is not just a director but also a dear friend of mine. Sometimes, he knows me much more than I know myself. He knows the strengths and weaknesses of the actor within me. He has amazing clarity of what he wants. He is a hard taskmaster. He would challenge us by constantly urging us to drop the clichéd way of doing things. He has amazing patience too.
What about Akshaye Khanna?
Akshaye was a delight to work with. He is very cooperative and down-to-earth. We had few scenes together since the structure of the film was such that we meet at very few points.
Akshaye is a great chess player. There were times we used to have real lively animated discussions.
You have worked with Shefali Shah earlier?
Yes. Shefali is magical. She is absolutely different from what I have seen of her in her past few years. She is very bubbly. I marvel at her spontaneity and adore her as an actress. I would give my right arm to work with her wherever and whenever required.
Paagalpan (2001) was your first film. Why this delayed debut in Bollywood?
I don't think I was prepared for stereotypical roles that films offered then. Versatility has always been my hallmark on stage. Hindi films are now gradually offering varied roles to artistes.
What next?
I have Rajkumar Santoshi's Halla Bol, Ketan Mehta's Colours Of Passion, Yash Raj's Aaja Nachle (as Madhuri Dixit's dance teacher) and Rohit Jugraj's untitled film.