Filmmakers Hrishikesh Mukherjee and Ram Gopal Varma are poles apart in terms of creativity. Yet they share a common ground. They have both made episodic Hindi films.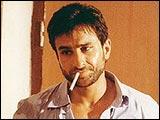 Musafir (1957) was Mukherjee's first film as director. Written by renowned Bengali filmmaker Ritwick Ghatak, Musafir recounted the story of three sets of characters living in one house. The first story was about a newly married woman (Suchitra Sen) desperately trying to reconcile her husband with his family. The second story featured Kishore Kumar as a jobless man supporting his father and widowed sister. In the third story, Dilip Kumar loses his mental equilibrium after his bride disappears on their wedding day.
The film was propped up by fabulous camerawork and haunting music by Salil Chaudhary. Post Musafir, there has never been an episodic Hindi film until Darna Mana Hai, which marks the directorial debut of Prawaal Raman. Formerly an assistant to Varma, Raman approached the prolific filmmaker with his script involving six stories with one common ending. Varma was game.
 From Vijay Bhaskar Rao in Tujhe Meri Kasam to Anurag Basu in Saaya, Raman is the latest in the long line of debutant directors this year. But, except Amit Saxena who directed the sizzling Jism, all of them have failed to make any impact.
Will Raman break the jinx? Especially when his film dares to be strikingly different in mainstream Hindi cinema?
Darna Mana Hai is neither a horror nor a supernatural thriller. It is neither a conventional drama nor an unconventional satire. Like Musafir, it creates a genre of its own by casting stars and using them in individual episodes.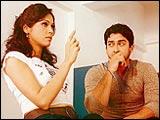 Director A Bhim Singh also tried narrating his Naya Din Nayi Raat in an episodic way to some extent. The plot involved a runaway bride (Jaya Bhaduri) bumping into nine different characters played by Sanjeev Kumar.
The stars too aren't their usual selves in such films. Suchitra Sen in Musafir was a far cry from her regular image. Likewise, Shilpa Shetty in Darna Mana Hai is a scream. Other stars like Vivek Oberoi, Saif Ali Khan and Nana Patekar shed their starry plumes to get into the thick of their roles
While a nervous Raman waits for the verdict on his film, releasing July 25, new wave cinema appears all set to hit the celluloid.