'Even today when I think of it, I wonder how it fell on my plate.'
'Not just the remix, but also to do it with the original leading lady, Shilpa Shetty.'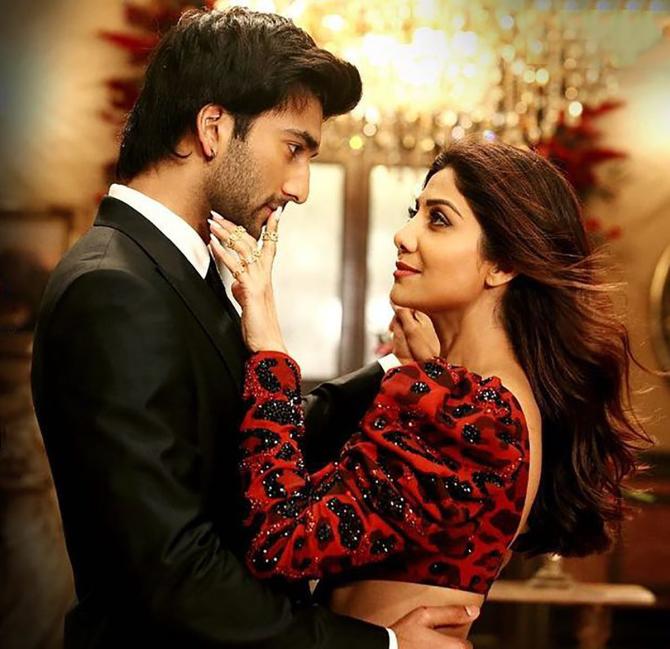 Meezaan -- the late legendary comic Jagdeep's grandson -- tries his hand at comedy with his new release, Hungama 2.
Among the many things he's excited about is dancing with Shilpa Shetty in the hit remix, Churake Dil Mera.
He looks great in the song, but does he think he's a better dancer than his father Javed Jaffrey?
"My mum will answer that question better. My dad has a different style of dancing," Meezaan tells Rediff.com/em> Contributor Prateek Sur.
Did you watch the first Hungama?
Yes. It came out in 2003. I remember I had gone with a friend of mine and his mother to watch it at the Globus theatre in Bandra (northwest Mumbai).
I was small ,but I remember sitting in the theatre and laughing my guts out.
Even today when it comes out on TV, we always watch the scenes.
Who would have thought that 18 years later, I am going to be a part of Hungama 2?
Even though the film has nothing to do with the first film, it's just that the title has been used.
It is a completely new story with a fresh cast.
I'm grateful that I got the opportunity to work with Priyadarshan and the entire cast -- Paresh Rawal, Rajpal Yadav, Johnny Lever, Ashutosh Rana, Manoj Joshi, Shilpa Shetty and Pranitha.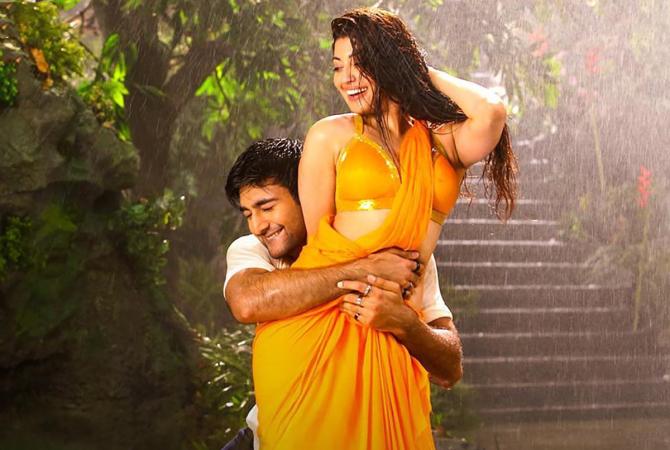 How did you prepare yourself for the role?
I thought I would have to do a lot of preparation because it would be difficult keeping up with these performers.
I remember I asked Priyadarshan sir how I should prepare for my role.
He said, 'Just come on sets and enjoy yourself. Follow my instructions.'
And that is exactly what I did.
But that's easier said than done.
When I went on set, I realised how much your brain needs to be working when you're actually in front of the camera because everything is improvised.
That is something totally new that I have learned.
It made me hone my craft and get better at acting.
You have actors like Paresh Rawal who improvise a lot. Because their performances are so unexpected, and they give dialogues which are unexpected, you react differently. That reaction brings out a better performance from you.
When you go in front of the camera, you really have to expect the unexpected.
You have to let go of your inhibitions because the moment you start overthinking, the performance and the scene will fall flat.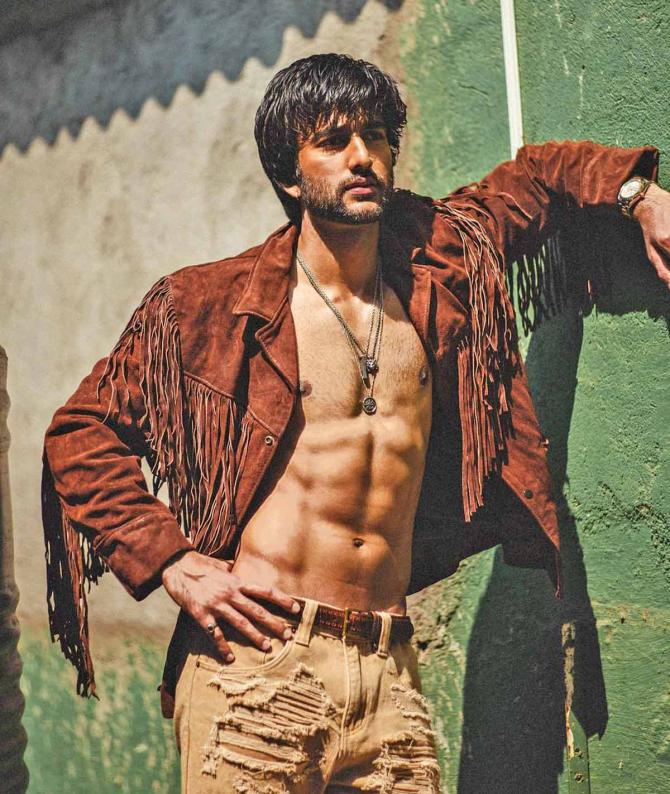 You got to be part of the Churake Dil Mera song remix. How was it dancing with Shilpa Shetty?
It was surreal!
Even today when I think of it, I wonder how it fell on my plate.
Not just the remix, but also to do it with the original leading lady, Shilpa Shetty.
I am honoured.
I tried to live up to the expectations of people.
There has been a lot of love and appreciation, so I am super happy that people have loved us in the song.
Priyadarshan allows a lot of improvisations, unlike Sanjay Leela Bhansali who produced your first film Malaal...
With Sanjay sir, there is a lot of preparation. He asks how should we do it, why don't you show me another way of doing...
He gives you freedom and lets you bring a lot to the table.
When we actually go to shoot, we know what we are going to do.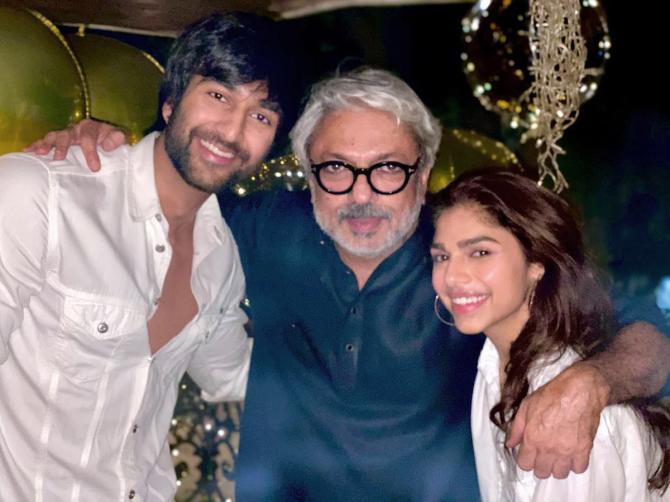 How different is Bhansali's way of working from Priyadarshan's?
They are completely different.
Sanjay sir's film-making style is completely different and the kinds of films he makes are also different. For example, Sanjay sir shoots two shots in a day while Priyadarshan sir finishes two scenes in a day. That is obviously a massive difference.
I am lucky that I got to work with two directors who have a contrasting styles of working.
Then, there are small things like Priyadarshan sir starts shooting early at 7 am and doesn't shoot after 5-5:30 pm.
But with Sanjay sir, it can be anything.
For Sanjay sir, along with the acting, there are other things that matter too, like your look and costume... but Priyadarshan sir doesn't focus on that.
He just sees if what the actor is saying is fine or not.
For example, Priyadarshan sir would not see if all the candles are lit in the frame but Sanjay sir would. He tries to make every frame look like a painting.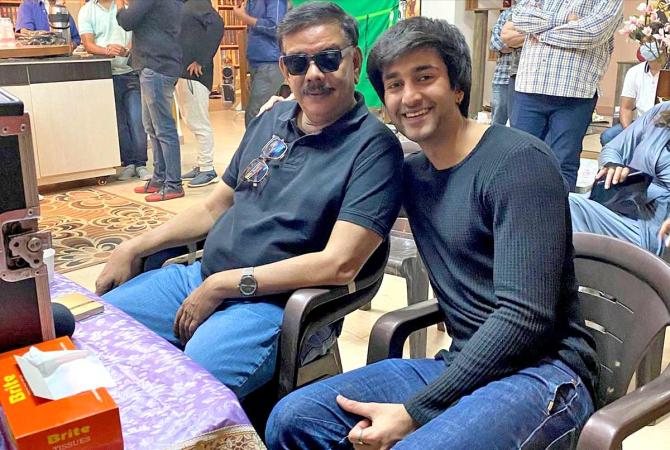 Your dad Javed Jaffrey is known for his superb comic timing. Did you find the comedy easy?
I have never done it before in my life, to be honest.
I think it's easy in Priyadarshan sir's films because I don't think anyone is doing comedy. They are just playing their parts.
The minute I start doing comedy, it will fall flat and would ruin the scene.
It is a situational comedy, not slapstick. It is just that my character is stressed out and restless, and I just have to play the part.
You have to exactly do those things because the minute you go out of character, the whole scene will fall flat.
Does your father help you with your scripts?
I have started doing it because I started appreciating his inputs more.
At first, I was like maybe it's wrong, but today, I understand that what he is saying is absolutely right.
Otherwise, he doesn't interfere much.
He gives me my freedom.
I feel he knows that I will handle it, so he is not worried.
Today, I understand the things he used to say because I am part of the industry now.
I think we relate on a different level now, and our bond has gotten stronger.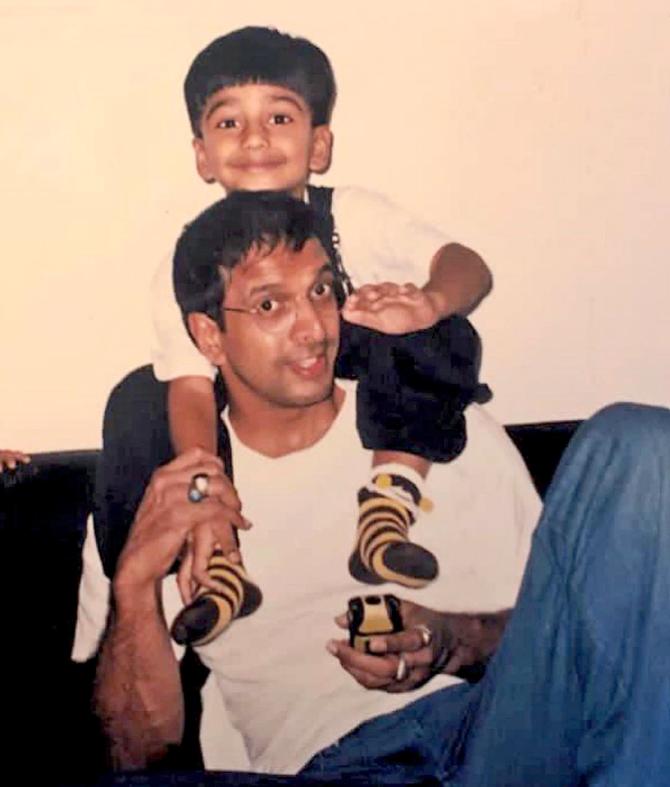 Who's a better dancer? You or your father?
(Laughs) I think my mum will answer that question better.
My dad has a different style of dancing. He is amazing in what he does.
There is no comparison.
People know him for the kind of work he has done.
The way he performed in his very first movie, Meri Jung, in the song Bol Baby Bol Rock & Roll, people were taken aback because this was something nobody had seen before.
I try and learn as much as I can.
I am glad that somewhere, those genes have been passed onto me, which is why I can do it a little bit.
But obviously, he is a far better dancer than me.
I have a long way to go.
Did you ever speak cinema with your grandfather Jagdeep?
I never wanted to get into acting; it came my way after I met Sanjay sir.
But right from my childhood, my grandfather used to talk about films and his experiences.
I don't think anyone has been as lucky as me to hear these stories, growing up.
What's next?
I am working on two-three things, and we will announce them soon.
I'm trying to explore as many genres as possible and showing my versatility to the audience.