D
aler Mehndi
and flashy Bhangra Pop are synonymous, and you can almost always spice up the combination with flashy accessories that go
tunak-tunak
.
These days, Daler has been singing a different tune. Upset with Yash Raj Films, makers of Jhoom Barabar Jhoom, starring Amitabh Bachchan, Abhishek Bachchan, Bobby Deol, Lara Dutta and Preity Zinta, the singer has sued filmmaker Yash Chopra for Rs one crore (Rs 10 million) for unceremoniously dropping him from the film's music album.
The singer talks to Tanveer Bookwala about the controversy.
So what really happened?
It's really sad and unfair that this has happened. I was called a year ago by the producers (Yash Raj Films) and director (Shaad Ali Sehgal) to sing a song, Jhoom Barabar Jhoom.
They had spoken with Mr Bachchan about it. But when the music released, I was outraged to hear Shankar Mahadevan's voice singing the title track. I wasn't even compensated or credited for the track.
Shankar's voice is very similar to yours -- not just his singing style but voice too.
(Getting upset) Thanks to modern technology, sound can be manipulated in many ways. Most songs are recorded in layers these days and they have possibly recorded over my soundtrack and merged the two. It's unethical and heartbreaking.
I believe you have filed a criminal breach of trust against Yash Raj.
I have sued filmmaker Yash Chopra for Rs one crore alleging criminal breach of trust. I realised I was unceremoniously dropped from the album after the soundtrack was released on May 15.
I have also sent similar notices to director Shaad Ali, lyricist Gulzar and singer Shanker Mahadevan.
Besides that, I have asked for an unconditional apology within 15 days. If the parties do not reply within the stipulated time frame, then I shall be forced to go ahead with legal proceedings against them.
Your fans are said to be enraged and are burning effigies of Yash Chopra. How do you react to this?
Honestly, it feels good. I mean, it is very encouraging to an artist that he has such magnanimous support from fans who believe in the truth.
That said, I don't want aggression. They should express it through interviews or the Internet or other regular means. I don't encourage burning effigies or violence of any kind. I am a peace-loving person.
It seems that Ehsaan of the Shankar-Ehsaan-Loy trio has said that Mr Bachchan asked them to change the singer as he had a good equation and string of hits with Shankar. Is that true?
It hurts my heart to hear such atrocious lies about Mr Bachchan who is an artist par excellence. He is also an extraordinary human being and I cannot even compare to his greatness if I were to be reborn several times. I am like the dust off his feet and will not put up with the gibberish about him.
So you mean to say that the composers are lying?
I have reason to believe that, yes.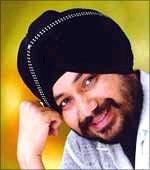 All this must be very discouraging?
It is. However, I believe that artist mein dum hona chaiye (an artist must have inner strength). Nobody can stop you if you work hard and believe in yourself and your work. I am concentrating on my new album, Raula Pai Gaya. The response to it has been great.
Tell us more about the album.
Raula Pai Gaya loosely translates to Shor Macha De and literally means, 'Arrival of the king'. It is a fun album with some new sounds in unconventional, albeit traditional Daler Mehndi style that everyone can dance to.
It also has a heart-warming number, Namoh Namoh, that everyone is sure to love. I've even received a compliment from the President, when he told Pandit Jasrajji that he really liked my sound.
That must have been quite a high?
It's the ultimate reward coming from such great people. BMG/Universal has also signed me up making me the first Indian artist in Asia to do an international collaboration.
Any words for your fans?
I think it is important to believe in one's self and also to decisively believe in the truth, no matter what. I think one must do good work; be sincere and success will definitely come to you. Again, I want to thank my fans for all their generous support. It means everything to me.