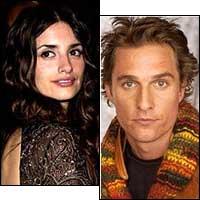 Hollywood hunk Matthew McConaughey has said he has no plans yet to marry his Sahara co-star Penelope Cruz.
'Right now I've got five free fingers and life is good and she and I are doing just fine,' femalefirst.co.uk quoted McConaughey as saying.
The 35-year-old actor admitted Cruz and he share a nice bonding, 'but no M-word has been talked yet.' 
Cruz and McConaughey have reportedly been enjoying togetherness since they started working on Sahara, paving rumors that marriage may be in the offing.