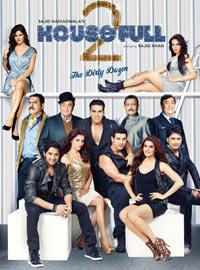 Ever since it began in 2008, the Indian Premier League (IPL) has taken audiences away from the theatres. Since it takes place in summer, when vacations in schools and colleges meant brisk business at the box office in the pre-IPL era, filmmakers were not too happy with this cricketing phenomenon which has forced many of them to release their films before or after the event.

This year seems different.

The IPL starts in April and many big films are slated for release then: Housefull 2 will hit the theatres on April 5, followed by Vidhu Vinod Chopra's Ferrari Ki Sawaari and the Anil Kapoor-Ajay Devgn starrer Tezz on April 27.

Emraan Hashmi fans will see him in Janaat 2, which releases on May 4, to be followed by Vikram Bhatt's Dangerous Ishq and the Amitabh Bachchan-Sanjay Dutt starrer Department.

Media professional and industry observer Abhijit Mhamunkar says the film industry is betting on cricket fatigue setting in among the public.
"The Indian cricket team has been continuously playing cricket for the last one year. The recently concluded tour of Australia didn't garner good TRPs. This shows that people are bored of cricket," Mhamunkar says.
"Filmmakers have now overcome the fear of IPL. Not only small films but even films for big banners are gearing up for release in the next two months," he adds.
Housefull 2 releases on April 5, one day after the IPL starts. Director Sajid Khan doesn't see any competition from the IPL. "I strongly believe that cricket has become very boring as there are cricket matches every single day."
He says it also has "to do with the fact that Housefull 2 is a summer blockbuster. It's very important that I release the film at the right time and I am sure the film will do extremely well."
Producer Sajid Nadiadwala acknowledges that IPL had hit the release of films, but over the years, it has lost its charm. "The trend is now changing. Filmmakers have slowly realised that if you make a quality product, no matter what time of the year it releases, people are going to watch it."
Kunal Deshmukh, director of Jannat 2, also thinks the IPL is no longer the phenomenon it once was and there has been an overload of cricket in the last year and half.
But he's cautious: "I am not saying that I would like to compete with the opening or the closing weekend of the IPL. It's safe to come out sometime in between.
"Also, I believe that if the promo of the film doesn't build up the curiosity, it is not going to pull audiences to theatres irrespective of its release date."
A film like Housefull 2 will more than hold its own against the IPL because, says Mhamunkar, audiences have not seen an out-and-out commercial film since Agneepath released in January.
"It was a complete masala film and got a fantastic response from the audience. People have been waiting since then for another commercial entertainer and Housefull 2 has all the right ingredients."
Some big ticket Hollywood films are releasing in April too, such as Men in Black-3, The Avengers and Titanic-3D.  
Mhamunkar claims that the all-important TRPs of IPL matches have been declining over the years, "Last year we saw a drastic fall in the number of people who watched IPL. Even the stadiums were not running to full capacity," he said.
Cricket's loss is the film industry's gain.