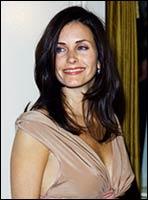 I
n a stunningly vivid example of life copying art, Courteney Cox and actor husband David Arquette have reportedly decided to adopt a baby.
Mother to three-month-old daughter Coco, the former Friends star suffered several miscarriages before the birth of her healthy child.
As she enjoys motherhood, she is unsure about another pregnancy, according to ananova.com.
'They both want kids desperately, but Courteney is not sure about going through another pregnancy,' says a friend. 'She found having Coco a lot harder than she imagined and she's aware that at 40, time is not on her side. She and David have talked about adopting and are keen on the idea.'
Friends
fans would be amused at the coincidence, as, during the series' last season this year, Cox's character Monica was unable to conceive, and, resultantly, adopted a baby.
Photograph: Getty Images