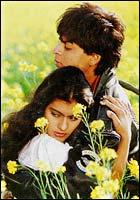 A
re you a Hindi movie buff? Do you watch a lot of love stories?
Then figuring out the keyword to them should not be a problem for you, right?
Mohabbat bhi zindagi ki tarah hoti hai, har mod aasan nahin hota, aur har mod pe khushi nahin hoti, par jab hum zindagi ka saath nahin chodte to mohabbat ka saath kyun chodein
. (
Mohabbatein
)
Pyaar dosti hai
. (
Kuch Kuch Hota Hai
)
Exclusive! Check out what Shobhaa De says on Shaadi: SMS SHO to 7333
Sarhad paar ek aisa shaks hai jo aap ke liye apni jaan bhi de dega
.(
Veer-Zaara
)
Ek aisi ladki, jise dekhte hi dil ki har aarzoo, saare khwaab, saare rang zinda ho jaaye. Abhi aisa hua nahin hai, lekin ab aisa lagta hai jaise koi andekha anjaana chehera, baadalon mein se pukaar raha hai. Pata nahin yeh baadal kab hatenge, aur kab woh pukaarne waali saamne aayegi
. (
Dilwale Dulhania Le Jayenge
)
Yaad rakhna ki duniya ke kisi kone mein koi khush hai, kyun ki tum khush ho
. (
Chalte Chalte
)
Pyaar to bahut log karte hain, lekin mere jaisa pyaar koi nahin kar sakta kyun ki mere paas tum jo nahin ho. Tum meri ho, main tumhe zindagi bhar pyaar karoonga, martedum tak pyaar karoonga aur uske baad bhi
. (
Kal Ho Naa Ho
)
What do these dialogues have in common? Do I see several raised hands? Amazing. You are all right. The answer is Shah Rukh Khan!
The actor has led quite a romantic existence through a career spanning little more than a decade.
He unsuccessfully wooed Anna, became obsessed with Kiran, secretly adored Anjali, madly loved Simran, rotted in jail for Zaara and died for Paro.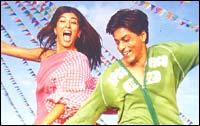 There is something irresistible about the way Khan flirts with his fingers, plays with his eyes while mouthing those ever-so eloquent lovey dovey proposals. Even his teacher in Main Hoon Na couldn't help but succumb to his boyish charm and confident dimples!
Let's try and figure out what makes SRK tick. By his own admission, he isn't a gorgeous hunk. Although when it comes to popularity, he could put a whole battalion of Greek gods to shame. Looks are an over-rated virtue anyway.
Let's shift our focus to personality. Khan has oodles of it. He is intelligent and he knows it. As an added bonus, these days he is humble too. He is a formidable mix of earthy, intense and cute, which makes him pass off both as the boy next door or the rich arrogant brat.
Get into the Valentine groove!
Not to mention the most effective aspect of his persona -- heart. The actor connects to his audience, primarily comprising of eager-to-grow-up teenyboppers and young-at-heart family audiences direct dil se.
Now let's check the statistics. Among the 45-plus films he has done, most have been successful. They oscillate between blockbusters, average to commission earner status. SRK has had very few duds to his credit. Barring a few exceptions, his image as Bollywood's romantic heartthrob has never let him down.
Instead, SRK popularised sweet albeit silly concepts like making a wish on spotting shooting stars (Kabhi Haan Kabhi Naa and Kuch Kuch Hota Hai), tying friendship bands (KKHH) and playing guitar and carrying cowbells (Dilwale Dulhania Le Jayenge).
Falling in love during a journey is also one of his trademarks. Watch Dil Se..., DDLJ, Zamana Deewana, Pardes, Asoka, Chalte Chalte, Veer-Zaara.
SRK can be middle class too! Like enjoying the simple pleasure of eating chana with his girlfriend on Mumbai's Chowpatty in Raju Ban Gaya Gentleman.
He plays the sacrificial lamb with élan by bailing out the guy his girl is going out with, without fail. Remember how he saves Apoorva Agnihotri from getting exposed as a smoker in front of Mahima Chaudhry in Pardes or his 'chhay din ladki in' strategy to help Saif Ali Khan impress Preity Zinta in Kal Ho Naa Ho.
This has its side effects too. SRK has got branded as repetitive. The actor, who turns 40 this November, believes he is foremost an 'entertainer' and loves to give the public what it wants. While critics raved about his performance in Swades, box-office figures were discouraging. On the other hand, a regular act in Veer-Zaara got the cash registers tinkling.
Earlier too, Khan's attempt to be different in films like Asoka, Phir Bhi Dil Hai Hindustani, One Two Ka Four and Koyla missed the mark. Clearly, the audience can't get enough of SRK serenading heroines in exotic foreign locations.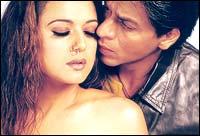 And I simply can't help ignoring this trivia. Most actresses, who are paired opposite Khan in love stories, end up winning awards! Kajol won a Filmfare trophy for DDLJ and KKHH, Rani Mukerji won for KKHH, Preity Zinta won for Dil Se and KHNH, Karisma Kapoor won for Dil To Pagal Hai, Madhuri Dixit won for Dil To Pagal Hai and Devdas, Aishwarya Rai won for Devdas...
Indeed, a romantic SRK brings the best out of his leading ladies.
If you look around, there is almost a dearth of hardcore romantic heroes in the film industry. At one time, Raj Kapoor, the lovelorn underdog, Dilip Kumar, the tragic prince and Dev Anand, the maverick lover, won the hearts of women across the nation with their distinctive styles.
Shammi Kapoor's 'yaa-hoo' antics, Joy Mukherjee's wandering ways, Shashi Kapoor's seductive smile had their fair share of appeal. And then came the Rajesh 'romance' Khanna phenomenon. Unmatched. Unsurpassed.
Though Amitabh Bachchan and Dharmendra displayed their tender sides once in a while, they were Jack of all genres.
Mithun Chakravarthy swapped the art of pursuing a woman for disco dancing.
The Anil Kapoor Sunny Deol Sanjay Dutt Jackie Shroff brigade preferred dhishoom dhishoom while Govinda took the ha-ha route.
Kumar Gaurav looked a possible heir to the throne of hearts but didn't quite make it.
When the Qayamat Se Qayamat Tak and Maine Pyaar Kiya craze hit the country, Bollywood rushed to crown Aamir Khan and Salman Khan as next Don Juan De Marcos. But the perfectionist chose the road to versatility and the controversial one took the path to bodybuilding.
In the current scenario, Hrithik Roshan wants to be daringly different. So he is playing a baddie in Dhoom 2. Vivek Oberoi's turn as a classic lover boy in Kisna did not impress. Abhishek Bachchan is yet to find his moorings. That leaves Shahid Kapoor, who is accused of imitating SRK.
The truth is there is no one like SRK. Though he started off as the neurotic lover, the actor has mastered the art of winning the girl film after film. Perhaps that's what makes him a superstar. He always wins -- the girl and the audience!