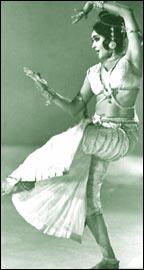 He believes all is fair in love and war. She believes in sacrificing for her nation.
What happens when two such ideologies clash?
In 1966, filmmaker Lekh Tandon explored the consequences of this conflict when he made a film on a true chapter in Indian history. He painted the story of the legendary courtesan Amrapali on a lavish canvas.
In the majestic palace of Magadh, the power-hungry King Ajaatshatru (Sunil Dutt) declares war on the democratic state of Vaishali. His motto is, "Yudh sainik ka dharam hai (War is a soldier's duty)."
Despite his mother's warning, "Vaishali ko yudh mein hara dena asambhav hai, kyunki ve kisi raja ki satta banaye rakhne ke liye nahi, swantantra ki raksha ke liye ladti hai, aatmsamaan ki raksha ke liye ladti hai. Usse tum yudh mein nahi hara sakoge (It is impossible to defeat Vaishali in the war because they fight for freedom and honour not to maintain a King's legacy. You won't succeed in defeating them)."
Paying no heed to her, Ajaatshatru goes ahead. In the course of battle, he injures himself gravely. So he takes refuge in the enemy country pretending to be one of their soldiers. The enchanting Vaishali inhabitant Amrapali (Vyjayanthimala), nurses him back to health.
While Ajaatshatru roams about town as the mysterious Sainik, Amrapali wins a dance competition and is conferred the title of Rajnrityaki (royal courtesan).
There is instant attraction between the two. And their stirring chemistry is hard to miss.
Although Amrapali is hopelessly in love with Ajaatshatru, she also prides herself on being a staunch patriot. On learning of her sweetheart's true identity, she breaks all ties with him. And instead of appreciating her sacrifice, the royal court accuses her of being a traitor.
The climax involves a possessed Ajaatshatru turning Vaishali into a bloody graveyard. He rescues Amrapali from the dungeon. Distressed by all the blood and death around her, Amrapali embraces Buddhism. Her repentant lover follows suit.
A subject like Amrapali would normally tempt any filmmaker to insert a dozen songs. But not this one. It featured only four tracks, all of which were sung by Lata Mangeshkar. It goes without saying that these gems -- Tujhe yaad karte, Neel gagan ki chaon mein, Jao re jogi and Tadap yeh din raat -- are easily one of composer duo Shankar-Jaikishen's finest works. The seduction in Lata's voice and the intensity of Shankar-Jaikishen's melody are mind-blowing.
| | |
| --- | --- |
| | More on Sukanya's Corner: |
| | |
The war sequences in Amrapali were another plus. Even an audience fed on extraordinary visual effects of The Lord Of The Rings will admire the magnificence with which Amrapali's battle scenes were executed. Clad in armour and shields, thousands of men rode on horses, elephants and chariots marching with swords in their hands on open ground.
What is truly amazing is that these men were not junior artistes. Tandon actually requested the Ministry of Defence to permit him to use cavalry and jawans from the Army Remount Depot, Saharanpur, Uttar Pradesh.
As for the dances, Vyjayanthimala's training in Bharata Natyam came in handy. The actress made Gopi Krishna's highly complicated dance steps look so simple with her grace. Her sex appeal was tastefully showcased in Bhanu Athaiya's costumes, which later came to be known as Amrapali blouses. This was one of Athaiya's earlier films. She later went on to win an Oscar for Richard Attenborough's Gandhi. After doing the costumes for Agneepath, 1942- A Love Story and Lagaan, the designer is now working on Subhash Ghai's Kisna.
Dwarka Divecha's cinematography was exceptional in the war scenes and the part where Amrapali burns Ajaatshatru's effigy. Divecha also has Ramesh Sippy's blockbuster Sholay to his credit.
Arjun Dev Rashk's dialogues (Jis Desh Mein Ganga Behti Hai) were another highpoint. The lines that stand out:
* Oonche adarsh iss prithvi ki tarah hote hain, jo maata naa hote hue bhi jeevan deti hai aur kaal na hote hue bhi nigal leti hai.
* Jis baan ke lagne se nahi mara, uske nikalne se kya maroonga?
* Sainik ka bhagya yahi hota hai ki woh anaam lade aur anaam mare.
* Sachi vijay uss din hogee jab manushya kisi maidaan mein shatru ka putla jalane ke badle apne hriday se shatruta ki bhavna ko jala phekega. Sachi vijay uss din hogee jab har ghamandi raja Siddharth ki tarah talwar ko tyaag kar manavta ka mann jeetne lagega.
* Tumhari sundarta Shiv aur Satya ki tarah pavitra hai.
* Prem aur kartavyon ki do jwalaon ke beech mein tu jal rahi hai Amrapali.
Amrapali was not only rich in visual extravagance, historic grandeur, poetic romance and intricate dances, it also conveyed the futility of war.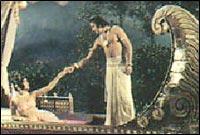 Despite all its splendour, Amrapali didn't get a favourable response at the box-office.
Director Lekh Tandon moved on to find success in light-hearted comedies like Prince, Jhuk Gaye Aasman and dramas like Doosri Dulhan, Dulhan Wohi Jo Piya Man Bhaye and Agar Tum Na Hote.
But the film's leading lady, Vyjayanthimala, who looked breathtakingly beautiful, was heartbroken. Soon after Amrapali's no-show, she quit films.
In recent times, we have had a slew of period dramas like Lagaan, Gadar-Ek Prem Katha, Asoka, Devdas and Pinjar. Bajirao Mastani and The Rising are the new ones in the making. While a couple of these films were genuinely good, some managed a good opening thanks to the hype that surrounded it.
Perhaps if Amrapali were released today, it wouldn't end as a Rs 88 VCD on the shelf of a music store.
What if it were remade though? Maybe Sanjay Leela Bhansali would direct it. Amrapali demands the kind of dramatic brilliance that was not so neccesary in Devdas. Plus, Bhansali's sense of romance is akin to the Amrapali and Ajaatshatru experience.
Nobody besides Madhuri Dixit would do complete justice. And Akshay Kumar would make an interesting obsessed king and gentle lover in Ajaatshatru.
What do you think? Tell me your picks.