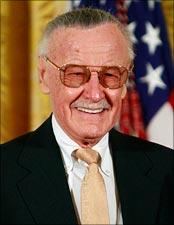 A Mumbai teen debuts as the first Indian superhero created by comic legend Stan Lee, the driving force behind some of the world's popular comic book heroes like
Super-Man, X Men, Thor
and
Fantastic Four.
Lee in collaboration with local artists and writers has created the hero
Chakra -- The Invincible
, that is expected to be lauched in India by April 2012 and would be distributed in India by Liquid Comics, according to information put out by the company. 
The first issue will be released free in April 2012 via Liquid's website 'Graphic India' and further distribution would be through the site's digital comics platform and app.
'Wow! I'm incredibly excited to be collaborating with my friends at Liquid Comics and their best-in-class team of artists as we launch a great new, thrill-a-minute superhero saga named
Chakra -- The Invincible
,' said Lee in a statement. 
'Against the spectacular backdrop of the great Indian metropolis of Mumbai, we tell the incredible saga of Chakra,
our
daring and dangerous teenage hero,' he said. 
The series follows Chakra the alter ego of Raju Rai, a genius who is determined to use science to unlock the secrets
of human potential. He develops a technically-enhanced suit that activates the mystical chakras of the body unleashing
newfound abilities and powers.
Liquid Comics CEO, Sharad Devarajan said, "Stan Lee is one of the most prolific storytellers in the world today, having created iconic characters that have generated billions of dollars at the box office and are known by nearly every man, woman and child on earth."
"What better way to conceive of a new generation of Indian superheroes than in collaboration with the Godfather of the genre?" adds Liquid's co-founder, Gotham Chopra.
Graphic India currently offers digital comic books like Shekhar Kapur's
Devi
and
Ramayan 3392 AD
; Gotham Chopra's
The Sadhu
; Deepak Chopra's
Myths of India
; Saurav Mohapatra and Saumin Patel's
Mumbai Macguffin
; and Samit
Basu's
UnHOLI
.
Photograph: Reuters/Jason Reed