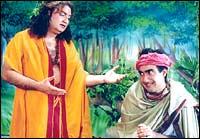 Before you turn in at night, it's a good idea to switch on to Star One and get a mouthful of chuckles.
The Great Indian Comedy Show, at 11pm on weeknights, is quite an ambitious endeavour. Filled with humour heretofore unconventional in terms of canned-laughter driven television, the show is a severely quirky and twisted effort, which nevertheless manages to come across as accessible.
And for all of us joining the boat late, here's a special: on May 1, the show will celebrate its first 100 episodes with The Great Indian Comedy Show, 100 Not Out, a special marathon of the best 100 gags, to be aired non-stop from 12.30 pm to 9 pm on Star One!
So yeah, you can catch up with the Punjabi cowboys, saas-bahu ripoffs, 'Dharmcula' (Dharam paaji's soul in a Dracula avatar!) and sexually inadequate superheroes, among others. Eight and a half funny hours, these.
The show consists of sketch-based comedy, on the lines of Saturday Night Live or Mad TV, but its creators are defiantly proud of its prolificity. No other show they know of, they claim, churns out sketch-based work every night of the week. Slowly and steadily, the show has been gaining an audience, and its characters are beginning to blossom into unique identities.
The format of The Great Indian Comedy Show involves sketches and small doses of stand-up comedy, at last done with reasonable quality in terms of Indian television. A cast of sparkling comic actors makes for a formidable ensemble, and this might be the only show currently on air with a seriously sharp writing team. The show takes on all kinds of stereotypes, and as one of its writers confesses: 'whatever the public like, we spoof.'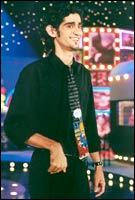 The material goes through a severe elimination process every Monday, when the show's directors meet with the team of writers and administer a laugh test to every potential joke. If the gag falls flat in this meeting, it's out. Also, it could be a great punchline, but not exactly the show's kind of thing, which means that's out as well. This stringency in quality control is very refreshing for our television shows, and it's great to see a show created keeping it's own identity in mind.
The cast of the show include a bunch of regulars -- Suresh Menon, Ranvir Shorey, Gaurav Kapoor, Manini Mihir Mishra, Vinay Pathak, Gaurav Gera, Purvi Joshi -- and occasional celebrity guests like Makarand Deshpande and Mandira Bedi. The scripts are obviously tailored keeping the actor's assets in mind, and people excited about the show are thrilled enough to want to come back and do it again.
The actors themselves are thrilled. Manini Mishra, better known as Jassi's Pari, a woefully clueless blonde, gushes excitedly about TGICS, and the fact that it affords her the opportunity to play six eclectically different characters all in the same night, 'from an 80 year old political activist to a geeky and boring behenji college student.'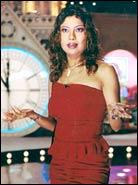 A woman with a rather edgy sense of humour herself, the bright-eyed Manini's favourite parts on the show include a mad piece where she does a take on Antara Mali's contorted Naach dances. "I'm called Santara Gali, and in the sketch, I have an Exide battery attached to my bum! So it's switched on, and I go into these epileptic fits! Which is what she dances like, in that movie! The way we did that sketch, it was totally mad!" Bursting into peals of laughter, she talks about her other great parts, including sketches she's working on writing herself, and a Raakhi Sawant spoof character she's rather proud of.
"The humour we have on the sets is crazy," Manini says, cluing us in on the insanity, "and what you see on the screen is a very, very filtered down version. I'm a daily soap actress, but this is one shoot which I really enjoy because we all just come here to let our hair down."
And what do they laugh at? "The most awful jokes. It's really disgusting," she giggles. "Toilet humour of the worst kind, really crazy lines. We're all educated, polished, sophisticated people. But when we're here and just loosening up, nothing matters. It's insane, yes. But isn't that the whole point?"