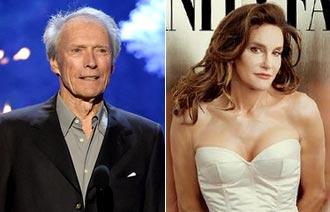 Hollywood actor-filmmaker Clint Eastwood poked fun at Caitlyn Jenner at the Spike TV Guys' Choice awards.
Eastwood, 85, poked fun at the former Olympian -- who was known as Bruce Jenner before her gender transition -- while introducing Dwayne 'The Rock' Johnson to the stage at the ceremony at California's Sony Pictures Studio. But the gag reportedly fell flat, reported Hollywood Life.
Eastwood compared the wrestler-turned-actor to former athletes who have become actors, 'like Jim Brown and Caitlyn Somebody...'
However, the network has confirmed the joke will be axed when the ceremony is broadcast on June 18.
David Schwarz, Spike TV senior vice president of communications, told USA Today, 'We will remove the reference in the version that will air.'