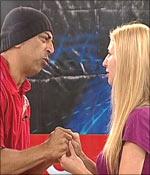 This week, Bigg Boss will see more than the usual number of housemates out of the house.
While Kamal Khan was free to leave the show since he was a guest, it is Claudia Ciesla's as well as Vindoo Singh's turn to get evicted.
But here's a twist.
Vindoo will not be officially eliminated; he will simply be led to a secret room, like Raja Choudhary had been in the previous season of the reality show.
After the nomination process next week, Vindoo will find himself back in the house.
What do you think about this Bigg Boss twist? Have your say!