'You need to be very passionate towards life, not because you are a film-maker, but because you are a human being.'
'If you can do that, then I think it reflects in the films that you make.'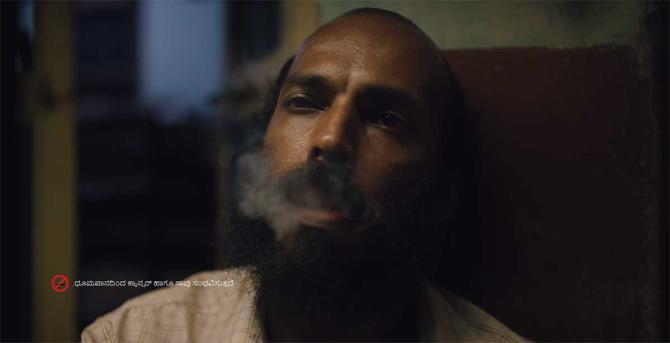 I first saw Raj B Shetty in the basement of the Village East Cinemas on the Lower East Side of Manhattan in the spring of 2017.
The New York Indian Film Festival that I work for had programmed Shetty's first directorial film Ondu Motteye Kathe, a charming little Kannada film about a shy man who is dealing with premature balding and how it impacts his marriage prospects. It was the film's world premiere.
I remember the tall, lanky Shetty walking in the crowded lobby of the theatre, packed with his fans. His smile was so similar to that of the character Janardhan he played in Ondu Motteye Kathe.
Four years later, Shetty is back with a bigger project: An explosive gangster thriller called Garuda Gamana Vrishabha Vahana.
It is the story of two gangsters -- Shiva and Hari -- brought up by the latter's mother and their path to crime in Mangalore.
GGVV is an intense film, brilliantly acted with Shetty playing Shiva and Rishab Shetty as Hari. The two represent the Hindu mythological characters, Mahesh (Shiva) and Vishnu (Hari).
The third character in the trimurti is Brammayya (or Brahma in the Hindu mythology), a cop played by Gopal Deshpande, who is sent to control and hopefully, end the terror reign of Shiva and Hari.
Stunningly shot and edited by Shetty's friend Praveen Shriyan and scored by Midun Mukandan,GGVV is one of the best Indian films of 2021.
The film captures the local essence of Mangalore, from kids playing cricket to the Pili Vesha (tiger dance) performed during Dussehra.
As a mainstream film, it is thoroughly entertaining and technically far superior to thrillers in other Indian languages. Bollywood has a lot to learn from Shetty's film-making.
"I am from a middle class family and for us, money was such a big thing. So to make a film, even a short film, without preparing is something I can't even imagine. I wouldn't invest in films unless I am very sure," Raj B Shetty tells Rediff.com Senior Contributor Aseem Chhabra.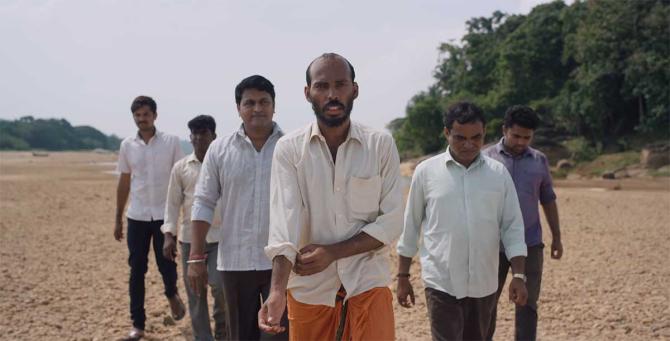 Raj, it is really impressive that you made two films, one so sweet and lovable, and then a brutal gangster tale. How do you move from that soft, sweet story about a man dealing with premature balding to such a gripping thriller?
I think there is no difference between the quality. When a film-maker chooses a subject, he should be very honest and sincere about it.
When I made Ondu Motteya Kathe, it was about a guy, his complexities and insecurities. The character was very shy and soft spoken.
I created the setup with the budget constraints.
I was forced to write that film in a way which was very simple.
Ondu Motteya Kathe was the first time I had visited a film set as a director.
I had never assisted another director. I had to devise a way to work because I didn't have any experience.
After that, I knew that as a team, we were capable of doing better stuff.
But in Garuda Gamana Vrishabha Vahana the challenge was to do something that we didn't know about.
By then I knew about the three-act structure, which guides the story. But when I started writing, I didn't use any of the writing tools.
I tried to devise something which was new to me as a film-maker so that is the reason maybe this film turned out to be completely different than Ondu Motteya Kathe.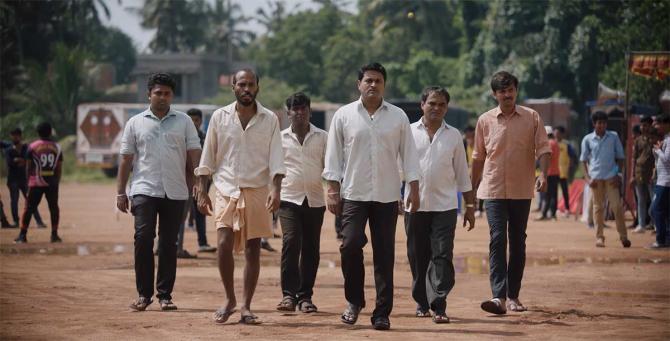 You talk about the three-act structure. Have you studied script-writing?
I was an accidental film-maker.
When I started my professional life, I was an RJ and then I worked in advertising.
They were very bad quality advertisements because I worked in Mangalore, which is a small town.
The clients would come to us and say they needed ads but they only had budgets of Rs 8,000 per project.
Later I was asked to write a short film.
I was always fascinated with cinema, so I requested if I could visit the set.
On the set, I could see that the film-making process was not up to the mark.
I could sense it, but I didn't know how to explain it in a technical way.
I asked the filmmaker, 'Don't you think the performances are a little exaggerated?' But he insisted it was fine.
I thought maybe I didn't have the experience, so perhaps the film-maker was right.
After the short film was edited and I saw it, it was absolutely as I imagined. It was really badly made. That experience gave me some confidence.
That is when I started reading basic books such as Save the Cat (by Blake Snyder). And then I started following screenwriting Web sites like BAFTA tutorials.
I locked myself for one-and-a-half years, started watching movies, reading scripts and watching tutorials. That was the time I learned about the three-act structure.
After that, I wrote a few short films.
I am from a middle-class family and for us, money was such a big thing.
So to make a film, even a short film, without preparing is something I can't even imagine.
I wouldn't invest in films unless I am very sure.
When I ask others to invest, I had to be damn sure.
That is the reason why I started doing so much of homework.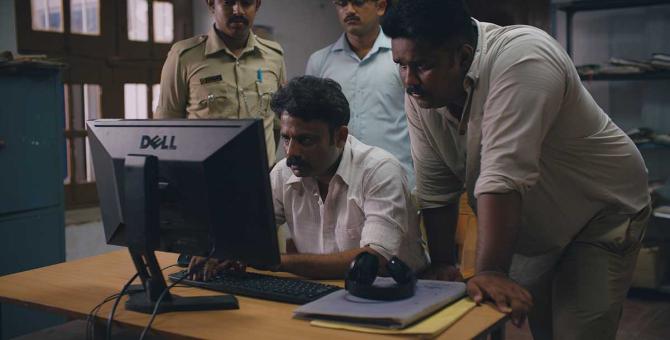 We all watch thrillers and gangster films. But are there any particular gangster films, any directors in India or the West that inspired you?
I really love Martin Scorsese.
By watching his films and looking at Robert De Niro, I realised there is so much to acting.
I was amazed.
I also love Francis Ford Coppola and the Godfather series. I am a fan of those films.
What I find interesting is that Shiva and Hari are not brothers. But because they grew up together, since Hari's mother adopted Shiva, there is a touch of The Godfather there, the way Michael treats Freddie. Did you think about that?
You say it now and it strikes me. But I think the essence of cinema should be developed from life.
You need to look at the people, the characters around you.
You need to be very passionate towards life, not because you are a filmmaker, but because you are a human being. If you can do that, then I think it reflects in the films that you make.
Cinema can inspire you to make films. But cinema shouldn't inspire you to write specific characters.
I didn't want to make a movie like The Godfather because it is such a beautiful film.
I don't want to recreate it at all because it is such a masterpiece.
Thinking of Shiva and Hari as mythological references helped me a lot.
I could build characters around those references. And I could set the story in Mangalore and the two characters looked very real.
Those two complex characters couldn't be developed from another movie.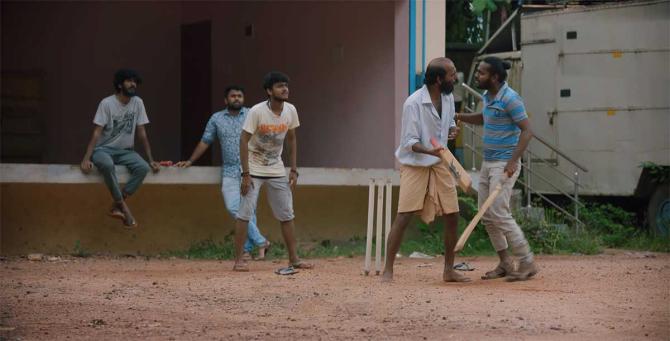 I was interested in how you develop the arc of the characters, how they grow.
Hari, for instance, starts off as a very soft guy, but over time he becomes an ambitious, ruthless gangster. Shiva takes a lot of nonsense from people and then one day, he explodes. The third character, Brammayya the cop, is weaker than both of them.
For me, the interesting idea was that violent actions are not done by strong people.
Violent actions are done by people, who are put in situations that trigger them to become violent.
Shiva was made to experience something and the expression of outburst may have brought some peace to him. Perhaps after that, he calmed down and started playing cricket.
Hari is like us, just ambitious.
He knows exactly how strong he should look.
Shiva, on the other hand, doesn't even have an idea that he is strong.
With Brammayya, I wanted to show a family man, a meek character, who can become cruel and be responsible for a death of a human being.
At the same time, he can speak to his wife and ask how his kid is doing.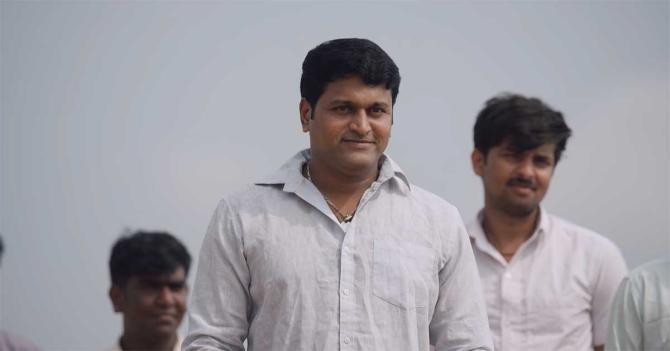 How did you decide that you will play Shiva and Rishab will be Hari? What did you see in your personality that you thought that you could be Shiva?
I wanted this movie to give a contrary experience to the people I cast.
The person, who looks very strong, is the calmest.
The person, who looks physically weak, is the scariest.
The person, who looks ordinary and meek, ends up killing the two strong characters.
Shiva is not a strong person. You don't need strength to kill another human being.
I knew exactly how he would think as a human being.
It is not about power or anything. So I thought I could be Shiva if I prepared well.
With Hari, even when he doesn't do anything, he still had to look strong, even though there were elements of innocence in him. I think Rishab played that well.
Somebody made a beautiful observation -- the first reaction Hari gives when a person holds a gun at him was the same as the last reaction when the kids hold a knife in front of him.
Externally, he has changed, but the sense of fear is still there within him.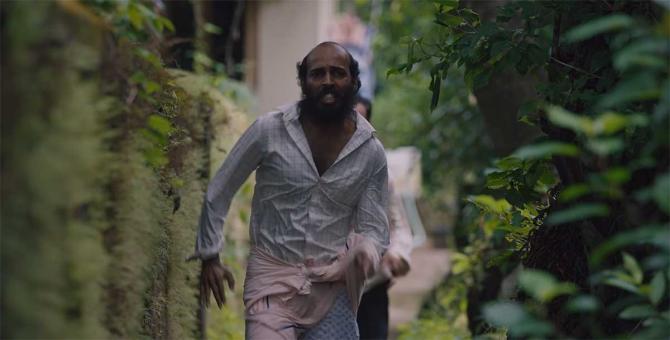 I saw this short video on YouTube on the making of Shiva. What I found interesting was that you shot the early scenes with the kids and you are having fun with them. And then suddenly your crew started to complain because you had become Shiva, the monster, while also working as the director.
I wonder where would the Shiva character start and when would you become the director who had to oversee every shot and other aspects of the film-making?
We had planned the whole thing in advance.
We started with the kids' sequences when I was not in those scenes.
I could relax during that time and we shot in small intervals of five or seven days.
Because we knew that if we take regular breaks, the intensity of the sequences could be reduced. It would be less tiresome.
As I told you, I am from a middle class family, so before the shoot I would prepare everything right down to the lenses and the tripods required.
I would feel responsible for my producers and I didn't want to waste money.
I would plan for the day starting at 6 or 6.30 am. This would be the first shot. Plus, I would have an alternative plan ready in case it rained.
My cinematographer Praveen Shriyan is a friend and we want to do films together.
He wants to grow as a cinematographer, but he is not ambitious that he jumps from one film to another. Instead, he enjoys the act of making a film.
So when we worked together, we visited every single location and we knew from where the sun would rise and from where it would set. Everything was put on paper and then we would go for five days shoot.
With all this planning, I could indulge myself in acting so that I could become the character of Shiva.
That being said, I was not always such an idiot on set. Only when the scenes were intense.
Otherwise, I would often take a 15-minute break and start playing with the kids. That would clear my mind so I could come back to the same intensity again.
For two days, I had to dance and audience wouldn't know which was the first step we shot and which was the last step. For Shiva, every step is his first step and he doesn't get tired.
I was completely prepared, involved in acting.
But then when someone made a mistake on the set and it was a terrible one, I did get angry.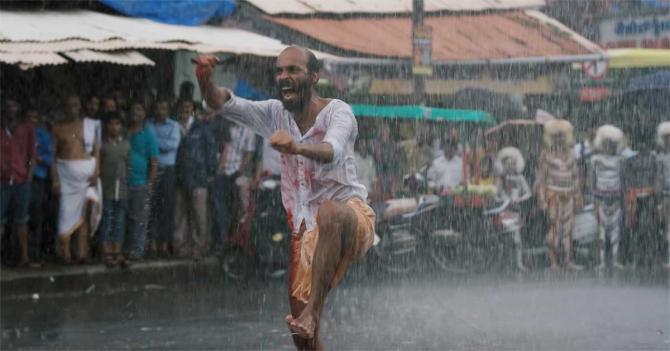 Tell me more about Shiva's intensity. How did Shiva enter your body? You have said that you are a very soft person and so what did you do to become Shiva?
I am a soft-spoken person because it is so rewarding to me as a human being.
Society has conditioned me to be this way by rewarding my behavior constantly. But I asked myself what if I was a person who was not dependent on social rewards?
Then my reaction could be much more animalistic and stronger, in fact, purer, if I can call that.
When I played Shiva, I would imagine I was lost. I didn't think there was a camera in front of me.
If you think you are non-existent in the world, then you cannot be conscious about your actions.
In many scenes in the film, if there is a discussion or if there is an important meeting then Shiva is not present. He is somewhere behind the scenes as if he doesn't exist. But when there is an action, Shiva suddenly appears.
I wanted that lack of presence of Shiva where he doesn't do anything in the film, but when he does take action, he expresses himself completely.
So I let myself express that rage without thinking of the camera or my performance.
Even in the most iconic moment in the film, the scene where I am shouting in front of Mangala Devi.
If you ask me how did that shot come through? I was there with about 200 young tiger dancers and I had to dance.
I held my knife and I stood there and they started playing musical instruments.
The camera was rolling and I was not able to move my leg because my rage was so full.
I was shivering and yet not able to do any action.
Slowly, I took my first and second steps but still I was not able to dance. Suddenly, I shouted at Mangla Devi and after that I could dance.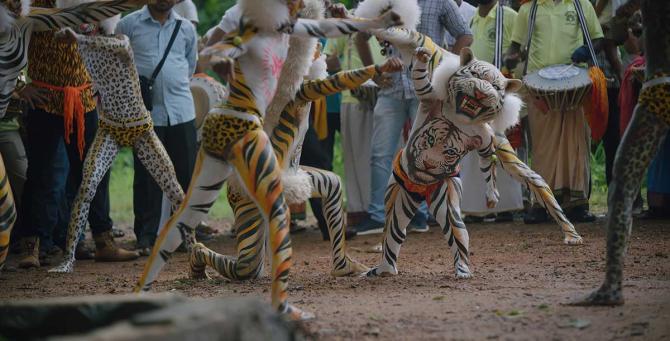 Did you take some choreography lessons for that powerful dance scene?
I think it would be very strange for a Mangalorean if he doesn't know the tiger dance.
If you are in Mangalore, in every function, like even when there is a housewarming party that Hari is hosting, people are performing the tiger dance or Pili Vesha.
That is how it is here.
Most of Mangalore is fascinated by the colours, the sounds associated with this dance.
I didn't plan any choreography, although from the editing perspective we knew a particular step would be there, followed by the next step.
Editing a song is such a hard thing and we are not film-makers who have done many films.
It was not about dance, but about Shiva's rage.
I was in a complete trance.
I didn't want to make the dance look technical. Rather, I wanted to make that dance look like a Tandav performance.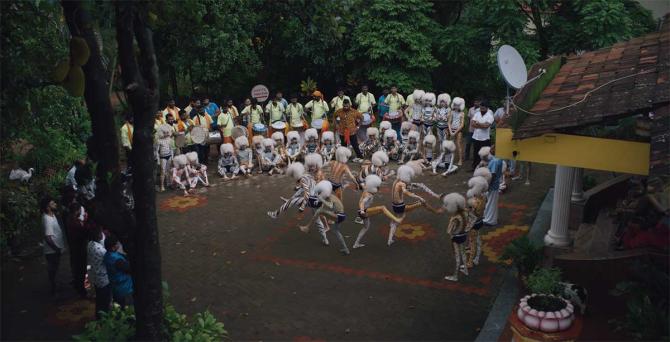 You use slow-motion many times in the film but the slow-motion sections while you are dancing are spectacular. There is one shot where the camera is behind you and your arms start to shiver and shake. I know it also has to do with the way it was shot and edited. But that moment was really brilliant.
Thank you so much.
There are only two small women's roles in the film. There is Hari's mother, who vanishes early on and then Brammayya's wife. We see her briefly and then we hear her voice on the phone.
On the other hand, Hari and Shiva are like brothers. But the look on Shiva's face, the way he loves Hari and then the hurt he feels when he's rejected in the second half. It's not a gay relationship but there is definitely love between the two men.
If you notice, the two songs in the film are both sung by women. And this is a gangster film.
One song Mahadeva is kind of a lullaby to a God who is in rage, to calm him down.
The other song is a request 'Please don't come near because there is a demon in me.'
Even though my protagonists look masculine, they're not actually as masculine as other gangsters.
Maybe that is the reason many people connected to this film. Because my three main characters are scared, they cry, there is a betrayal and they love each other. And this sensitivity is feminine for me.
It is not a negative quality.
As a writer, I didn't want to include a female character or I didn't want to exclude a female character.
I was not taking those decisions.
When I am writing the film, when I see the finished script, I think okay, people might suggest I need to add a female character. I think that pressure is not right.
In Ondu Motteya Kathe, I had three female characters, including the mother, who was very influential. They were very natural to the worldview of that movie.
In this movie, the idea of including a female character was a forced fit for me.
So what I did was, I treated the whole worldview of the film as feminine, including the sounds, the songs, the emotional ethos of the characters.
I preferred that than to adding female characters, perhaps as love interests of Shiva and Hari.
But the two small female roles are important.
It is Hari's mother who changes the course of the film by bringing Shiva home.
Brammayya's wife is on screen for 10 seconds, but her voice is heard later on. She always has a tired voice speaking to her husband. And she influences his decisions.
If he was a bachelor, his decisions would not have been impacted by his wife and kids. He would have thought in a completely different way.
How much of a representation should I give to women and how much to men?
I don't think about that, because for me, art is purer than these simple calculations.
I never use cuss words in my life, but the characters I created use cuss words.
So whatever is natural to them is shown in the film. That is the only judgment I made while writing the script.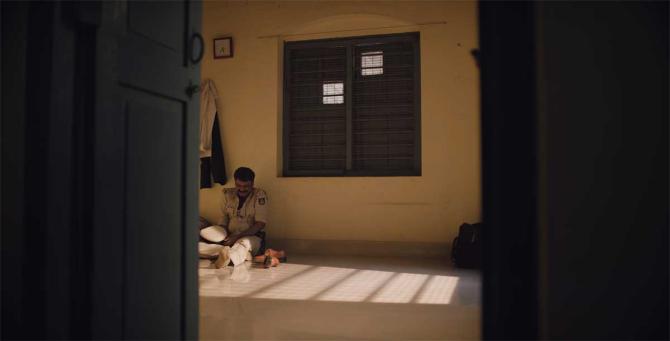 I was curious about the violence in the film. As a film-maker, especially when you are shooting, do you think in terms of what kind of censor certificate you will get?
I wanted the movie to get an 'A' certificate.
It's not only about violence, but the whole emotional setup is very deep.
Even in my interviews, I always request 'Please don't bring children to the film' because that is not the audience for whom I have made the movie and cinema is not only about selling tickets.
I strongly believe no kids should watch this movie.
Feature Presentation: Ashish Narsale/Rediff.com