'When a woman gets married, she leaves her village, her friends and family.'
'In her new home, she will make friends, but they can never replace those she left behind.'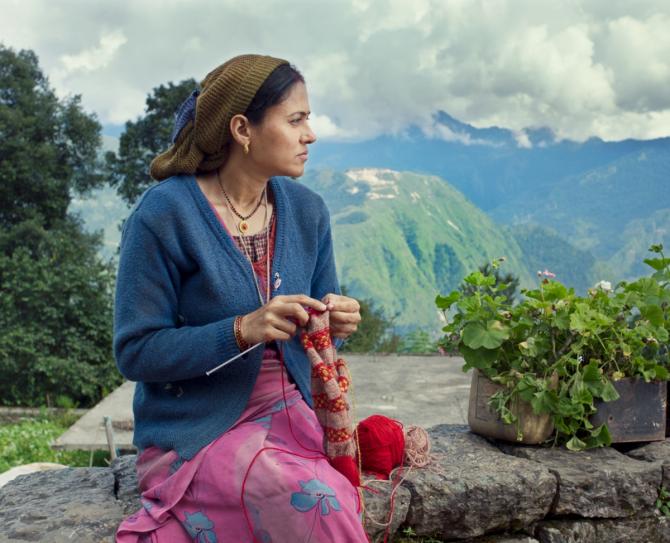 The Sundance Film Festival featured only one India film in the narrative section.
Fire in the Mountains is a beautifully made film set in a remote village in Uttarakhand, with breathtaking views of the Himalayas and assorted characters, who bring authenticity to the plot.
Directed by Ajitpal Singh, 44, a self-taught film-maker who, after years of trying, finally managed to finish his first feature film. It was a part of the NFDC Screenwriters Lab in 2018-2019 and also Marche Du Film 2020's: Goes to Cannes Section, held virtually in the midst of the pandemic.
Fire in the Mountains is a lovingly told story about the struggles of a family, where the mother Chandra (Vinamrata Rai) runs a homestay called Swizerland (the original title of the film).
But her main focus is to save money to get a road built so she can take her wheelchair-bound son to school and for his physiotherapy sessions.
Her husband Dharam (Chandan Bisht), a rigid man set in old traditional beliefs, wants to hold a Jagar, a shamanic ritual, to cure their son. The ritual features prominently in a key sequence of the film.
The film is gorgeously shot by French Cinematographer Dominique Colin, whose previous works include Rohena Gera's Sir. He is also known for his collaborations with Gasper Noe and Cedric Klapisch.
The film is rich in colours, moods and textures of rural life in a mountainous village.
Singh grew up under tough circumstances. His father, a farmer and ex-army man, ran a movie theatre in Bathinda, Punjab.
When Singh was eight, the business suffered huge losses because of the Khalistan movement.
Eventually, the theatre was shut down and Singh's family moved to Kalol, Gujarat, where his father took up a job of a security guard.
Singh grew up in a ghetto amidst poverty and violence. The family faced discrimination due to anti-Sikh sentiments, which had spread across India at that time.
But none of this deterred his resolve and Singh finally found the path of film-making.
He spent time honing his skills making short films, including Rammat-Gammat (2018) which won the Special Mention award at the International Short Film Festival Oberhausen and later travelled to over 50 other festivals.
Fire in the Mountains followed.
Ajitpal Singh tells long-time Rediff.com Contributor Aseem Chhabra why he made Fire in the Mountains: "My cousin Amarjeet Kaur had died because her husband refused to take her to a hospital. He believed she had been possessed by a ghost. I was really upset that in the 21st century, people would think like this. They took her to a tantrik instead of a doctor."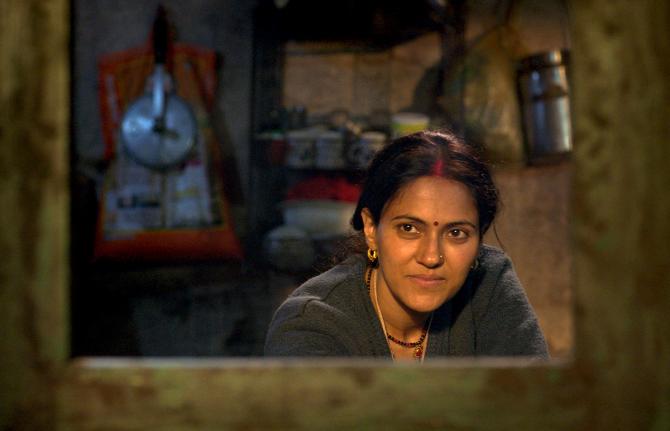 Why did you want to shoot the film in Uttarakhand and set the story in this particular village?
That decision was taken by the film's producer Ajay Rai.
He saw my short film Rammat-Gammat and liked it.
He suggested we should make a film together and shoot it in Uttarakhand.
He also told me he had contacts in the state and that would help us keep the budget in control.
Around the same time, my cousin Amarjeet Kaur had died because her husband refused to take her to a hospital. He believed she had been possessed by a ghost.
I was really upset that in the 21st century, people would think like this.
They took her to a tantrik instead of a doctor.
My sister was quite pragmatic.
She was the first graduate from my father's side of the family, and she inspired many of us to study.
So I had this idea of a story about a pragmatic woman married to a traditional man.
I was somewhat disappointed with Ajay's suggestion since I wanted to shoot the film in Punjab.
But then I went to Uttarakhand to research for the story and in the process, I found out about Jagar.
People vividly described the ritual to me. I even attended one such ritual.
I realised that Uttarakhand is a better spot since the film will have a visual manifestation of what we are talking about.
I wouldn't have able to find such an elaborate ritual in Punjab.
When I began to write the screenplay, I made a few short visits to Uttarakhand.
And you found the village during these trips?
I found the village Sarmoli in Munsiyari district just before the shooting.
When you are writing the screenplay, you don't constraint yourself with the thought of how you will find the location.
So the screenplay was about a village where women are running homestays, with views of the Himalayas. Modernity has arrived but there is a conflict with the traditional elements.
I didn't want to look for locations which had already been seen in films.
I was fortunate that my producer Ajay understood that different cinemas demand different locations.
I requested him to give me an Alto car and a driver.
Then the driver and I travelled through Uttarakhand for a month-and-a-half.
We visited many remote villages, but either they were too modern or too traditional.
We wanted to find a village where tourists would visit. That changes the economy and energy of the village.
There is a Sonapani Film Festival in Uttarakhand run by Ashish Arora. When I met Ashish, he asked to go to Munsiyari where I would find my requirements.
That how we found Sarmoli village on the border of India, Nepal and Tibet.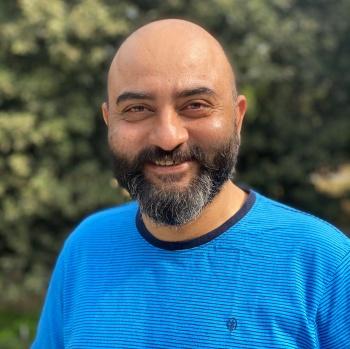 Ajitpal Singh
Wow, it is that far?
Yes. Ashish was right. Sarmoli has about 25 homestays.
It is such a stunning location. And the spectacular view of the snow-peaked mountains!
Mere to hosh urd gaye. Yeh to kamal ka gaon hai.
And I noticed the exchange between city and rural life. It was perfect.
But it was not production-friendly.
To get to the village, you first fly from Mumbai to Delhi. From Delhi, you take an eight-hour train to Kathgodam. Then it takes 15 hours by taxi through the mountains.
We had found an alternate location in Kasardevi near Almora.
We could see the Himalayas from there as well, but the mountains were quite far.
Then, my cinematographer Dominique Colin said something very important. He said, 'Nobody will ask you if it was easy or difficult to shoot in Munsiyari. They will either like the images or not.'
How long did you stay in Sarmoli for the shoot? Was it before the pandemic?
We were there for 34 days. We shot the film before the pandemic in September-October 2019.
How did you select the actors? Are they non-actors? They all look so authentic to the milieu.
Sonal Jha, who plays Kamla, the sister-in-law, has acted in TV serials and in Kanu Behl's new film Agra.
Chandan Bisht, who plays Dharam (the husband of the protagonist) is from the National School of Drama.
He was getting small roles in films, so instead, he continues to do theatre. This is a comeback film for him.
Is he from Uttarakhand?
Yes. The lead actress Vinamrata Rai (Chandra) is from Delhi. She is Sikh. She acted in my short film Hummingbird, which was set in Kashmir.
We know each other's work ethic.
I was convinced that she would transform herself into a pahadi woman.
All other actors are from Uttarakhand. Some we found near Almora, others from the Nanital area.
You said the people are very friendly, but when you are far away from even a medium-size city, it must have been a challenge to shoot?
Two days before the shoot, a truck carrying the lights and other production equipment was stuck on the road between two landslides.
We had planned to shoot after the monsoon. But the monsoon got delayed.
For two days, we shot without the lights.
Finally, the army came and repaired the road.
But we still had to collect the equipment from the original truck and bring in another truck.
A few days later, we lost an HMI bulb. We had to get it from Delhi.
You were able to communicate via phone?
Phones would work, but the Internet service was unstable. The area attracts a lot of tourists so phones work there.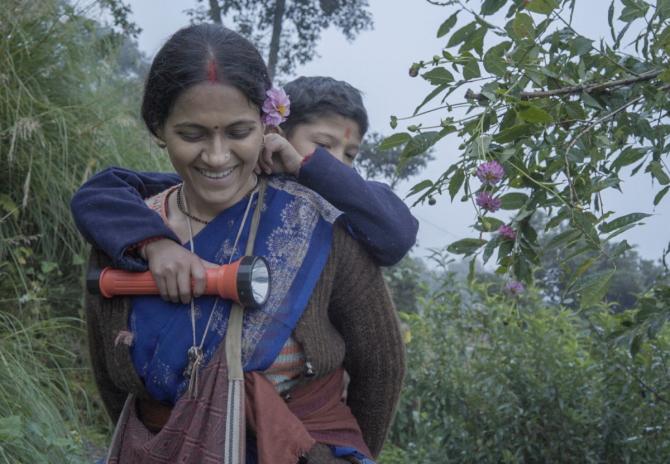 Film-making is a challenge in any case, but it must be really hard when you go to such a remote part of the country, and your budget is small.
But there are advantages as well.
If people come so far they have to be passionate about filmmaking. They also love being in remote places.
When we were doing pre-production, we lived in a small hotel where the rooms cost Rs 300 to 500.
After some time, we began to cook for the team.
We would sit around a table, eat and drink. That bonding experience was special.
There was nothing else to do since the Internet didn't work properly and there were no restaurants or cafes to go to.
Suddenly everyone had so much time to talk to each other.
We could not replicate that sense of familial bonding on a big-budget film, where everything functions nicely.
What I love about the film is its authenticity -- the people, their lives, the colours, their clothes. How did you achieve that?
That came with a lot of effort.
The home in the film is not a real house.
The structure was there, but we did the entire production design, re-painting the walls, creating the kitchen.
The most exciting part was getting the costumes right.
Having made short films, I realised that you cannot age costumes.
The collar of an old shirt falls in a certain way. The buttonholes of a shirt get wider with use.
The elbows of sweaters and jackets take on a shape after being used several times.
I knew all of that.
You cannot just recreate that look.
When we are planning the costumes, we made an announcement in the village where we asked the villagers to bring their old clothes.
In exchange, we gave them new clothes.
So all the actors wore clothes that had been aged over a period of time. And we matched the clothes with our colour palates.
There were things I discovered while spending time in the village.
I noticed that every house had a pet dog.
It was very common for leopards to snatch the dogs. So I added those elements to the narrative.
You witness a Jagar ceremony. How is it planned?
It's really complicated to understand the logic of it.
If you have any family issues, you tie a handful of rice in a cloth and go to puchar.
He is a guru who you ask for advice.
The name comes from the Hindi word puchana (to ask).
The puchar throws the rice in the air, say a few mantras, then according to the legend Bhairav, an incarnation of Lord Shiva, enters his body.
At that point, the puchar advises whether a Jagar session is required.
I simplified it for the film.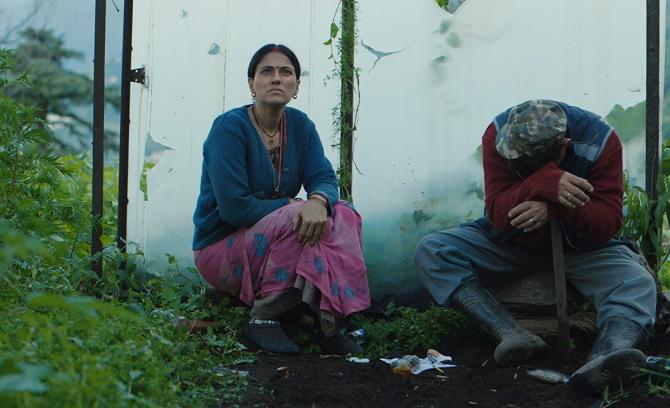 Given your education and exposure to the modern world, what did you think was happening when you witnessed this session? What happens to people who seem to be possessed with spirits?
When I was a child, my mother used to get possessed.
We lived in Punjab at that time.
We would visit a dargah of a Muslim fakir and there, she would get possessed.
She would open her hair, sway and scream. I remember many other women would get possessed.
If you watch videos of Jagar, you will see that it is mostly the woman who go wild.
You might have men dancing, but I have never seen a man go wild.
When I was young, I believed that meri maa par mata aayee hai.
As I grew older, I understood it somewhat differently.
When a woman gets married, she leaves her village, her friends and family.
In her new home, she will make friends, but they can never replace those she left behind.
Plus, women are suppressed in our society. So these women have no way to express their pain and sorrows.
When this ritual or ceremony happens, the dam within them breaks. The music helps the woman to go into a trance.
I now understand that my mother would enter into a trace, be in a different world, where she could believe that she was possessed by mata. Our brains can play these tricks.
Did you ever ask your mother what would happen to her?
Yes, and she would say that mata would enter her body.
You mentioned the word trance. When I lived in New York, I saw Nusrat Fateh Ali Khan perform many times. Each time I would see many of his fans dance as if they were hypnotised by his voice and music.
Basically, what the music does is to break the barrier of reality. There is a real world and an imaginary world.
That barrier gets broken and then you don't know what is real and your imagination.
And it can be very liberating.
For me, Chandra, my protagonist, experiences that breakdown of reality.
Ajit, I was reading your bio. You faced a lot of hardships during your childhood and teenage years. When you sit back and look at your journey -- now, your film has played at Sundance and it was a part of the Marche Du Films Goes to Cannes -- how do you feel?
Honestly, I haven't had the time to reflect on this. I am working on a new project, a Web series set in Punjab.
For the last month, I have been reading the screenplay.
I visited Punjab for location scouting and the auditions are on.
But I have a regret that the festival was not being held physically. Otherwise, I would have been there.
Sundance has done an amazing job of creating a virtual village where your avatar meets other avatars and you can connect. Although it is not the same as really meeting someone else face-to-face.
I also know that if I had achieved success easily, I would celebrate like crazy.
But my journey has been so difficult.
I was at the Sundance Screenwriters Lab in 2012 but that film (Man Who Broke The Mountain) was not made.
Then I directed three shorts which did not travel much.
Finally, my fourth short Rammat-Gammat was seen at festivals.
I have learned that I will not allow failures to put me down. So I don't let success get to my head.
Feature Presentation: Rajesh Alva/Rediff.com