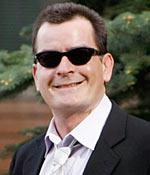 Hollywood actor Charlie Sheen has been officially fired by Warner Bros Television, which owns the hit sitcom Two and a Half Men.

After a successful run on the CBS network for eight years, the remainder of the show's current season was cancelled after the 45-year-old actor's recent radio rant against creator Chuck Lorre.

'After careful consideration, Warner Bros Television has terminated Charlie Sheen's services on Two and a Half Men effective immediately,' said a statement from the studio, as carried by several US media outlets.

In response to the announcement on Tuesday, Sheen told TMZ, 'This is very good news. They continue to be in breach, like so many whales. It is a big day of gladness at the Sober Valley Lodge (Sheen's LA home) because now I can take all of the bazillions and I never have to put on those silly shirts for as long as this warlock exists in the terrestrial dimension.'

Sheen has been starring in the show since 2003 but the production took a break in January when he went into rehab for repeated instances of drug abuse.
After the producers cancelled the show Sheen has been lashing out at his employers in several interviews. Warner Bros Television did not say what would be the future of Two And a Half Men. The studio is reportedly trying to find a replacement for Sheen.
Sheen was in contract to finish eight more episodes this season and 24 more next season. His lawyer had sent a letter to CBS and Warner Brothers asserting that they were obligated to pay him under the terms of the contract, reported New York Times. Neither company have responded directly to that letter.