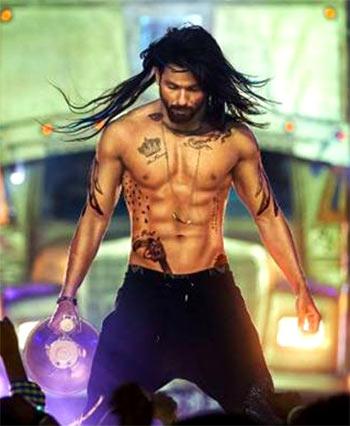 'Now that the honorable court has given Udta Punjab the go-ahead, other filmmakers can also appeal to the courts.'
Censor Board chief Pahlaj Nihalani reacts to the court verdict on the film.
The Bombay high court's verdict on Udta Punjab could have far-reaching repercussions on the workings of the Censor Board.
The Shahid Kapoor-starrer was cleared with just one cut and a revised disclaimer.
"We respect the honourable court's verdict," says Censor Board chief Pahlaj Nihalani. "Now that the honorable court has given Udta Punjab the go-ahead, other filmmakers can also appeal to the courts."
Recalling the CBFC's decision to pass the film with 13 cuts, Nihalani says, "We offered to clear Udta Punjab with an 'A' certificate and some cuts which we thought would not hamper the flow of the narrative. It has never been the CBFC's endeavour to obstruct a film's creativity or to be a stumbling block to its release."
"The producers of Udta Punjab were supposed to return to us with the cuts that we suggested," he added.
Nihalani draws attention to the fact that the Censor Board has cleared another film about the drug menace.
"If we had a problem with the drug problem in Punjab being shown on screen, why would we clear the Punjabi film Dhee Punjab Dee, which deals with the same issue? Its producer Baljeet Singh has gone on record to condemn the strong language in Udta Punjab. We, at the CBFC, are not against the film."
"We are happy with whatever they have decided," he says. "Now every filmmaker, who has an objection to our cuts, can go straight to the honourable courts. The CBFC has no relevance."
The film fraternity may be up in arms against Nihalani's policies, but he has found support in BJP MP Shatrughan Sinha.
"I haven't seen Udta Punjab -- I will soon -- but speaking from an objective point of view, Pahlaj is doing a thankless job, and doing it most efficiently," Sinha says.
"Filmmakers who attack him forget that he has not made the rules. He is only following the guidelines laid down by the government. Don't shoot the messenger if you don't like the message," says Sinha.
Speaking of the abusive language in Udta Punjab, Sinha says, "I don't use that kind of language in my everyday conversation. I have never used abusive language even while playing ruthless villains on screen. I always made sure that my dialogues did not disparage women, any community or caste. Why must characters make their point with profanities?"
The censor laws, he feels, need amendments. "Until that happens, don't abuse the censor chief for clamping down on abuses. He is just doing his job. According to me, Pahlaj is the best chairperson of the censor board ever."