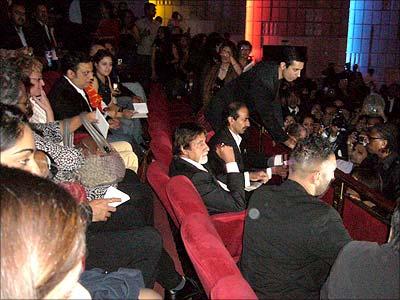 Reader Shivasree Bhowmik spotted Amitabh Bachchan at the premiere for Cheeni Kum at Leicester Square, London on May 22.
According to Shivasree, it was a well attended showing at the Empire Theatre, and the crowd cheered when the Big B entered.
The photo captures the over-enthusiastic crowd trying to click photographs of Bachchan as he manages to settle down in a row between the audiences. He watched part of the film.
If you encounter/meet/see film or television personalities, take a photograph or a video of the star(s), please scan the photograph(s) and mail the pictures and video clips to us. We will feature the best images and video clips right here on Rediff Movies.