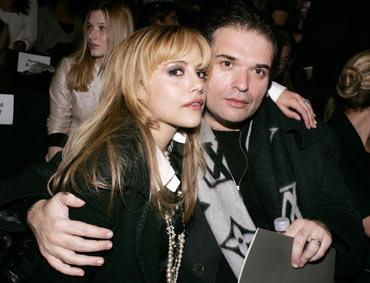 Late actress Brittany Murphy's husband has died -- just five months after the death of his wife.
Screenwriter Simon Monjack was found dead at his home in the Hollywood Hills, according to the Los Angeles Police Department.
He died at the home in the 1800 block of Rising Glen Road, according to Sgt Louie Lozano. The cause of death was unknown late Sunday night.
The bizarre event comes just five months after the death of his wife.
As per Los Angeles Times, at 9:24 p.m. Sunday, the Los Angeles Fire Department responded to a 911 call for an "unspecified medical aid request," according to spokesman Brian Humphrey.
Despite providing medical services to Monjack, he was pronounced dead.
Only few months back, Murphy died of pneumonia complicated by an iron deficiency, anaemia and multiple drug intoxication. Coroner''s officials said Murphy had gone into sudden cardiac arrest because of "drug intake," and her December 20 death was classified as an accident.
Murphy, 32, went into cardiac arrest at her home in the Hollywood Hills. LA firefighters responded to a medical call about 8 am at the home.
Firefighters tried unsuccessfully to revive Murphy on the way to Cedars-Sinai Medical Center, where she was pronounced dead about two hours later.
Image: Brittany Murphy and her husband Simon Monjack | Photograph: Carlo Allegri/Reuters