Home > Movies > Hollywood News

Cameron Diaz hospitalised

ANI | March 11, 2005 16:16 IST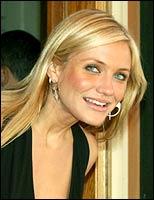 Hollywood actress Cameron Diaz suffered a head injury and was rushed to the hospital after she fell from a chest of drawers, reported The Sun.
The actress was reaching above a wardrobe when she tumbled. Boyfriend Justin Timberlake heard the crash and rushed upstairs at their Hollywood Hills home.
He found Cameron unconscious on the floor of their bedroom and bleeding badly from a head wound.
'Justin was frantic with worry. Cameron was passed out cold and was covered in blood from her head wound. He was freaked out. He managed to bring her round by talking to her and holding her but she couldn't move,' a friend of the celebrity couple was quoted by The Sun as saying.
Photograph: Getty Images