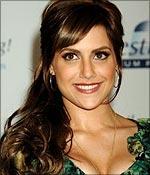 Hollywood actress Brittany Murphy will be put to rest after a private ceremony in Los Angeles on Christmas eve. But her estranged father will not be among those saying their final adieus.
Angelo Bertolotti, Murphy's father has not been invited to the funeral, which will take place at the exclusive Forest Lawn Memorial Park in the Hollywood Hills, five days after her untimely death left Hollywood reeling, reported E! Online.
The 83-year-old hadn't spoken to the Uptown Girls star for more than a year and had never met her husband, Simon Monjack. He said he had no desire to attend the funeral.
'If I wanted to go, I would go, but I don't want to see her that way. She was flawless to me. She was a little bright child. I have only good memories about her. She's a memory to me now,' said Bertolotti of his daughter, who died at the age of 32.
Murphy's body has already been transported to Forest Lawn in anticipation of the burial. The funeral and burial service are said to be strictly private. There is no word yet on who will attend or whether a public memorial will be in the works.