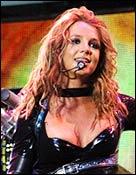 A couple of days ago, rumours were ablaze about Britney Spears' decision to marry her dancer boyfriend Kevin Federline.
It's official now!
The 22 year-old's representative confirmed to People magazine that the sensational singer is engaged to Federline.
The couple who began seeing each in early 2004 haven't finalised a wedding date yet.
Photograph: Patrik Jonsson/Getty Images