In Mumbai to promote his Netflix original film War Machine, the Hollywood star caught up with King Khan.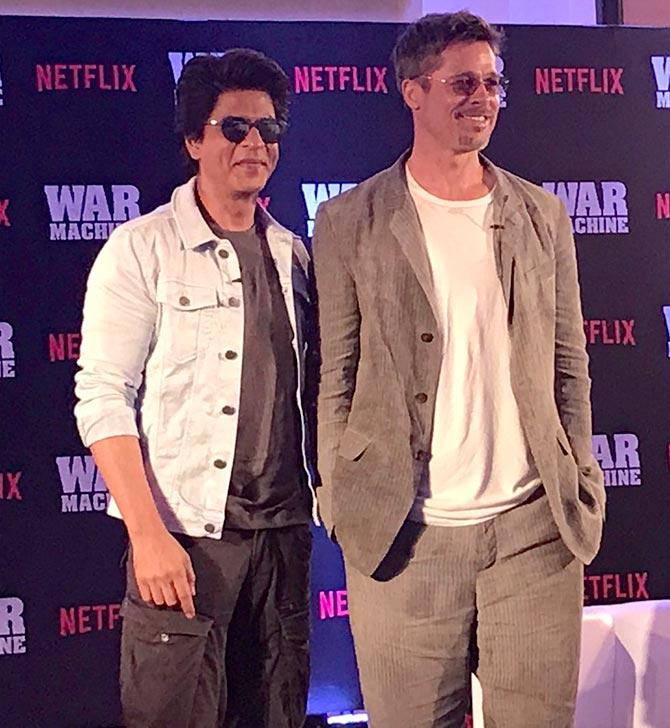 IMAGE: Brad Pitt, right, and Shah Rukh Khan, left, at their hyper-exclusive chat session in Mumbai.
Photograph: Courtesy @RajeevMasand/Twitter.
Hollywood star Brad Pitt, whose Netflix original film War Machine will start streaming in India on Friday, quietly landed in Mumbai this morning.
Here to promote the film, he began with a closed door chat session this evening in which he discussed the project with actor Shah Rukh Khan.
Along with the Netflix project, Khan and Pitt also discussed their cinematic journey.
Khan revealed he became Pitt's fan after watching the 1995 film Twelve Monkeys and also praised the latter's performance in The Curious Case of Benjamin Button.
Pitt said he locked himself in a room just to see "how crazy you can get" while working on Twelve Monkeys.
He also discussed his cult hit Fight Club and said he beleived in constantly reinventing himself: 'I constantly look for something new and we (he and SRK) have been fortunate to survive our mistakes along the way. I think I just try to be relevant."
And as with anything with a dash of Bollywood, Pitt and Khan also discussed the prospect of a Bollywood dance. While the Hollywood star said he could never make it in Bollywood because he can neither dance nor sing, the Badshah of Bollywood insisted, 'We will make you dance... We make everyone dance in Bollywood.'
Khan said despite being in Bollywood for 25 years, he was yet to master dancing: 'I just spread my arms and do nothing, that's a step.'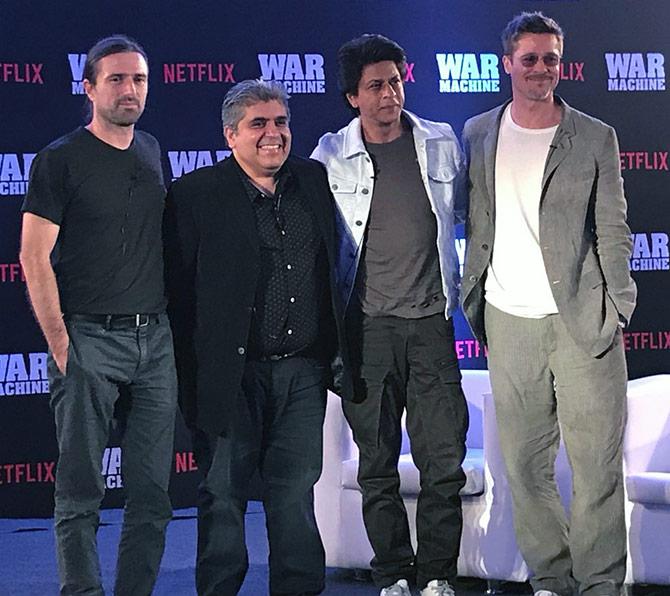 IMAGE: Director David Michod, left, was also part of the discussion, which was moderated by veteran film journalist Rajeev Masand, second from left. Pitt and Michod came to Mumbai from the Tokyo leg of the War Machine promotions.
Photograph: Courtesy @RajeevMasand/Twitter
Pitt's visit was largely kept under the wraps, but reports suggested that he was staying in a five-star hotel in South Mumbai, and could make an appearance at a special screening of War Machine in the city.
The film's director David Michod and producer Dede Gardner were also expected to attend the premiere.
Pitt hoped that the audience would see that he wanted War Machine to carry on in the footsteps of great war movies like Dr Strangelove, MASH and Catch-22, which were an 'absurd view on the absurdities of war'.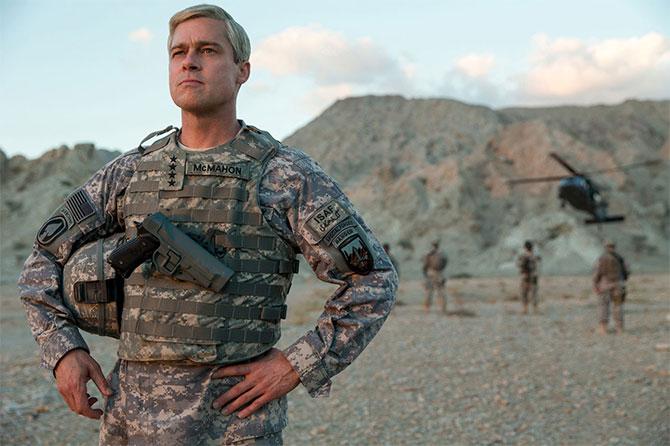 IMAGE: Netflix goes big-budget with War Machine.
War Machine is inspired by late journalist Michael Hastings's The Operators: The Wild & Terrifying Inside Story of America's War in Afghanistan.
Pitt's character is loosely based on General Stanley A McChrystal, a retired United States Army general remembered for his command of Joint Special Operations Command.
His last assignment was as Commander, International Security Assistance Force and Commander, US Forces, Afghanistan. It was Hastings's blistering profile on McChrystal that led to his firing by the US President Barack Obama.
Pitt said that Hastings was frustrated that his story had become more about the "sensational dismissal" of the General rather than being a discussion on the system.
At a price tag of $60 million, War Machine is Netflix's biggest-budget feature to date.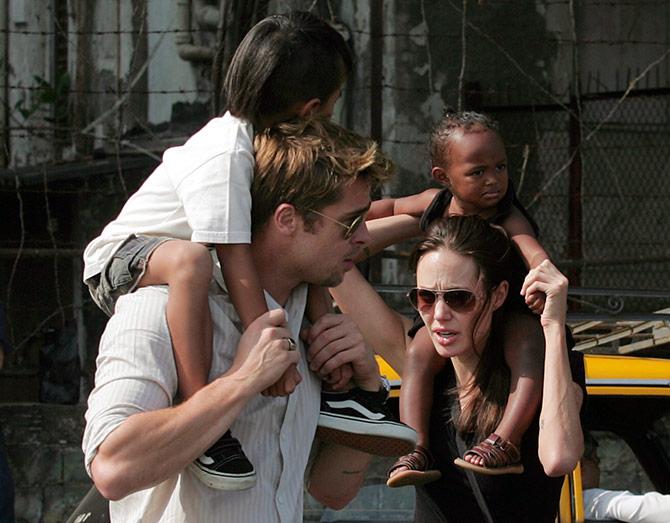 IMAGE: Brad Pitt carries adopted son Maddox as Angelina Jolie carries adopted daughter Zahara during a stroll outside their hotel in Mumbai in November 2006.
Photograph:

Prashanth Vishwanathan/Reuters

.
This is Pitt's second visit to India.
The last time he was here was in 2006. His then partner Angelina Jolie was shooting A Mighty Heart and Pitt and the children had come along.
But unlike in 2006, Pitt was to stay in India only for a day this time.
With inputs from the Press Trust of India