Last week, we saw the release of two big movies. Aditya Chopra's Jhoom Barabar Jhoom starred Abhishek Bachchan, Bobby Deol, Preity Zinta, Lara Dutta and Amitabh Bachchan, and Rajnikanth's Tamil film, Sivaji: The Boss.
While the former opened to a dull response, the latter is on its way to becoming a blockbuster.
Even though Yash Raj Films has been giving out hits regularly like Salaam Namaste, Fanaa and Dhoom: 2, this year, their films have not fared very well at the box office. Their first 2007 release, Ta Ra Rum Pum, did pretty badly in the opening week. Jhoom Barabar Jhoom is heading towards the same fate.
Given this unexpected turn of fortunes, we asked trade pundit Taran Adarsh what went wrong. "Jhoom Barabar Jhoom is not doing well in India. Its collections have been declining with each passing days. It's a bad film, which was bound to meet with this fate. A brand name can work for three days, but ultimately, content matters. In this case, the audience realised on the very first day that it was a bad film."
At the same time, Rajni's film is doing extremely well. The Tamil Superstar restricts himself to about one film in two years, but still, the craze for his movies are beyond comparison. Sivaji is doing phenomenally well in the South. In Mumbai, it has released in about 15 theatres, and is doing fantastically well in all. In fact, tickets are being sold for huge amounts in black.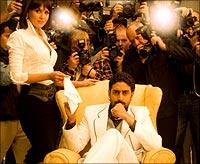 Trade analyst Indu Mirani tells us why Sivaji is working in theatres. "Sivaji has everything that the public wants," she says. "When the audience goes to the theatre to watch Rajnikanth, they go to see his gimmicks. Evidently, Sivaji has everything the audience loves.
"But Jhoom Barabar Jhoom doesn't have a basic storyline," she adds. "It is very inconsistent. Films work only if they have a plot but in this case, it is just a series of silly incidences."
In a lot of the theatres, Rajni's fan clubs have done mass bookings. And people who have watched Sivaji want to watch it over and over again.
Trade analyst Komal Nahta claims that the fate of a film depends soley on the audience. "Jhoom Barabar Jhoom is not doing well because it has been rejected by the public, as it's a bad film. But Sivaji is doing well because the audience has accepted it, as it is a good film."
Trade pundit Vinod Mirani offers a different opinion. "Hindi cinema is dying because of the rise of multiplexes," he says. "The tickets have become very expensive. First, there were the regular cine-goers, the frontbenchers, college students, taxi drivers, rickshawalas... But these people don't watch movies in multiplexes. When have we seen a craze like Sivaji in Hindi cinema last? It happened in the olden days, but it's missing now.
"Yash Raj is now making movies only for the multiplexes, and not many people go there. Secondly, Jhoom Barabar Jhoom was like a sequel to Bunty Aur Babli. How much of Bunty Aur Babli can a person watch? There should be some content for the audience to go to the theatres," he concludes.