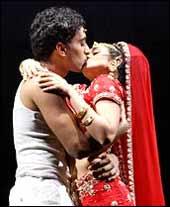 A theatre project that hardly anyone wanted to touch four years ago is now on its way to be a small budget musical from a big name British company.
Andrew Lloyd Webber's Really Useful group, which produced the smash London hit Bombay Dreams even as the veterans of West End and desi entrepreneurs were claiming that it won't succeed, is now working on a $8-$10 million movie version of the slum-boy-meets-idealistic rich girl story.

It would be the second international musical assignment for AR Rahman whose Chinese film Warriors Of Heaven And Earth recently ended its art-house run in America. 

The story on Bombay Dreams was first reported by Variety which also said Farah Khan, whose Main Hoon Na, grossed over $2 million in North America, was a favourite to be the director. She was the co-choreographer for the London and Broadway version of the musical, and garnered a Tony nomination.


A spokesperson for Really Useful group told rediff.com that it would be several months before the shooting starts. Currently, the company is getting ready for the Christmas roll out of the screen version of The Phantom Of The Opera, the Lloyd Webber musical that is now in its 16th year in New York. Worldwide, the musical has grossed about $3 billion. The Phantom movie project costs about $75 million.

The Broadway version of Bombay Dreams, now in its fifth month, has grossed a decent $16 million but has been playing to just about 60 percent of the cavernous 1,750-seat Broadway Theatre in the last two months. It is far from recovering its $14 million investment.
 
The worldwide success of a handful of desi themed movies such as Bend It Like Beckham and Monsoon Wedding, and the excellent buzz for Gurinder Chadha's Bride And Prejudice, certainly was a key factor in the decision to bring Bombay Dreams to the screen.

'It's effectively a Bollywood film in a Western style,' Austin Shaw, the managing director of Really Useful Films, was quoted in Variety. 'So it makes sense to shoot it in India.'