For the love of films... and larger-than-life food!
What's it about the celluloid that makes everything including food so larger-than-life?
Remember when Juliette Binoche concocts a gooey blend of spiced hot chocolate for Judi Dench in Chocolat, the sight of golden, melting butter in Julie & Julia or Pixar's animated Remy the rat flooring a fussy food critic with his gorgeously plated ratatouille in a movie of the same name?
Back home, Bollywood too has its drool-inducing moments to boast of. Read on...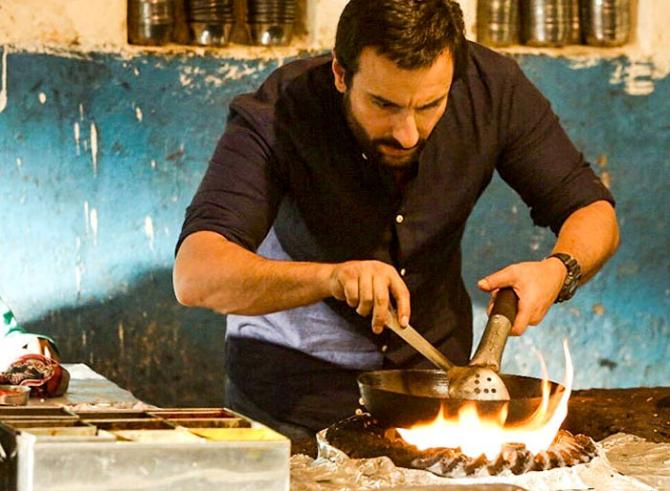 This week's release, Chef starring Saif Ali Khan will introduce us to a new concept, the food truck.
Saif plays a chef in the movie and we'll see his journey from Kochi to the north and also get introduced to the yummy delicacies on the journey.
Perfect occasion, we thought, to list some of the yummiest moments in Hindi movies.
Daawat-E-Ishq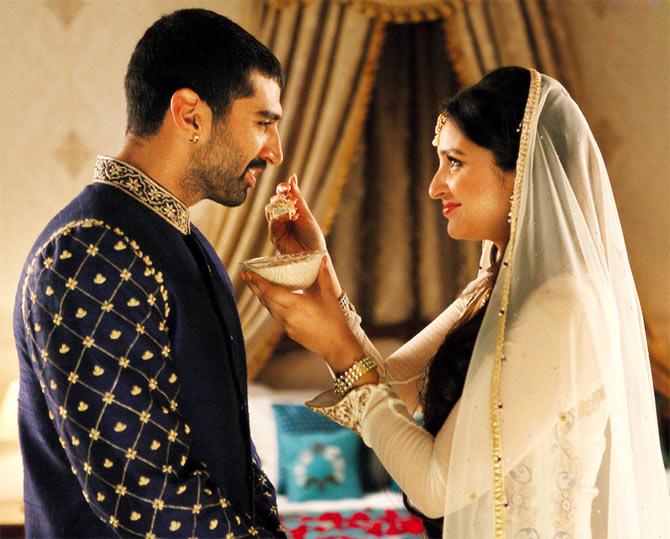 Image: Aditya Roy Kapur and Parineeti Chopra in Daawat-e-Ishq
The Parineeti Chopra-Aditya Roy Kapur foodie feast, Daawat-E-Ishq celebrated the essence of Hyderabad and Lucknow in all its glory.
Queen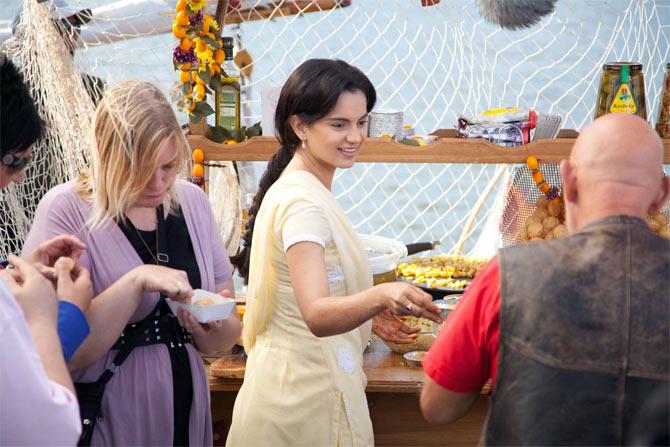 Image: Kangna Ranaut in Queen
Being the daughter of a mithai shop owner has its sweet perks; it's also where Kangna Ranaut's character meets her beau for the first time.
But it's her aspiration to acquaint videshi folks to the spicy, tangy flavours of Indian chaat in Queen's third act that's both lip smacking and triumphant.
English Vinglish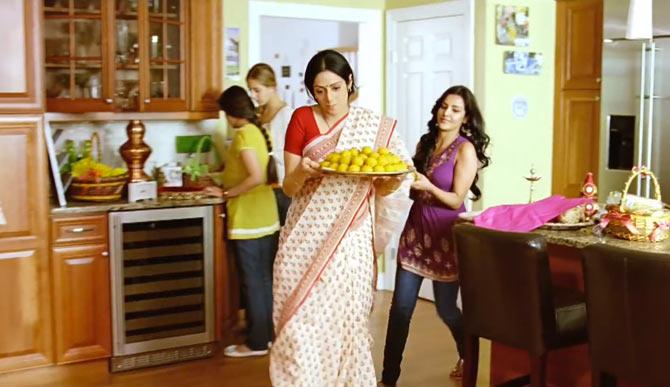 Image: Sridevi in English Vinglish
Beautiful boxes of boondi ladoos embellish many a frames of Gauri Shinde's English Vinglish.

Sridevi's mouth-watering speciality also forms a significant prop in the on-going wedding festivities after her little son accidentally ruins an entire batch.
Luv Shuv Tey Chicken Khurana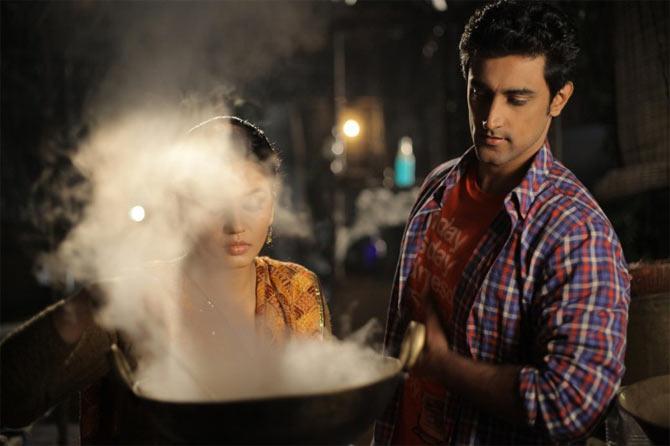 Image: Huma Qureshi and Kunal Kapoor in Luv Shuv Tey Chicken Khurana
Everything in the madcap Luv Shuv Tey Chicken Khurana revolves around the pursuit of a secret family recipe, a hugely popular chicken curry that holds the fortunes and future of a family.
Ajab Prem Ki Ghazab Kahani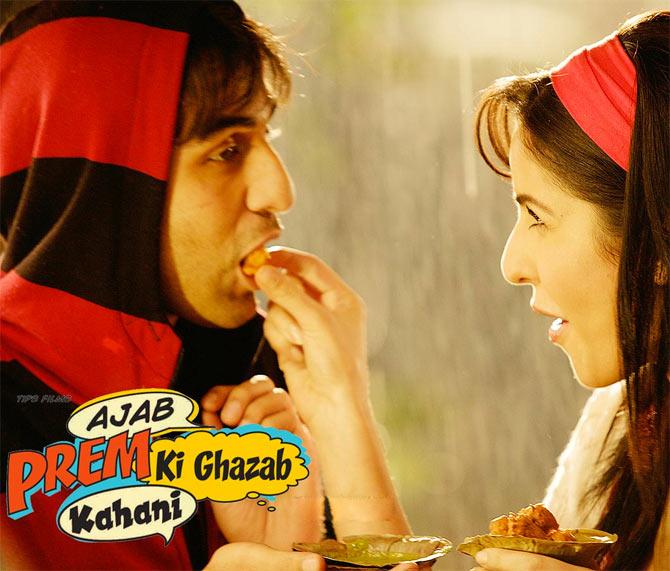 Image: Ranbir Kapoor and Katrina Kaif in Ajab Prem Ki Ghazab Kahani
Katrina Kaif may harp about eating healthy off screen but her character Jenny is quite a street food freak.
And so it's piping hot moong dal bhajiyas and pudina chutney that Ranbir Kapoor and she bond over in one tender scene of Rajkumar Santoshi's hit rom-com.
Cheeni Kum
Image: Tabu, Amitabh Bachchan and Paresh Rawal in Cheeni Kum
The delicious conviction with which Amitabh Bachchan rattles off the ingredients of Hyderabadi Zaffrani Pulao in Cheeni Kum, it's natural to take his side over Tabu's criticism.
Salaam Namaste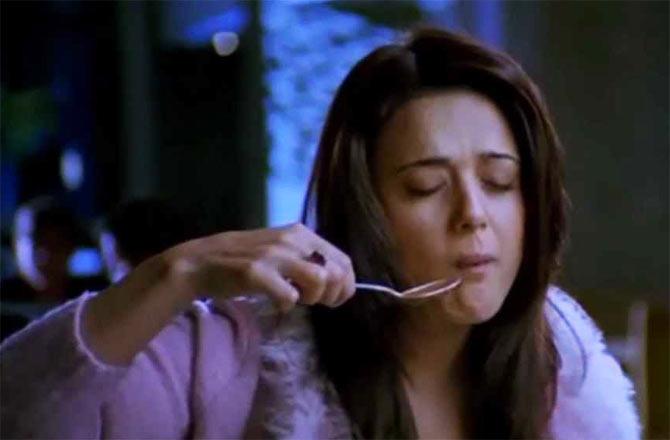 Image: Preity Zinta in Salaam Namaste
Never underestimate the cravings of a pregnant lady in a Bollywood movie.
Preity Zinta's wild urge to slurp on Ben & Jerry's Belgian Chocolate ice cream in the middle of the night has her and boyfriend Saif Ali Khan wandering inside a five-star's 24 hour dining cafe in their pyjamas.
Break Ke Baad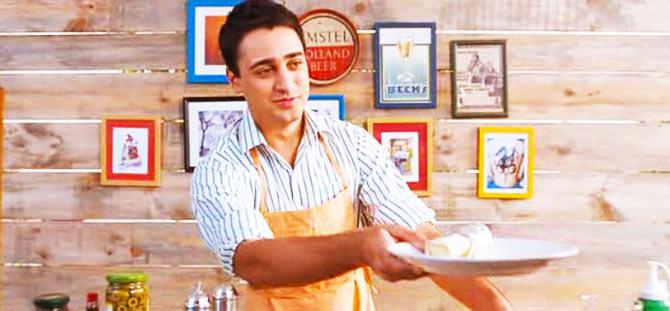 Image: Imran Khan in Break Ke Baad
Necessity is the mother of invention as Imran Khan finds out after going broke in Australia.
To survive, he channels his dormant chef and sets up a humble stall serving his best-selling murgh musalam aur paratha only to become a full-fledged restaurateur sometime later.
Rab Ne Bana Di Jodi
Image: Anushka Sharma and Shah Rukh Khan in Rab Ne Bana Di Jodi
Ever challenged anyone to a pani puri-chomping contest?
Anushka Sharma and Shah Rukh Khan try to outdo each other at the 'who can eat the most' game in Rab Ne Bana Di Jodi's liveliest scene, which will have dashing to the nearest chaat corner in the vicinity.
Band Baaja Baaraat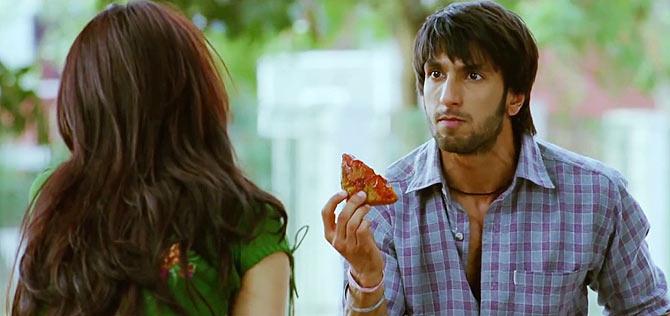 Image: Anushka Sharma and Ranveer Singh in Band Baaja Baarat
One of Band Baaja Baarat's most memorable scenes is of a clumsy Ranveer Singh wolfing down a crispy bread pakora.
His love for the snack is underlined when he pledges, "Bread pakore ki kasam."
Mujhse Dosti Karoge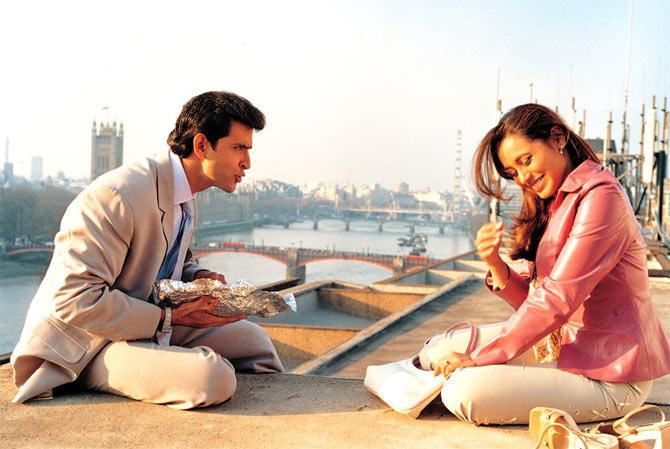 Image: Hritihik Roshan and Rani Mukerji in Mujhse Dosti Karoge
Hrithik Roshan plays a man with an exceptional powerful sense of smell in Kunal Kohli's directorial debut.
Even inside his office cabin in London, the actor somehow catches a whiff of Rani Mukerji's gobhi ke paranthe, which she's carried all the way from India.
Hum Aapke Hain Koun..!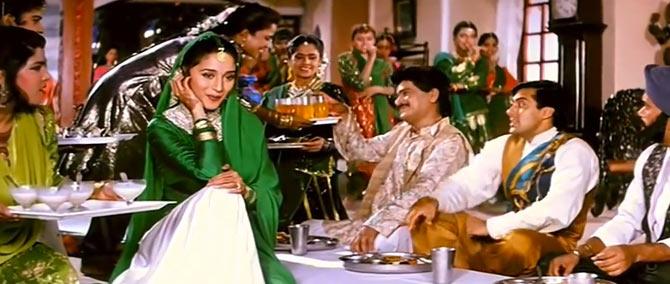 Image: Madhuri Dixit and Salman Khan in Hum Aapke Hai Koun...!
With its line-up of weddings, functions, celebrations, Hum Aapke Hain Koun..!'s not to be watched on an empty stomach.
Where even lyrics teem with delicacies -- Dahi Bade, Kulfi, Paan, Ras Malai, Mithai -- HAHK's festive vibe dominates every single scene.
Dil Hai Ki Manta Nahin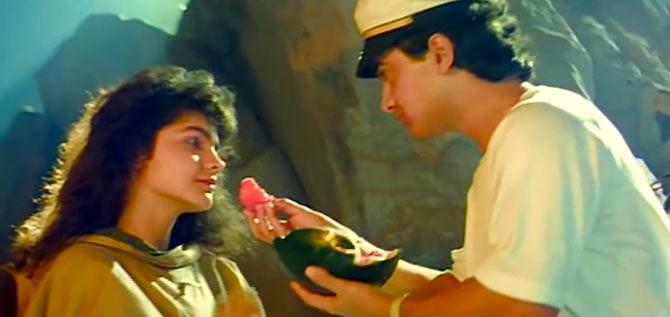 Image: Pooja Bhatt and Aamir Khan in Dil Hai Ki Manta Nahi
The tempting manner in which Aamir Khan and Pooja Bhatt satiate their hunger with some fresh looking watermelons in Dil Hai Ki Manta Nahin's title ditty could turn a fruitarian out of the worst of us.
Hifazat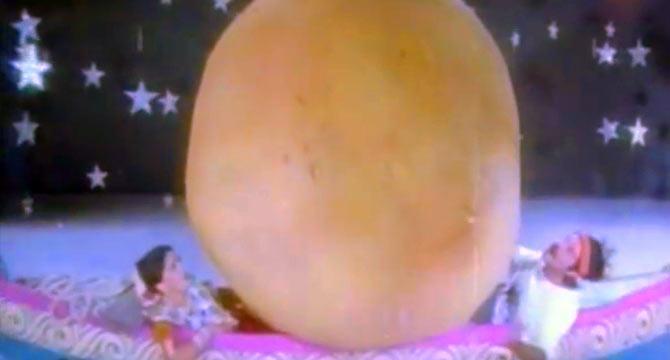 Image: Anil Kapoor and Madhuri Dixit in Hifazat
An entire song dedicated to batata vada?

And it's not just the lyrics but there's even a giant batata vada on display to convey Anil Kapoor and Madhuri Dixit's fascination with Mumbai's most hot-selling street food.
Chashme Buddoor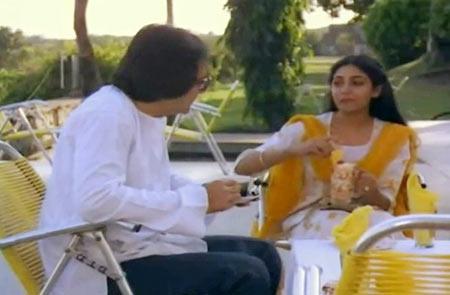 Image: Farooque Sheikh and Deepti Naal in Chashme Buddor
That endearing image of Farooque Shaikh and Deepti Naval shyly dating over dollops of tutti-frutti ice cream in open-air garden cafes of Delhi in Sai Paranjpe's classic, Chashme Buddoor is delightful and delicious.
Amar Prem
Image: Rajesh Khanna and Sharmila Tagore in Amar Prem
Shakti Samanta's Amar Prem is mostly an emotional melodrama but equally memorable is the sight of a smiling Rajesh Khanna holding a leaf plate of scrumptious samosas and kachoris after every few scenes. Again: cannot watch on an empty stomach.
Bawaarchi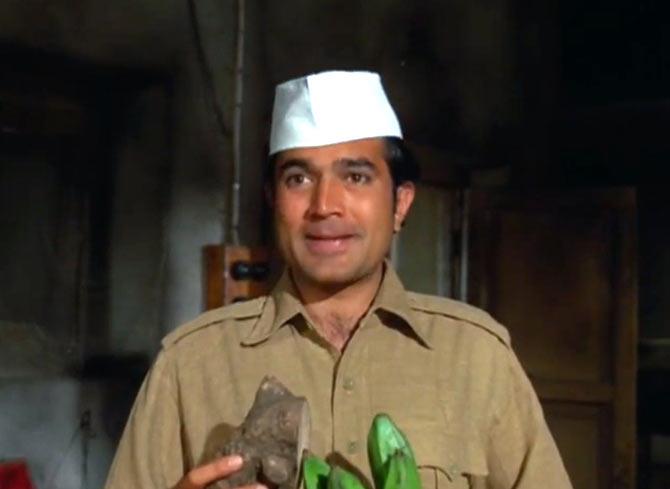 Image: Rajesh Khanna in Bawaarchi
Most of us aren't big fans of raw bananas or yam but trust Hrishikesh Mukerji to turn even the most unappealing food seem like an exotic delights.
That inexplicable urge to sample Rajesh Khanna's Heeng aur Suran Kebab and Kache Kele ka Dumpukht in Bawarchi never leaves, does it?