Rustom, Toilet: Ek Prem Katha, PadMan...
...Vishal Bhardwaj's next with Deepika Padukone and Irrfan, John Abraham's Parmanu, Anushka Sharma's Pari, Abhishek Kapoor's Kedarnath, Anil Kapoor and Aishwarya Rai Bachchan's Fanney Khan, Shahid Kapoor's Batti Gul Meter Chalu...
Meet Prernaa Arora, the young lady above the title...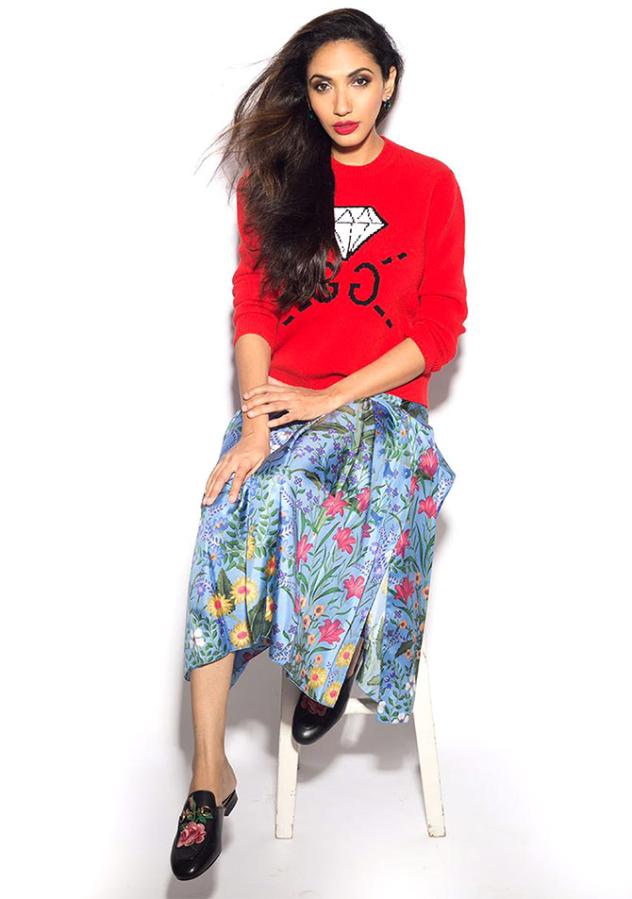 Prernaa Arora is one of the most influential women in Bollywood, but it's unlikely you would have encountered her name.
Prerna's production company KriArj -- which she founded with partner Arjun Kapoor -- launched with Rustom in 2016, and followed it up with Toilet: Ek Prem Katha.
KriArj's new film PadMan, starring Akshay Kumar once again, released worldwide February 9.
"I was just waiting for this to happen!" Prernaa says animatedly. "Becoming a film producer was a very important thing in my life."
Just what exactly does it take to become a successful Bollywood producer?
Prernaa -- who is only 32 -- and Arjun tell Rediff.com's Ronjita Kulkarni their story.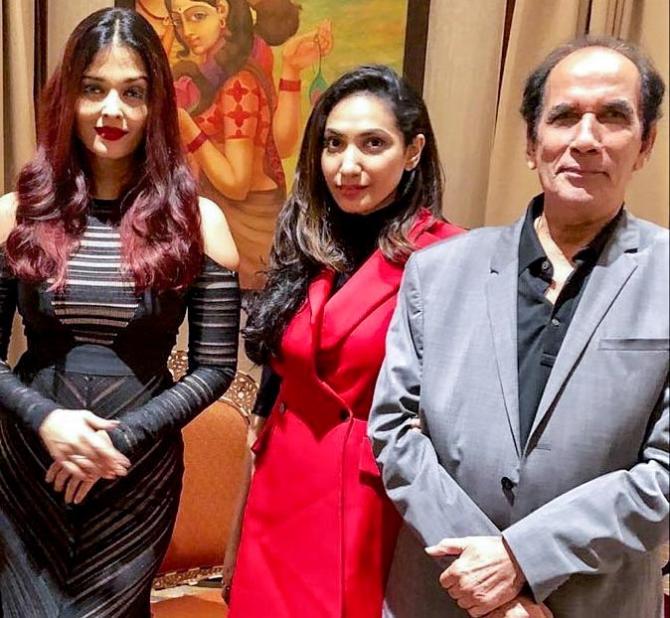 IMAGE: 'Actors like Aishwarya are very involved. That's why they have survived so long. The world only sees stardom and acting, but it's actually very difficult.'
Prernaa Arora produce Aishwarya Rai Bachchan, Anil Kapoor and Rajkummar Rao in Fanney Khan.
Aishwarya and Prernaa with Prernaa's father. Photograph: Kind courtesy Prernaa Arora/Instagram
We're sitting at the KriArj office on the 24th floor of a posh high-rise in Jogeshwari, north west Mumbai.
The office looks like an extension of Prernaa's wardrobe. There are rows and rows of fashionable dresses -- mostly with jackets -- lining the rooms. Their labels are a mix of Dior, Gucci, Burberry... the best designer clothes money can buy.
The office looks more like a fashion designer's digs, rather than a producer's office.
It also reflects a life that Prernaa seems rather new to.
Prernaa does not come from a film family. Though her mother was from Mumbai, she grew up in Shimla.
Her family owned the Kamla Circus; it was named after her late grandmother. It was sold to Apollo Circus, but the family still has a stake in it.
"I come from a small town. My mom introduced me to films like Brahmachari, Mr India, Bimal Roy's movies, Sujata... I got attracted to cinema and started watching more and more," Prernaa recalls.
But it wasn't acting that interested her. She wanted to *make* movies.
The fact that Bollywood mostly has male producers didn't deter her.
"I have always felt that men are superior to women. I am not a feminist. I feel that if I am lucky and have intelligence, I will achieve it even in a man's world," she explains.
Her family friend Arjun helped her achieve her big dream.
"Prernaa always wanted to be a producer, but I had never thought about this," Arjun says.
"So because she wanted to do this, our elders thought I should get into it with her. And even since I've gotten into this, I feel this is exactly what I wanted to do."
It was a completely new and different world for them, a world where they didn't have any connections. They didn't even know how to approach people.
A bit of luck helped them bag their first film, Rustom.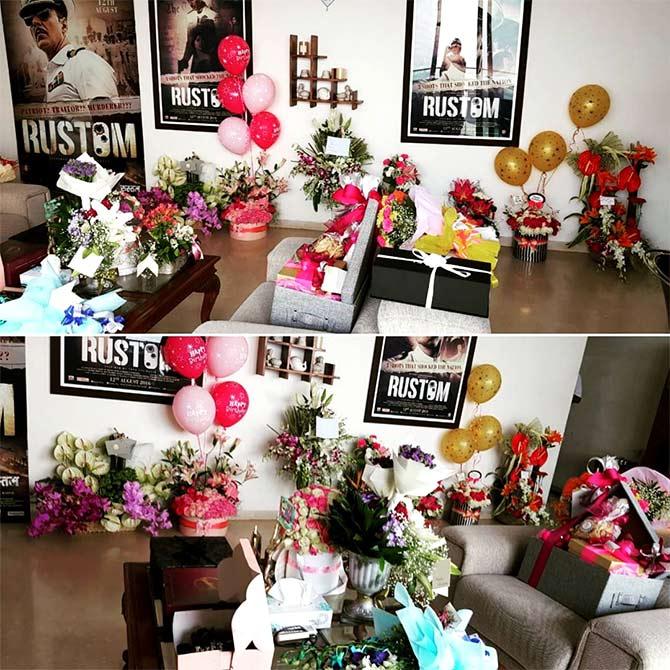 IMAGE: The love pours in for Rustom after its release. Photograph: Kind courtesy Prernaa Arora/Instagram
"Most producers continue their fathers' businesses. There are very few outsiders who started on their own, like the Nadiadwalas," Prernaa says. "So it looked like a Mount Everest to climb."
The only person they knew from the industry was Ramesh Pulapaka, CEO of Amitabh Bachchan's production house, ABCL.
"He's been a close friend of my dad. He trained me. He's on the advisory board of KriArj," Prernaa says.
Prernaa and Arjun set up a meeting with Viacom 18 COO Ajit Andhare, and after the talks turned favourable, decided to join hands.
"Someone from Viacom 18 then put Kamal Haasan on to us," Prernaa says. "He spoke to me on the phone, and talked about Vishwaroopam 2. He asked if we could meet him in Chennai. So I told Arjun, 'Let's just start our career with this'. I just wanted a chance, and this was it."
When they met Kamal Haasan, he gave them a script. He said he wanted to direct it, and cast Akshay Kumar. He wanted the duo to speak to Akshay about it.
"I can never forget that day," Prernaa says, her face lighting up at the memory.
"We came back to Mumbai, and spoke to Akshay. He called us for a meeting to his office, and invited Mr Haasan also. So Kamal Haasan flew down."
Though Akshay agreed to come on board, the project fell through due to creative differences.
In the process, Akshay recognised their strengths, and offered them a film. That's how Rustom happened.
"We were very fortunate to do our first film with Akshay and Neeraj Pandey," Arjun says. "We eventually got Zee Studios as a partner. We had one of the best combinations in the industry. We did what was assigned to us well enough to work with Neeraj Pandey and Akshay once again in Toilet, and Zee Studios once again in Parmanu: The Story Of Pokhran. Now, we're working with Akshay again in PadMan."
They are so young. How did people take them seriously?
"I think we make up with our attitude," Arjun says. "Initially, that might have been a thought in other people's minds, but then Rustom became a hit. After that, there was never such a thought. And now, now we have a substantial body of work."
The "body of work" includes Vishal Bhardwaj's next with Deepika Padukone and Irrfan, John Abraham's Parmanu, Anushka Sharma's Pari, Abhishek Kapoor's Kedarnath, Anil Kapoor's Fanney Khan, Shahid Kapoor's Batti Gul Meter Chalu...
Yes, it is a long list.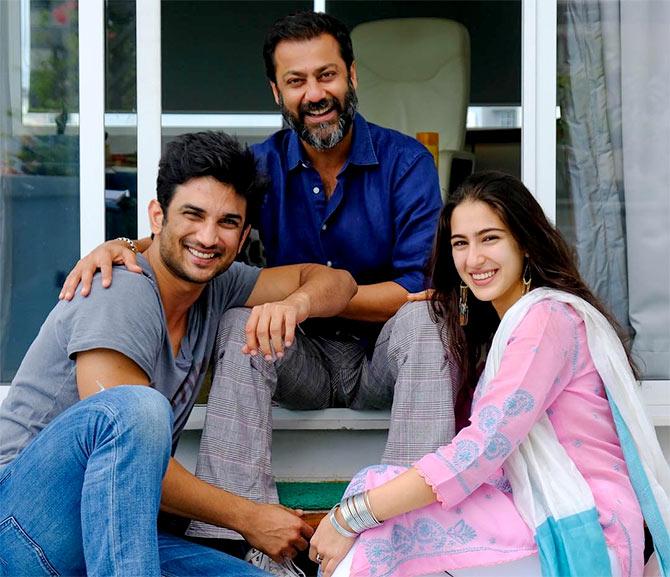 IMAGE: Director Abhishek Kapoor with his Kedarnath lead actors, Sushant Singh Rajput and Sara Ali Khan. Photograph: Kind courtesy Abhishek Kapoor/ Instagram
So how do a set of young people, with no connections in Bollywood and no experience in this field, get such a line-up of movies?
"We were very humble and gave the upper hand to the experienced people. That's the way to behave when you enter, and not show off. That was the way to start," Prernaa explains.
They started by following Akshay Kumar's lead, almost blindly.
"Akshay is our mentor," Prernaa says. "He has so much experience and vast knowledge! We love and respect him the most. We understand him now, and he knows that. The first thing he taught us was that treat your contracts like the Bible."
"I had no clue what he was like when we started working with him in Rustom, so I did a little background check on him. I asked studios and producers about him and they told me that he was very disciplined, that he is a perfectionist," she adds.
"But with the other films, we do participate. We give everyone respect, and let them have a free hand because after all, they have been around for so long," she says.
"We are on the same page with Anushka and Karnesh (Sharma, Anushka's brother who debuts as a producer on Pari)," she says. "I believe in speaking out. If I have a problem with him, I will not suppress it or have an ego. I will have a conversation with him."
"Arjun and I don't work with egos. There are a lot of egotistic people in this industry, but we make sure that no matter how people are, if we talk pyaar se, things will work out."
She shares an instance when Kedarnath ran into controversy after its release date was announced. The film, starring Sushant Singh Rajput and Sara Ali Khan, is set to clash with Shah Rukh Khan's Zero on December 21.
There were reports that Prernaa was upset with Kedarnath Director Abhishek Kapoor as she wanted to avoid the clash, while he insisted on that weekend.
"I am definitely not going against Shah Rukh," Prernaa says. "I love him too much. I have a lot of respect for him. I am dying to work with him. When you see what has happened recently with Padmavaat, the chaos, the side effects and the consequences is too much to handle."
Arjun, she says, is in talks with Abhishek Kapoor about the release date.
"There has to be a camaraderie in the film industry and to see the needs of a fellow producer or actor as against your own. Like, there was an open communication between Padmaavat and PadMan. I might have lost a bit and gained a bit, but there's always an amicable solution," Arjun says.
The call to push PadMan ahead was taken by Akshay Kumar, and KriArj followed it.
"I'm relaxed about it. People can watch Padmaavat and then they can come and watch our film," Prernaa says.

IMAGE: Director Abhishek Sharma with John Abraham. Photograph: Kind courtesy Abhishek Sharma/Instagram
So just what does a Bollywood producer do?
"You have to be available to everyone in the team -- the actors, writers, director... Plus, you have to see the business side, the revenue sharing, break evens, etc," Prernaa says.
"I work 24/7. I sleep only a few hours. I've gone mad! See my haalat (state)!" Prernaa exclaims. "I'm always on the phone. You keep reading new things everyday. If you tweet something, the media gets talking. Like for Kedarnath, there was no fight. Someone tweeted, and the media got talking."
Prernaa illustrates just how busy they are.
As PadMan releases on February 9, Batti Gul Meter Chalu starts filming the same day.
"I'm wondering how we will do it!" Prernaa says. "We have to be everywhere, but we can't be."
Prernaa suddenly switches to work mode, and asks Arjun: "You'll be with Batti. Right?"
Arjun: "I don't know. You tell me."
Prernaa: "You should!"
Arjun: "Depends on where you need me to be."
Prernaa: "I don't know." (Laughs) "I know where I will be. Right here! I'll be at a screening, at the theatres"...
The Batti shoot is in Theri, Uttarakhand.
The shoot for Vishal Bhardwaj's film starts on March 5.
Arjun always makes it a point to go on the sets of all their films while Prernaa operates from their Mumbai office.
After PadMan, Pari and Parmanu will be up for release on March 2 and April 6 respectively.
Fanney Khan, starring Anil Kapoor, Aishwarya Rai Bachchan and Rajkummar Rao, is almost complete.
Prernaa and Arjun haven't had a vacation since KriArj was born in 2016, but they are not complaining. They unwind on something totally different.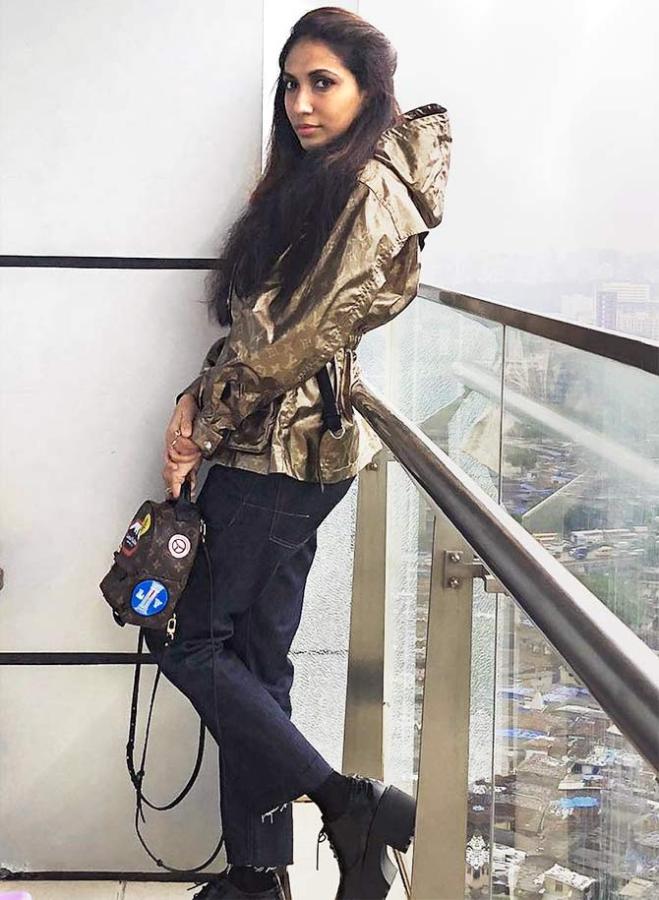 IMAGE: 'I love colour. I cannot do dark cinema.' Photograph: Kind courtesy Prernaa Arora/Instagram
That's where the rows and rows of designer wear comes in.
"I am a compulsive shopper. I have rooms and rooms full of this," Prernaa says, showing off her lovely and neatly packed clothes. "I love Dior! When I was small, I had this whole thing of being someone when I grow up and buying Dior and wearing them. I want more!"
Prernaa is one of Dior's top three clients in India, and was personally invited by the label's creative director Maria Grazia Chiuri to her Winterfall collection last year.
Prernaa has been invited once again on February 22; it will be her third trip to Paris as Maria's personal guest.
"I love colour. I cannot do dark cinema. I don't think I will be able to watch sadness or darkness. I'm into Archie comics," she says.
Since she is so fashion conscious, does she give her sartorial opinion to her films?
"I haven't contributed to film fashion because I haven't got the opportunity," she says.
"Nobody has asked me. Sometimes, I do feel that an actress isn't wearing it right in a film, but I never say it. I can't. People won't buy it. They are so stuck in their own ideology, their own set of people that they will not accept," she adds.
"After five years, if I am still successful, I might get to have a say."