'Reality shows don't teach contestants how to deal with the reality of being a singer.'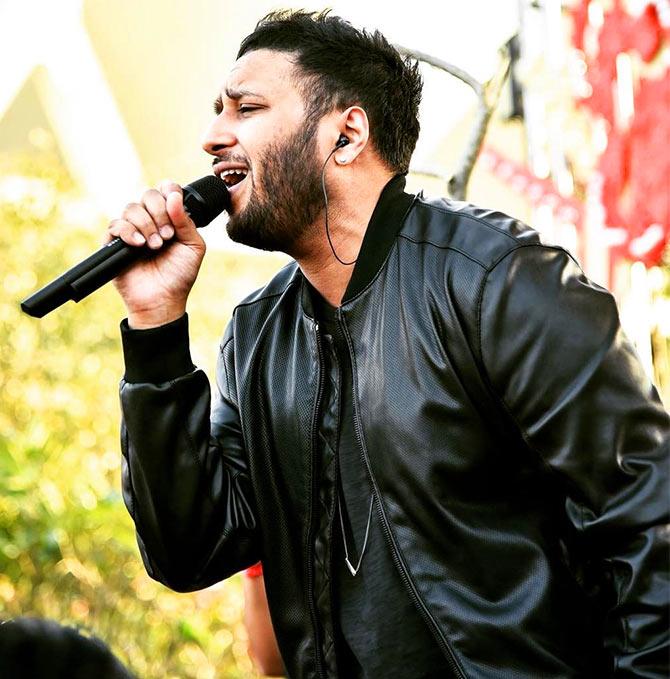 IMAGE: Ash King gets lost in his performance. Photograph: Kind courtesy Ash King/Instagram
Ashutosh Ganguly, popularly known as Ash King, got his big break in Bollywood with A R Rahman and Arjit Singh no less.
The UK-raised singer got some chartbusters to sing after those big breaks, but things didn't quite work out for him.
"I thought Bollywood wasn't working for me, and I gave up," Ash tells Rediff.com's Jahnavi Patel. "Then Baarish (Half Girlfriend) happened."
You come from a family of musicians. Is that why you chose music as well?
When we are growing up, our first hero was our dad. He's a singer and composer.
I used to play the dholak and watch my dad sing.
I never practised or learnt singing.
My dad didn't want me to sing because he didn't think it was a successful career. He ended up teaching in England.
We weren't rich, we were quite poor.
I wanted to be a singer. I did not want to be famous, I just wanted to be a singer like my dad.
Then you grow up and realise that your dad also has his weaknesses.
When you realise that, you start thinking.
I gave up on being a singer, but A R Rahman gave me a break in Bollywood.
(Singer) Arijit Singh took me further.
He had come to England to study. My friend was also studying there and I had gone to see him.
I met Arijit and he asked me if I could sing Dil Gira Dafatan (from Delhi 6).
I said yes and he asked me to sing for the film right away. So I did.
For two years after Dil Gira Dafatan, I did not do anything.
I was in London, wondering what to do with my life.
I went to Kolkata in December 2010.
There, I got a called from Arijit, asking me to come to Mumbai to sing I Love You for Salman Khan (Bodyguard).
I flew down to Mumbai and recorded the song for (composer) Pritam.
That's when my career started in Bollywood.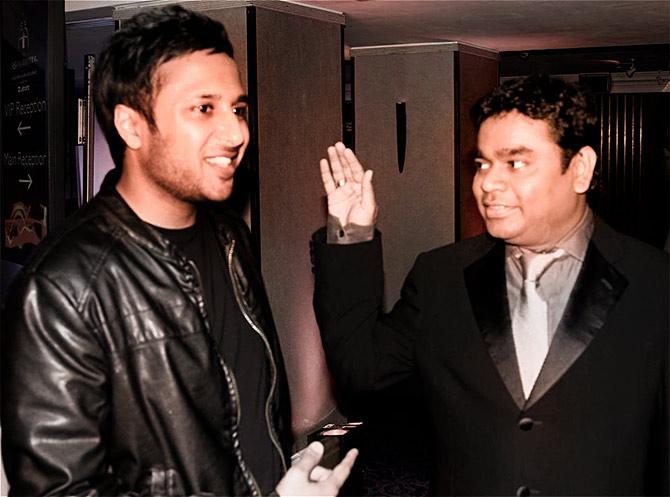 IMAGE: Ash with A R Rahman, the man who gave him his musical career. Photograph: Kind courtesy Ash King/Facebook
Your dad wasn't keen on your taking up this profession.
My dad wasn't sceptical; he had given up on me actually (laughs).
He was like practice music, but get a job!
Thing is, I did not study. I left school at 16.
I got a job as a salesman, and became good at that. But I got bored quickly.
I do regret not getting an education.
If I knew another language like French or German, I could sing in that language.
Now, I work for an NGO to raise money for rural children, who don't have money for basic education.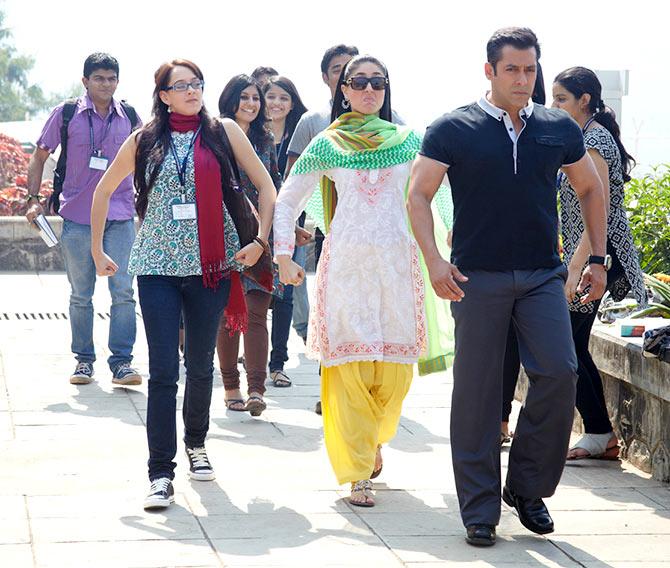 IMAGE: Hazel Keech, Kareena Kapoor and Salman Khan in the song I Love You from Bodyguard.
How did Ashutosh Ganguly become Ash King?
I was a wannabe singer in England and my first attempt (at singing) was Look For Me with Hard Kaur.
I sang a couple of bits and she was like, 'it's Hard Kaur featuring Ashutosh Ganguly. It doesn't go on a single, Punjabi hip-hop kind of dance number.'
I said 'Just call me Ash' and she said it was too boring.
Most of my friends are Afro Caribbean and one of them used to call me Ash King. It's a common style of addressing someone.
That's how Ashutosh Ganguly became Ash King.
WATCH: Ask King sings his favourite songs. Video: Afsar Dayatar/Rediff.com
How does a half Bengali-half Gujarati boy from London juggle life between the UK and India?
I have been living in Mumbai for three years.
Recently, I was thinking, 'Am I Indian?'
People here think I am an NRI (Non Resident Indian) and when I go there, people say, 'You are not British, you are Indian'.
So who am I? I am still searching for the answer.
I don't know what my identity is, but I know that home is wherever my family is.
I live in Vasai (a township on the distant outskirts of Mumbai).
Half the time I live in hotels as I travel for shows.
How much has life changed for you?
Before Bollywood, I was broke.
I had gone to Goa once then and everyone else ended up paying for me.
Now, it's the opposite; I have money.
Now, when I go to Goa, I make sure I pay for everyone.
You feel more secure when you have money.
Before Bollywood, I wasn't even sure I could sing.
I didn't travel anywhere. I am from Southall, London, and I never went out of that area.
After Bollywood, I get to travel, earn money and sing.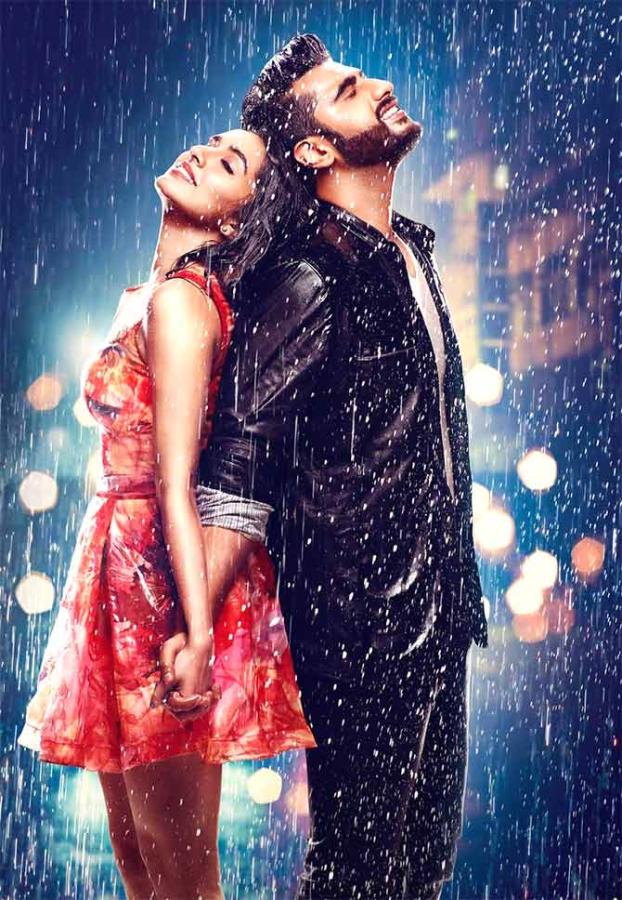 IMAGE: Shraddha Kapoor and Arjun Kapoor in the song Baarish from Half Girlfriend.
How did you get >Baarish?
I was staying in Andheri (north west Mumbai) for two, three years before we moved to Vasai.
Meherbaan (the song from Bang Bang) released, but nothing much happened after that.
I felt I had reached my peak in Bollywood, so I'd go to Vasai, where there was a charity I was working with.
I stay in a bungalow there, where I have got my studio.
I started working on my independent music.
One day, I got a call from (composer) Tanishk Bagchi.
He asked me to come to the studio. Then, (director) Mohit Suri came on the phone and asked me to come over as well.
I went and they were all sitting there. It was intimidating.
They said there's a song they needed me to sing, and that it would release in five days.
They told me that the character in the song cannot speak English.
I went to the studio, sang the song and they liked it.
I didn't realise how big the song would become. These things just happen.
WATCH: Ash King sings Baarish. Video: Afsar Dayatar/Rediff.com
Was Baarish a turning point for you?
Yes.
I didn't have a song after Meherbaan in 2014, just a couple of things here and there.
I sang Carbon Copy in Drishyam with music by Vishal Bhardwaj and Gulzarji's lyrics.
Then I sang Alizeh in Ae Dil Hai Mushkil, but it was an end credit song.
I thought Bollywood wasn't working for me, and I gave up.
Then Baarish happened.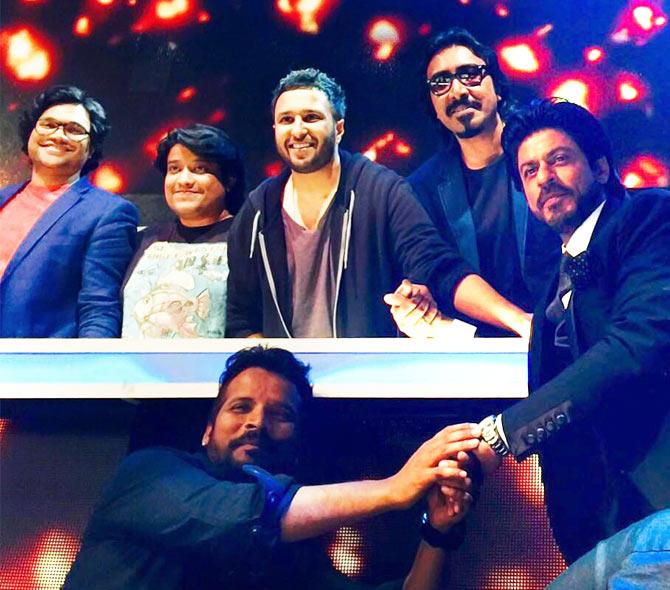 IMAGE: Ash with Shah Rukh Khan and other Bollywood artistes on the sets of the television reality show, Sa Re Ga Ma Pa. Photograph: Kind courtesy Ash King/Instagram
With so many singing reality shows coming up, do you think the competition is intensifying?
I wish it was, but it's not.
The same singers are singing the songs.
How many singers do you see from reality shows singing mainstream Bollywood songs?
Reality shows don't bring in competition.
I was a jury member last year on Sa Re Ga Ma Pa and I'll tell you why.
Firstly, no one sings Western music. I am the only one.
Secondly, Bollywood is mostly Western now. There are hardly 10 to 20 per cent classical singers.
If you are teaching classical music to people on reality shows, how will you prepare them for the reality?
The reality of life is that you have to sing in a studio.
You have to understand how to sing on a studio mic and how to perform live.
No one is teaching them how to deal with the reality of being a singer.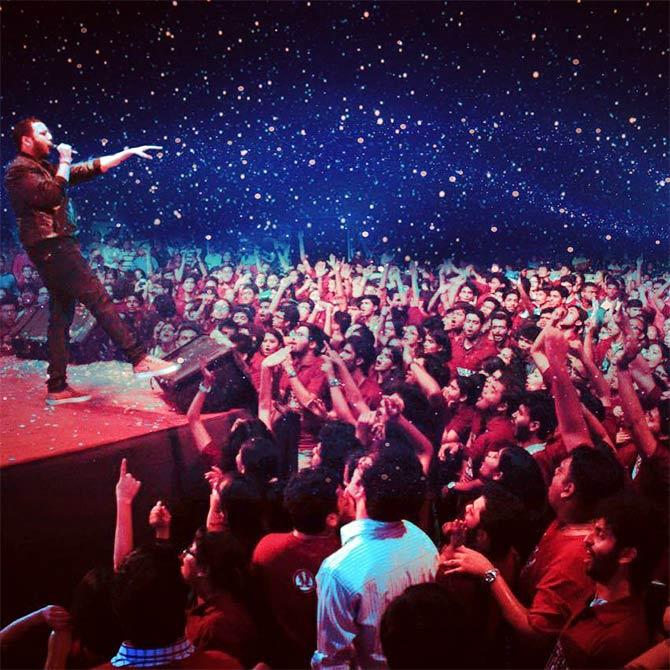 IMAGE: 'I enjoy live shows more because you get to sing to people directly,' says Ash. Photograph: Kind courtesy Ash King/Instagram
You have done live shows. Do you enjoy them more?
Yes, because you get to sing to people directly. In a studio, you sing to a metal mic.
What I enjoy about the studio is you can sing songs in a way you cannot do live.
It's a recording that will be kept forever.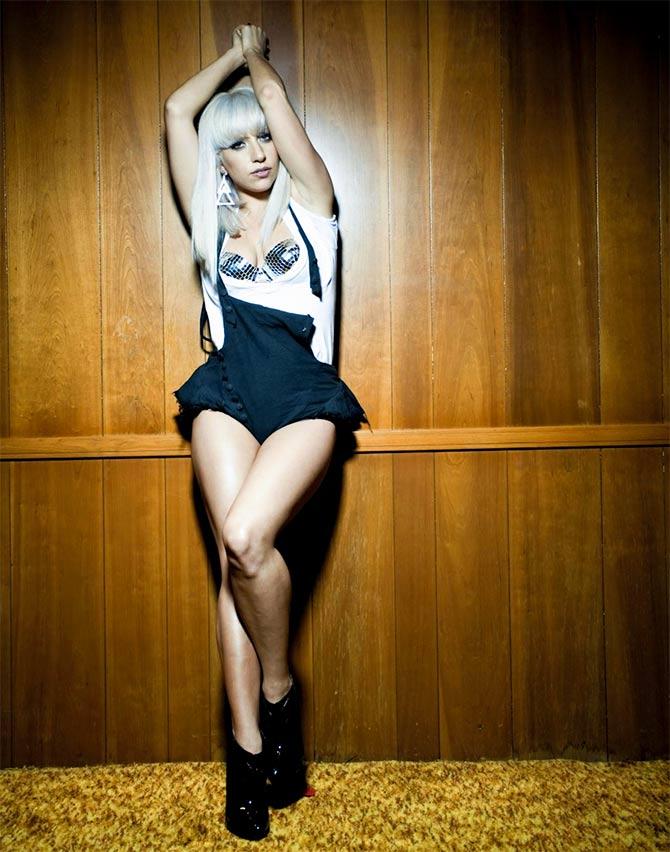 IMAGE: Lady Gaga in Just Dance.
You have been part of a Lady Gaga album.
After I recorded Dil Gira Dafatan, I was wondering what to do.
So I decided to make a remix.
This was around 2009. At that time, Lady Gaga was huge.
Just Dance was popular, and I decided to make my own verse.
I sang it for fun and uploaded it on the Internet.
The same guy, who introduced me to A R Rahman, heard it and said it was really good.
He said he would show it to Lady Gaga.
The next thing I know, she puts it on her single called Bad Romance as Track 2.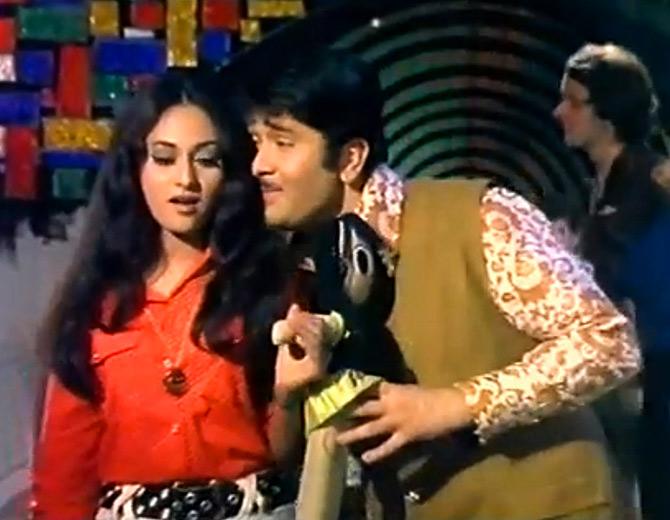 IMAGE: Jaya Bachchan and Randhir Kapoor in the song Samne Ye Kaun Aaya.
A lot of classic songs are being re-created. What is your take on this?
I have done some myself.
As long as you don't ruin the song, it's fine. But you can't be compared to the original.
A lot of the young generation don't know the songs.
When you re-release the songs, they get to hear it and then get the option of listening to the original.
Your favourite male and female singers?
Kishore Kumar and Asha Bhosle.
I also like Roop Kumar Rathod.