Is Pratik fighting just for attention?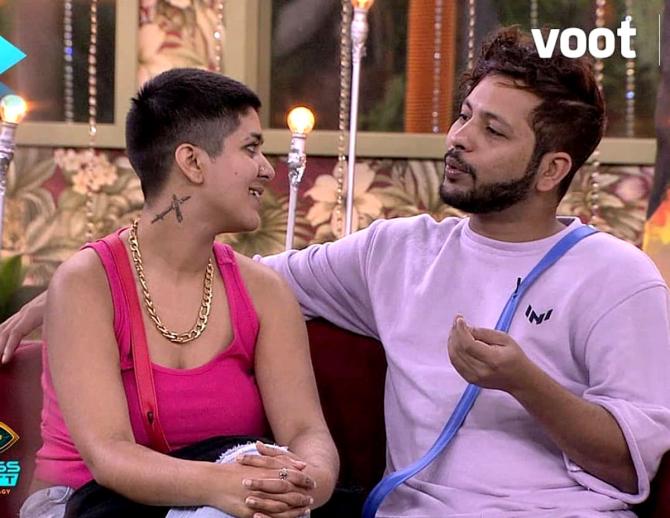 Bigg Boss OTT Day 2 starts with Moose Jattana discussing Akshara Singh and Millind Gaba with Karan Nath and Pratik Sehajpal.
Pratik interrupts Shamita Shetty while she is having her breakfast and tells her that she hasn't cleaned her mug, which is lying the kitchen. It leads to an argument.
Urfi Javed later tells Pratik that he should have let Shamita eat her breakfast in peace.
Divya Agarwal warns Shamita that Pratik is going to annoy and provoke her.
Later, Pratik gets into a heated argument with Divya as she helps Shamita and Karan clean the bathrooms.
Shamita calmly tries to make Pratik understand the situation, but he doesn't budge.
In the living area, Nishant Bhat and Moose also object over Divya helping in household chores not assigned to her.
Neha Bhasin steps in and asks them to stop creating so much fuss over nothing.
While Shamita and Divya are discussing lunch, Pratik once again gives his opinion and this upsets Shamita big time. She looses her cool and gets into a war of words with Pratik.
Divya joins in and both the ladies warn Pratik to stop provoking them for no reason.
Just as their fight turns ugly, Karan sides with Divya and Shamita.
Nishant, on the other hand, tries to support Pratik, but Shamita asks him to stay out.
Divya ends up abusing Pratik and they continue fighting until she walks away with Shamita.
Shamita tells Divya and Karan that Nishant is quietly adding fuel to the fire.
She also decides to ignore Pratik henceforth.
A little later, Moose apologises to Akshara about their misunderstanding and they patch up.
In the evening, Bigg Boss announces a new task for the boys.
The contestant who wins the task, his connection will get her personal belongings back.
Bigg Boss also announces that every day a report card will be given to them regarding how they are doing on the show.
Basing on the verdict, they will either get to enjoy the amenities and luxuries of the house or not.
In the new task, the boys have to carry a doll-like figure on their back with a photograph of their connection.
Every time the buzzer rings, they have to secure a place in the garden area where five rows have been made. Since Divya doesn't have a connection, she is the sanchalak.
Raqesh Bapat is out of the race after the first round.
Karan and Millind are next to go.
Divya disqualifies Pratik from breaking the task rule.
In the end, Zeeshan Khan and Nishant Bhat fight it out.
The latter wins the task and his connection Moose gets her luggage back.
In fact, all the female contestants get a chance to take back some of their belongings.
However, everyone has to decide whether Divya should also get this privilege or not.
After much discussions, the housemates agree that Divya should also get some items back.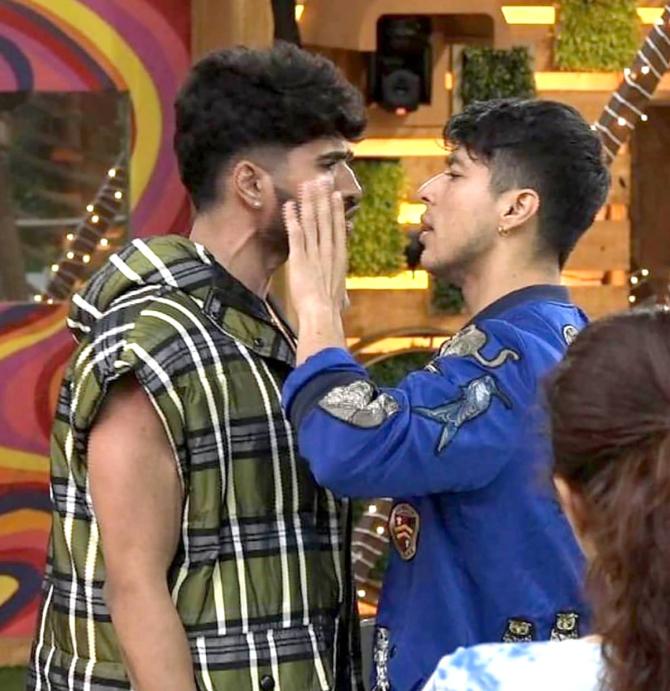 At night, Zeeshan and Pratik get into a fight while discussing house duties.
Pratik tries to make physical contact, but the latter doesn't retaliate.
Eventually, Zeeshan starts ignoring Pratik.
Akshara asks her connection to calm down but Pratik continues to engage with Zeeshan. Ultimately, the latter removes his mic as Pratik doesn't stop his antics.
Before heading to bed, Neha tells Pratik that he is behaving rudely and picking fights just for attention.