The media trains its guns on the contestants. How do they fare?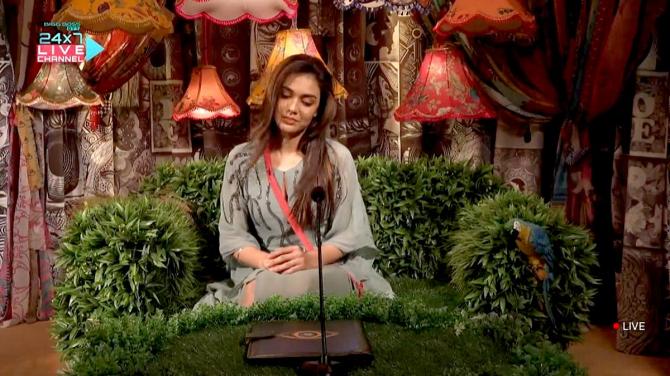 Wednesday's episode begins with Pratik Sehajpal and Neha Bhasin having an intense conversation about their friendship and how people in the outside world may have wrongly interpreted it.
Shamita Shetty joins in and Pratik assures Neha that he will own up to all the things he has done in the house when he goes outside.
Later, Bigg Boss announces that all the contestants are nominated as it's the last week of the show.
The housemates are asked to get ready for a press conference.
The question-answer session starts with Shamita.
She's asked about her equation with Raqesh Bapat and why she is jealous of his friendship with Divya Agarwal.
Shamita replies that she likes Raqesh but wants to get to know him better after the game is over.
As for being jealous of Divya, Shamita makes it clear that she's not. She explains that she got upset when only because Raqesh started spending more time with Divya instead of focusing on their own equation and sorting out their misunderstandings.
The actress is even asked why she forgave Raqesh for gossiping against her, but not Divya. She says that Raqesh was her connection and she had to get along with him to play the game.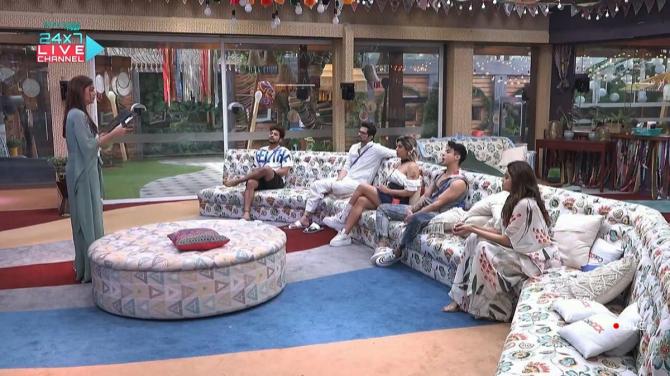 Divya and Nishant Bhat are asked why they keep calling Shamita dominating when they have been equally dominating in the game.
Nishant is also questioned about his friendship with Pratik as everyone thinks it's a friendship of convenience.
Nishant disagrees with the 'convenient' friendship tag and states that Pratik and Moose Jattana were always his priority in the game. He adds that when Pratik was wrong, he always told him upfront and never plotted against him.
His answer does not convince the media.
Divya, on the other hand, says that she had to be dominating in the game as she did not have any connection and had to survive on her own.
A journalist tells Raqesh that he has reached the finale week because of Shamita but it looks like he's suffocating because of their connection.
Raqesh points out that nobody in the game has reached the finale week because of someone else.
When asked about his relationship status with Shamita, the Tum Bin actor says that they are friends in the house and will pursue things once they are outside.
Divya comes under the scanner for discussing Neha's underwear. She's called a misogynist.
Divya tries to explain, saying she only pointed out the underwear issue as she felt it was unhygienic. She adds that Shamita and Neha did the same thing with Moose during the second week and made a big issue out of it.
Shamita and Neha aren't convinced with her answer as they feel she shouldn't have told the boys in the house.
The ladies get into an argument, forgetting they are in the middle of a press conference.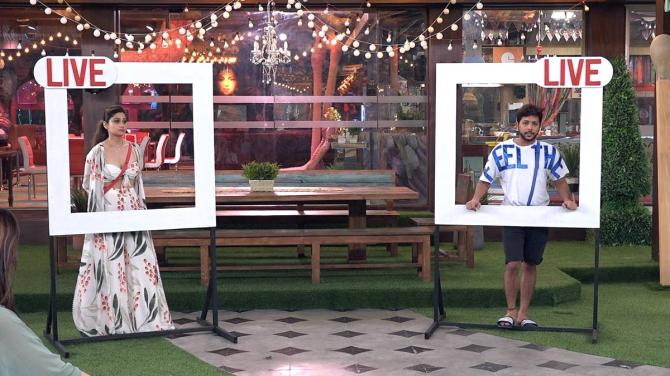 Neha Bhasin is questioned about her equation with Pratik and how she feels about being judged for it.
Neha confesses she has doubted herself only because other people have judged her equation with Pratik time and again. She feels she hasn't done anything wrong and says nobody would have pointed fingers at her if she was unmarried.
Pratik loses his calm when he's asked about his animosity with Divya and why he hasn't sorted things out.
He explains that Divya did not stay in touch with him after their last show together despite them getting along well.
He reveals that she only messaged him three days before Bigg Boss started and that upset him as he felt she did it only for the game.