Tejasswi Pcalls Shamita 'aunty', leaving the latter fuming!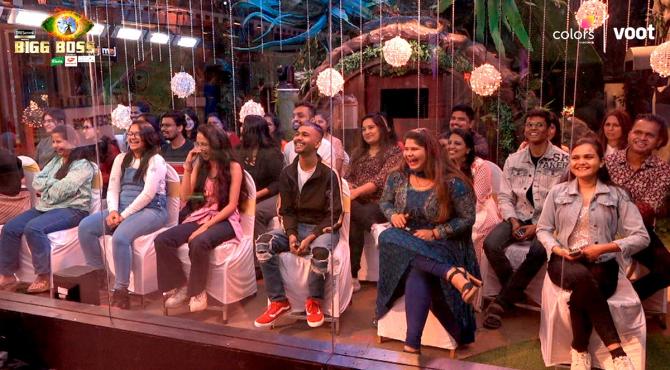 The contestants get ready to perform the last task of the season, called BB Hotel, in front of a live audience.
The task will last for two days, and at the end, the contestant with the lowest score will get evicted.
In the first round, Bigg Boss announces that Shamita Shetty and Tejasswi Prakash will act as the staff and take orders from the audience.
The housemates will also join them.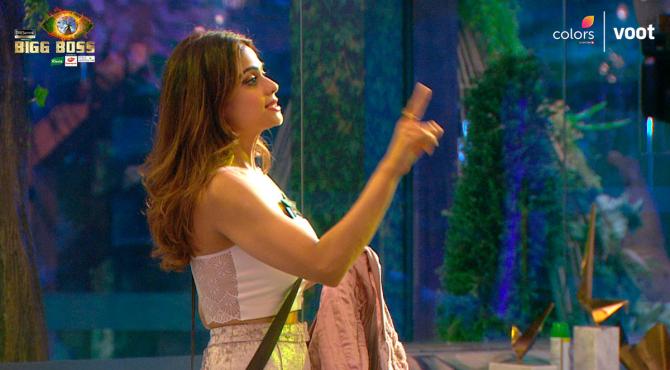 While Tejasswi massages Karan Kundrra, Shamita prepares an omelette for Rakhi Sawant and Nishant Bhat.
Everyone starts cheering for Karan-Tejasswi, but he isn't happy with his girlfriend's massage. He asks Shamita to take over the duty.
Shamita sits on Karan's back to give him a massage. This annoys Tejasswi and she drags Shamita's leg.
Pratik Sehajpal makes sure Shamita doesn't fall from the table.
Tejasswi calls Shamita 'aunty', leaving the latter fuming.
Tejasswi leaves the task midway and Karan convinces her not to create a scene as everyone's watching.
She eventually returns to perform.
After the first round, the audience reveal their scores and Rakhi is at the bottom.
Once the audience leaves, Shamita yells at Tejasswi for showing off her insecurity.
Shamita vents her anger and yells at Karan for not standing up for her and instead supporting Tejasswi when she was at fault.
When Karan tells Tejasswi she was wrong in hurting Shamita, she defends herself.
Karan tells her to apologise to Shamita, and she does.
But Shamita is in no mood to talk to her.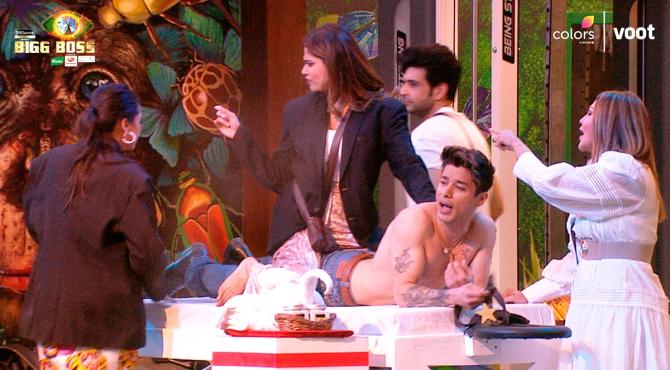 Soon, a new audience enters the house for the task.
In the second round, Nishant and Rakhi have to entertain the audience. Nishant shows off some moves while Rakhi does magic with an omelette!
Tejasswi proposes to Karan in Marathi and Shamita dances to her hit song Sharara Sharara.
In the second round, Shamita gets the lowest score.
With that, the contestants are told that they will get to perform again the next day, and get a last chance to secure their place for the finale.
At night, Rakhi is upset because of her low scores.
(Interestingly, the next day Rakhi was spotted on the streets of Mumbai, and she explains to the media present: 'Mein out ho gayi!')