Karan feels Tejasswi makes him look insecure.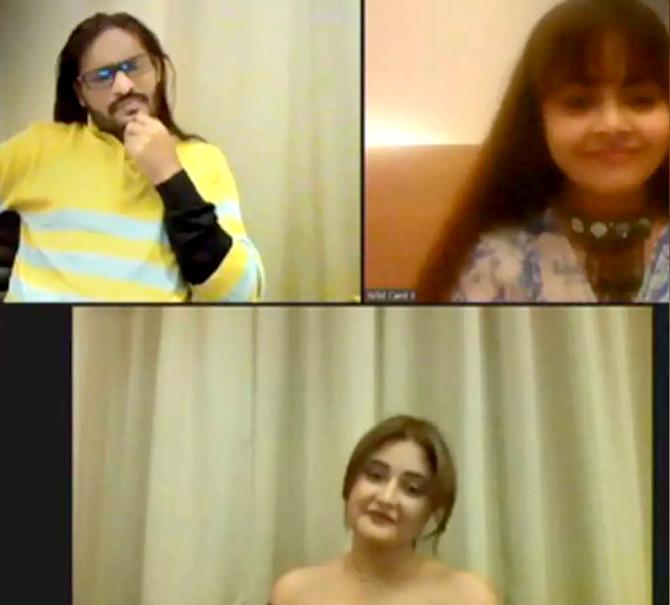 Tuesday's episode begins with the media interacting with the wild card contestants -- Rashami Desai, Devoleena Bhattacharjee and Abhijeet Bichukle -- through video conferencing.
Devoleena makes it clear that she will not get along with Vishal Kotian as he isn't a nice person.
Abhijeet fails to impress the media with his answers.
Rashami, on the other hand, says she will try and keep her temper in check, especially during nominations.
Both Rashami and Devoleena state that they would only make friends and alliances once they go inside the house and understand the game.
The press conference ends and the three wild card contestants will enter the house once they are done quarantining.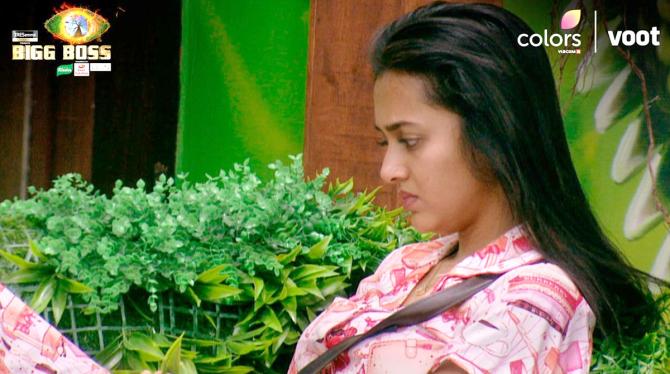 Back in the house, Vishal chats with Tejasswi Prakash and Karan Kundrra about Shamita Shetty overreacting in front of the press.
Tejasswi tells Vishal not to use the word 'maal' for anyone as it objectifies women.
The next morning, Umar expresses his disappointment to Vishal for making fun of his profession.
He tells him, Tejasswi and Karan that he won't take any crap, as he considers them as his friends.
Vishal apologises.
Vishal discusses Jay Bhanushali and gets emotional, saying he doesn't understand why Bhanushali has so much hatred for him.
In the garden area, Karan talks to Tejasswi about her friendship with Vishal. He says Vishal isn't trustworthy and yet she continues to stay friends with him.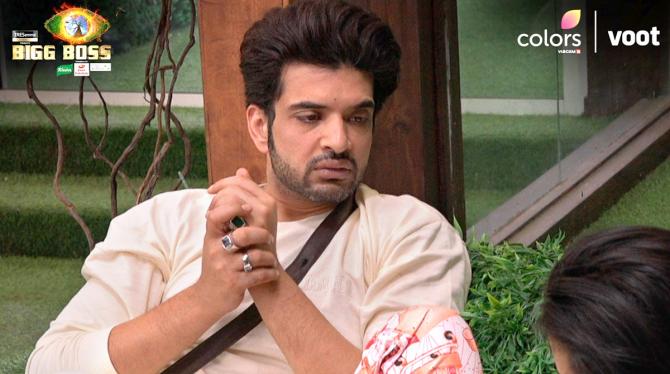 Tejasswi says Vishal and she have been close since day one. Karan tries to maker her understand that everyone feels he isn't genuine, including Shamita.
Tejasswi turns the conversation about Shamita and this irks Karan further.
Both of them say hurtful things to each other.
Karan states he will start avoiding her if she keeps reacting the same way.
Later, Karan approaches Tejasswi and tries to sort things out with her.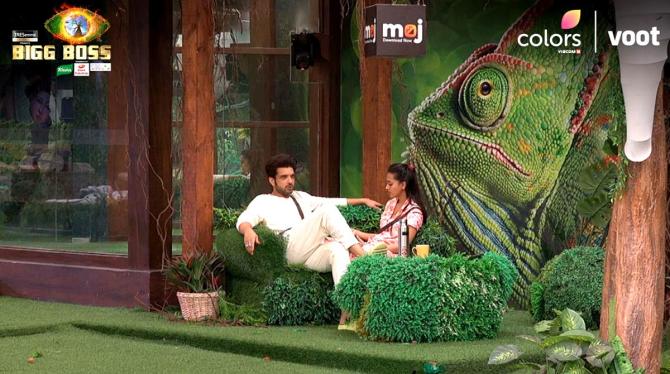 Karan gets annoyed with Tejasswi when she works out with Vishal, not him. Neha and Jay tease Karan that someone isn't happy with him.
In the kitchen area, Shamita, Pratik, Rajiv Adatia and Nishant Bhat indulge in friendly banter regarding Tejasswi-Karan-Vishal's bizarre equation.
When Tejasswi tries to talk to Karan, he gets angry with her and asks her not to provoke him.
Tejasswi apologises and Karan says she's making him look insecure because of Vishal.
They have a tiff again, with Karan eventually walking away.
In the afternoon, the lovebirds patch up again.
Karan tells Tejasswi he's very possessive about her and doesn't like when others try to do things for her.