'I worked on my weaknesses like dressing up and wearing makeup. I started dancing.'
'I guess that wasn't enough.'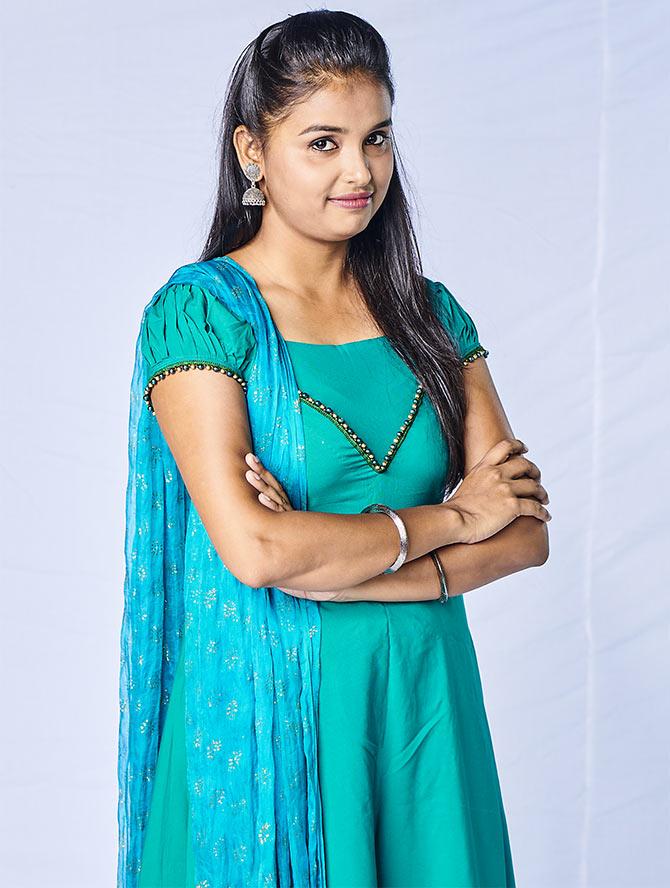 Bihar girl Urvashi Vani, who entered Bigg Boss with singer Deepak Thakur, has been eliminated.
Yes, dear readers, your prediction has come true as always!
Urvashi claims she was a fan of the Gangs of Wasseypur singer and believes in the guru-shishya relationship.
They never admitted to being a couple and stayed away from each other during the show due to the differences that developed between them.
Like all the other evicted contestants, Urvashi also feels she should have stayed longer in the house.
"I worked on my weaknesses like dressing up and wearing on makeup. I started dancing. I guess that wasn't enough.
"I was not very good at shouting, fighting and creating drama. Nevertheless, I enjoyed my stay and I will miss Bigg Boss. But not Deepak because he is busy with his gameplan."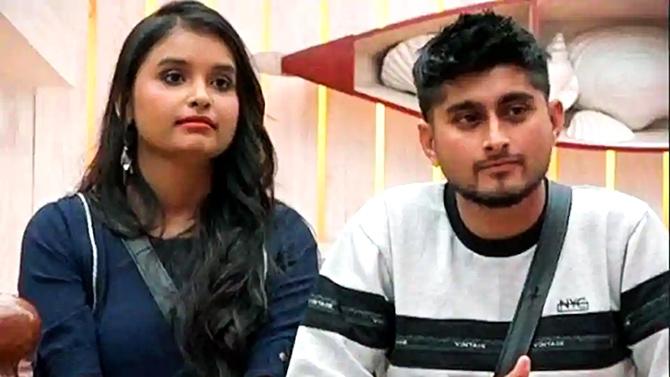 "There was a lack of understanding between us. Deepak and the other Bigg Boss contestants were always involved in planning and plotting, which I never liked. You should go with the flow instead of strategising the game. In fact, the people, who are planning and plotting are getting trapped in their own net."
She adds she knows Deepak better than the other contestants in the house.
"I would speak to him over the phone before the show," she says. "I must have met him thrice in the last three years. I got to meet him for a few hours, just three days before the show. I really don't know much about him as a person but I was shocked to know his reality inside the house.
"For how long could I let him play with my self-confidence? I had to vent out my anger some day, so I threw the sipper in rage. After that, I ignored him completely.
"We had a celebrity and fanwala rishta. I don't love him. He has changed a lot inside the house. I am not sure if I will talk to him again.
"When I needed his support inside the house, he didn't give it. Then why would I want him outside?"
Urvashi feels Romil Chaudhary and Deepak are playing a dirty game.
"Romil is shrewd but he is getting trapped in his own net. He talks behind everyone's back. He doesn't talk about me, as I had a fight with him sometime back."
Deepak's attraction towards Somi Khan has cracked their friendship further.
Is it his strategy or is the love genuine?
"It can be a strategy as this has come up recently," she replies.
Urvashi feels most of the contestants are not revealing their real selves in the house.
"The way people show their irritation, fight at every little thing and hurl abuses, I don't think they behave like that in their real lives. So maybe everyone is fake," she says.
"The ones who play with their heart will win. Karanvir Bohra can win if he starts playing well," she adds.
Urvashi says she will continue her friendship with Srishty Rode, Karanvir and Dipika Kakar after Bigg Boss.
"Sreesanth will continue to be my brother. He was very loyal towards me," she says.
What next?
"I will continue singing. Acting is not possible. I might enroll in a fashion designing course," she signs out.