'All the footage -- where I told Priyank to accept his feelings and that he loved me -- was a big fat joke between us.'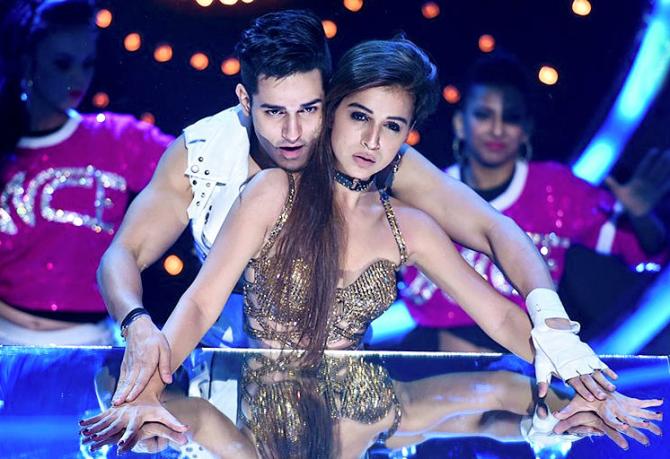 IMAGE: Priyank and Benafsha perform on Bigg Boss 11's first episode.
Benafsha Soonawalla has been evicted from Bigg Boss 11.
Rediff readers had predicted this!
Her closeness to Priyank Sharma didn't save her from eviction.
Once out of the house, Benafsha rubbishes reports of a romance with Priyank and says everything between them was just a joke and some 'drama'.
Rajul Hegde listens in.
Did you expect elimination?
It was very shocking because of the weird nomination.
I really wanted to stay in the Bigg Boss house.
I didn't get involved in the first two weeks. When I did get involved, people went against me.
But all of us had a lot of fun. I have some really good memories.
I made some good friends in the house. Even though I had some ugly fights, I don't hate or dislike anyone. I love all of them.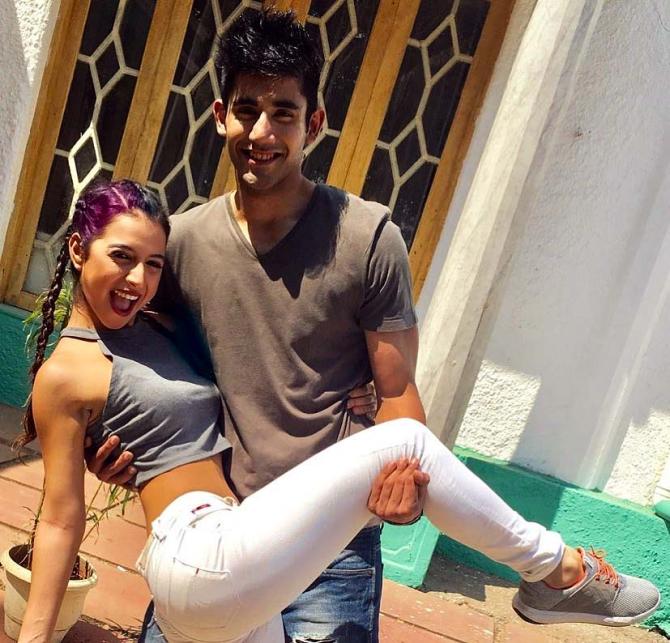 IMAGE: Ben with her boyfriend Varun Sood. Photograph: Kind courtesy Benafsha Soonawalla/Instagram
Tell us about your friendship with Priyank.
It is pure friendship.
I want all the rubbish rumours and the bizarre statements that people are making to stop right away.
All the footage -- where I told him to accept his feelings and that he loved me -- was a big fat joke between us. It was merely to irritate him.
I would smack his head later and tell him it was for fun.
I know it looked wrong, but trust me, it was a joke.
In a house like Bigg Boss, if you have a friend who you can trust with all your heart, you form a special connect. But that doesn't mean it's love.
If I was looking out for love in the show, why would I have been vocal about my relationship with Varun (Sood) outside?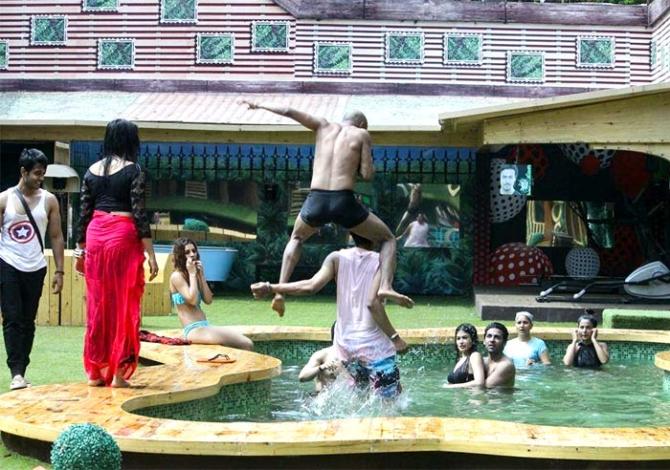 IMAGE: The contestants have a fun time in the pool in Bigg Boss.
People felt you did it to survive in the house.
There was a smirk on my face throughout when I said things.
It was not a big deal, but people went crazy over it. I don't know how to handle it.
I went to his bed for emotional support.
I went as a friend and said sorry to him. Then, I fell asleep.
After I woke up, I went to my bed.
I should have been careful because people say such bad things about such issues and they give strong opinions.
There was absolutely nothing.
I care about my reputation and image, not the camera.
The camera is not as important to me as my dignity and image.
I didn't do anything for the camera's attention.
I was joking; I have no filter.
I should have thought of how it would come out and how people would think of it.
It's really sad whatever has happened. I hope things get cleared up soon.
You went against Hina Khan, but recently, the two of you became friends.
It was for real as well as a friendship of convenience -- she has done a lot of b******g about me behind my back.
I am very disappointed because I would never do that to a friend.
When bad things happen in the house, you bank on your friends, but she did not consider me that good a friend as I did.
I would never do that to her.
Is there anyone you dislike in the house?
I had problems with many contestants, but I don't dislike anyone.
I had fights with Akash Dadlani and Puneesh Sharma, but I don't dislike them. In fact, I like them.
How do you describe Hina Khan?
Confusing.
Shilpa Shinde?
Lovely. I like her vibes.
Hiten Tejwani?
A great man.
Priyank Sharma?
Amazing friend.
Puneesh Sharma?
Sweet.
Sapna Choudhary?
Good thinking.
Akash Dadlani?
Funny, mad.
Arshi Khan?
She has adaah (style).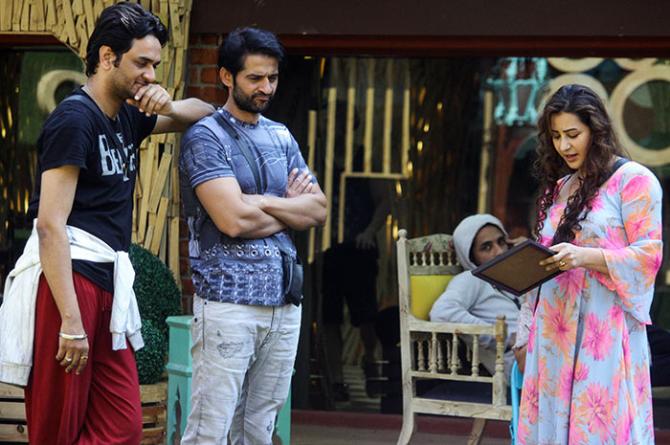 IMAGE: Vikas Gupta, Hiten Tejwani and Shilpa Shinde in the Bigg Boss house.
Whom will you miss most?
Vikas and Priyank.
Vikas has been very supportive throughout. He has always been there for me, whether or not he lost his cool.
Priyank has been a genuine friend.
Who do you think will be the finalists in Bigg Boss?
Vikas, Hiten and Shilpa are playing well.