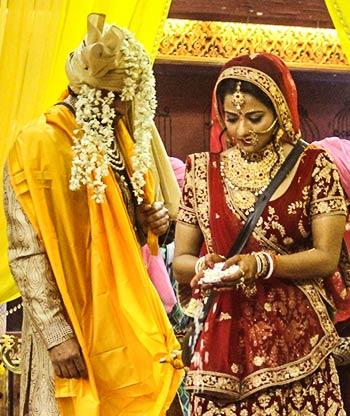 How can one of life's biggest events make you yawn, wonders Divya Nair.
Highlights
Mona's family and friends enter the house.
Mona-Vikrant tie the knot.
It was promoted as one of the biggest events to look forward to -- Mona and Vikrant getting married on Bigg Boss 10.
Mona, who was apparently flirting with Manu, upset her fiancé Vikrant. Just when everyone wondered if the two would split after the show, Vikrant proposed marriage and Mona said yes.
Then came the big revealation -- the two would tie the knot on national television.
Yay!
Everyone was excited. Or at least pretended to be...
Why? Falling TRPs, I assume!
Everyone wore designer clothes, shook a leg, exchanged courteous hugs with people they had never met and pretended like they'd known each other forever.
Guys, we've seen more realistic acting on music shows and at awards functions.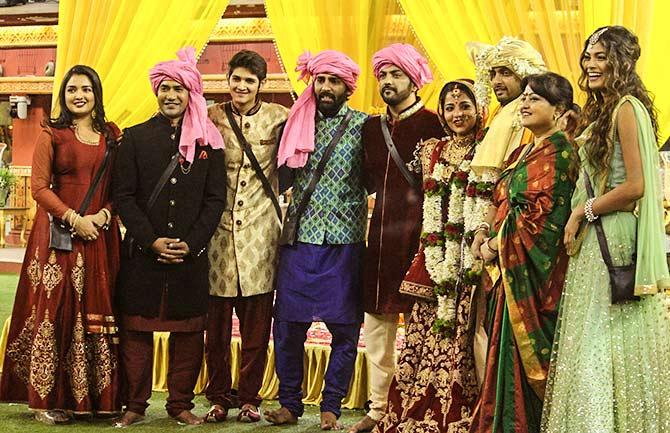 Strange that an important event like a wedding takes place and except for the mother, there are no family members to bless the couple.
How much do you think the couple would charge for this staged affair?
Just too much fakeness in one episode to handle!
The mother shed a tear, and that seemed a wee bit real.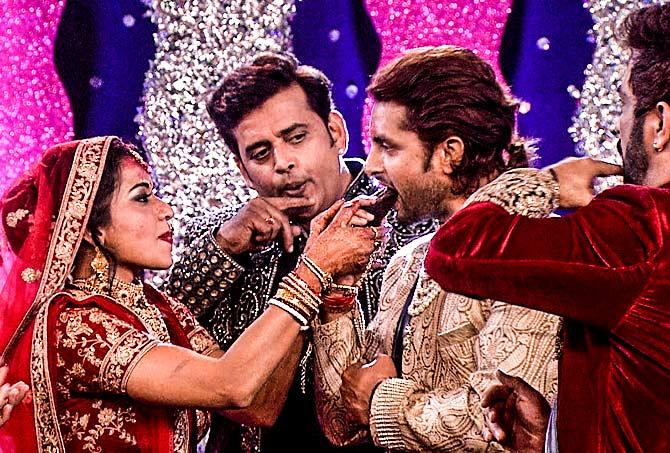 To salvage the show, Bhojpuri star Ravi Kissen entered the house for the reception and danced with Bani and Lopa. But some minutes later, even he fizzled out.
After the celebrations, the guests left and the two (who in the previous episode couldn't keep their hands off each other) headed to a separate room for the inevitable.
To the relief of us viewers, the cameras chose to look away.
In all this, the only person who seemed happy was Manu.
Relieved that he won't have to explain to his girlfriend Piku or anyone who had misjudged his relationship with Mona?
He even claimed that Rohan was feeling insecure that Mona took away two days of attention in the guise of marriage.
Shaadi over, now what Bigg Boss? Will Mona say goodbye to the house on the pretext of a honeymoon?