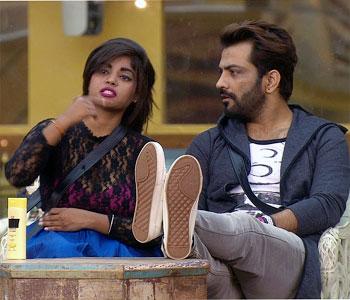 Salman appeared to compares Manu's jail term to his own, Divya Nair felt.
Hand resting on his chest, Bhai declared, 'Yehi hota hai jab koi nirdosh ko jail hoti hai.'

Chief strategist Navin was evicted over the weekend and the female-hating bully trio has been reduced to two.
The duo were seen sulking that the 'only other male member in the team who was intelligent' had gone.
In Friday's episode, Bani and gang won a team task.
Manveer and Lokesh, who were in the opposing team, had a tiff seconds before the task and it was good to see Lokesh stand up to the bully.
It didn't matter that Lokesh lost the task -- she also stood up to Mona who screamed at her for not understanding the task.
For the first time, viewers could see why Mona is not the abla nari she claims to be.
Manu and Manveer, your influence on Mona is paying off.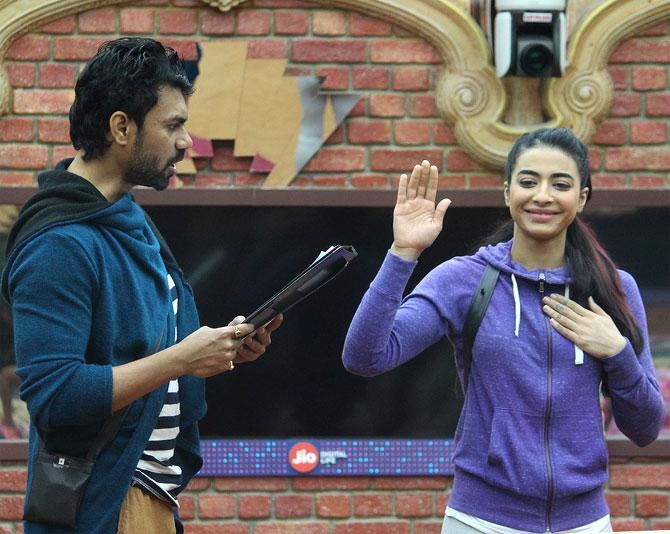 IMAGE: Gaurav with Bani on Bigg Boss 10.
In the Weekend Ka Vaar, Salman Khan played some videos for the housemates to show how Rohan, Karan and Rahul spend most of the time lazing in their beds.
While he felt the celebrities are boring, both in the tasks and in their performance inside the house, I wonder why all those evicted from the house so far are commoners -- Priyanka Jagga, Akanksha, Navin.
I also felt Salman is biased towards Manu and Manveer.
In previous seasons, we have seen him pull up Gautam Gulati, Vindoo Dara Singh, Ajaz Khan, even Suyyash Rai for disrespecting women, but that hasn't happened this season. I wonder why.
On Sunday, former contestants Tanisha Mukherji and VJ Andy shared their feedback with the housemates and that stirred up emotions.
Bani, the confused captain of the house, couldn't quite convince anyone why she picked Manu to go to jail.
Salman appeared to compare Manu's jail term to his own.
Hand resting on his chest, Bhai declared: 'Yehi hota hai jab koi nirdosh ko jail hoti hai.'
Really, Salman, really?!
I also didn't like the way Salman picked on Nitibha for not parting with her make-up, thus nominating Navin.
Bhai, Karishma Tanna survived the whole Bigg Boss 8 season and was a finalist despite her unreasonable attachment to make-up.
For all that he has done in the house, Navin deserved to be nominated.
No girl -- including Lopa or Mona -- would have parted with their make-up through the season to save the cheater.
Mona may say what she can on camera, but as an actor she knows how important the beauty kit is for her, if she has to stay on in the house.
With that dislocated arm and gameplay inside the house, Navin may need to do some damage control if he intends to go back to teaching IAS aspirants.
After Sunday's episode, housemates must curse Nitibha for taking the Immunity Medallion and reducing the winning prize money to half.