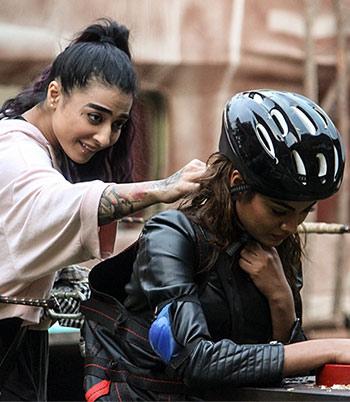 How far will Lopa go to retaliate against Bani who gave it her all to annoy the beauty queen, asks Divya Nair.
Highlights
Marriage changes Mona
VIDEO: Vikrant leaves the house, Manu and Manveer pull Mona's leg. Bani irritates Lopa during the task.
For the first time in 95 days, Monalisa chose not to dance to the morning song.
Later, making a sad face, she told Manu and Manveer that she felt more 'responsible' after marriage.
She kept her distance from Manu and spoke very little.
Vikrant, your entry has clearly ruined Mona. The barely active actor has further sunk into her shell after the shaadi.
Will you also stop her from doing item numbers?
I am assuming you two have earned enough pinkbacks to afford this transformation.
Bani annoys Lopa again!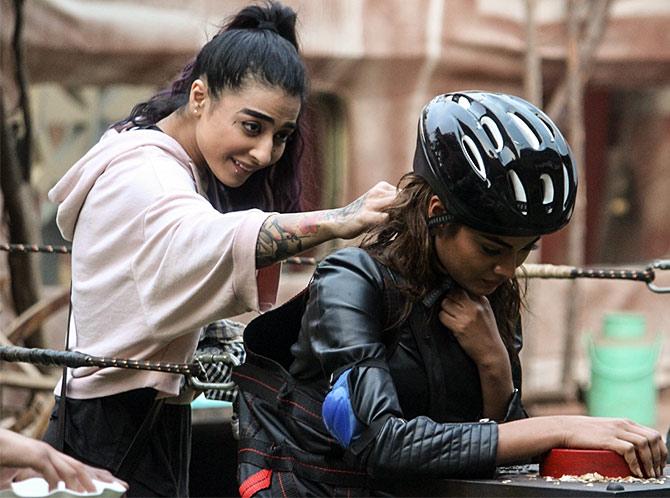 IMAGE: Bani targets Lopa.
Bani picked the perfect target in Lopa and continued to annoy her by pouring oil, water, ice cubes and curd on the contestant.
While defending herself, she displaces Manu from the task and later, even lifts her hand to secure her place.
Despite Rohan and Bani noticing, Lopa acted stubborn and stuck to the task.
The beauty queen gave in only after Bigg Boss interfered.
Grow up, Lopa, don't feed your ego so much. It's okay to lose. You'll have your turn later.
Yay! Manveer wins immunity
IMAGE: Manveer, who's played the game fair and square, and won hearts.
Just when everyone assumed that the first finalist of the house would be safe, Bigg Boss' task suggested that Manveer is not safe and would have to secure immunity like everyone else. Fair enough!
And boy, this commoner proved once again why he deserved to come this far.
Like a true sportsman, he let Bani and Rohan annoy him till the end of the task.
He didn't get annoyed like Lopa, complain or even fight back.
He braved the cold, slippery and distracting elements and completed the task like a true winner.
Manveer, I really hope you win this season.
If there is anyone who's played the game fair and square, and won hearts, it is you.