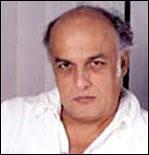 M
ahesh Bhatt, dressed in his trademark black, is at his Juhu residence but says he has to leave soon to attend a forum representing the all India Christian council where fund inflows have been scrutinised by a political party.
"They think all these funds to missionaries are being used to convert people," he explains, and justifies his presence with the "I'll be on any secular platform" argument.
Life for him doesn't end with films. In fact, it begins when he walks out of the film set. "Cinema is not part of my entertainment," he says, flummoxing me.
"It is my work. I find meeting new people, addressing issues on platforms like news channels, or getting a taste of reality in downtown Srinagar far more gratifying."
Sure, he does, and when he isn't watching UNICEF communication DVDs in his spare time, he is researching data he wants to use in his forthcoming movie, Blue Film.
Bhatt has studied the porn film industry worldwide and will make no bones about mentioning how large communications corporations and hotel chains make their green bucks riding on the lucrative industry.
Blue Film
is about a hidden camera that films a young couple making love. The clip then makes it to World Wide Web. After the wife gives into societal pressure and commits suicide, the husband, with the help of a pornstar (played by item girl Deepal Shaw) tries to crack the seedy world of pornography.
"The documentary by broadcasting group PBS that I am studying enumerates how a hotel company actually makes more money selling porn in hotel rooms than it does selling alcohol," he explains.
Blue Film
will be directed by Mohit Suri, a young gun from Bhatt's stable Vishesh Films, who struck gold at the box-office with the murder-mystery-adultery potboiler
Zeher
starring Bhatt's nephew (and smooch sensation) Emraan Hashmi, Shamita Shetty and Udita Goswami.
Zeher
released the same week as multistarrer
Tango Charlie
(with Ajay Devgan, Bobby Deol and cameos by Sanjay Dutt and Suneil Shetty). While the latter bombed miserably, Bhatt's modest yet slick urban crime drama has generated the moolah without the hype of any major stars.
But that's something of a habit that the Bhatt brothers -- Mahesh and Mukesh -- have acquired.
And while sex and titillation are at the forefront of all their film campaigns, Mahesh has never been apologetic. "Why should I? I am doing it for money, not critical acclaim. It's the eternal fight between the village priest and the dancing girl. I'd much rather give instant gratification to the viewers than moralistic promises of a future -- which is the purpose of every religion -- that I'm not sure about. I have to cater to the tastes of the front-benchers who whistle when Udita drops her dress in Zeher," he says.
Bhatt is a front-bench loyalist. After all, they assure him the financials. "My last film as director, the National Award winning Zakhm, barely managed to break even. So why should I listen to so-called sensibilities of a handful of critics?"
However, if one looks at Bhatt's films carefully, the sex and sleaze is a miniscule fraction of the overall story he tells, though it looms large in the publicity campaigns.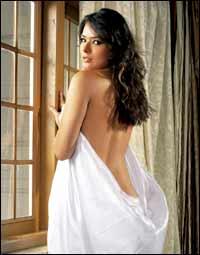 "At the end of the day, I have always given the audience the tale of the return of the prodigal (Zeher, Murder) or in cases like Jism, where the hero falters and suffers, it's the 'price of deviation' theory of Tolstoy," he explains.
So when a lot of us complain about how his progressive characters like a liberated Bipasha Basu in Jism are shown as hapless before their fates, Bhatt says he has been following the eternal road to perdition theory of the Roman Catholic Church. "It's what the people want," he says.
He should know. More than 50 films old, Mahesh Bhatt has decided that he will never hold the megaphone again.
"I faced failure in my 20s, success in my 30s with films like Arth, Janam, Naam and Saaransh, and consciously re-invented my genre with a younger brand of films such as Aashiqui, Dil Hai Ke Maanta Nahin before moving on to the current crop of noir films. But I felt somewhere in the mid-1990s, when television came around, that I was losing interest, and it was the most dishonest phase of my filmmaking career. Most of my films were done by my assistants, and going to the shooting floor was a nauseating experience for me."
So, with the National Award for his autobiographical work, Mahesh Bhatt gave up direction. "And look what happened," he is honest enough to confess, "the company flourished with younger blood at the helm of films. I realised that the only thing that was preventing Vishesh Films from growing was me."
With around three films a year and a healthy Rs 30 crore turnover, Vishesh Films -- helmed by Mahesh and Mukesh -- is growing great guns. Without relying on any single star. "It's always better to make a hero than lean on one," Bhatt says. "My goal is to emulate China in the filmmaking business, not Los Angeles."
And what about the controversies that always court his films? Obviously, that's intentional and by design, he lets us know. "I don't have publicity budgets to splash across, so I have to be sensational so as to be absorbed by the media. At the end of the day, by contextualising oneself with societal trends, I appeal to media sensibilities."
No one can argue that from Mallika Sherawat's dare-bare act in Murder to the posters of Rog to the first ever Indo-Pak venture on celluloid, Nazar, his imaginative tweaking of products to generate hype is what marketing bigwigs with sophisticated tools and fancy budgets haven't been able to match. What's more, he translates this hype into real money.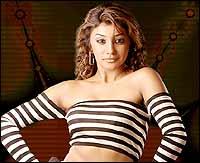 "I have only an appetite for masochistic truth, and only box-office collection figures interest me," he proclaims. "I've always told my brother that we are in the glamour manufacturing business, but we should never believe in it."
According to Mahesh Bhatt, he is like a rocket that, after a certain distance, must burn out and discard the part that was meant to self-destruct.
He may be flying high, constantly discovering new directors, musicians, voices and actors, but he realises that for the cinema of today, his idioms are overused, his style of storytelling outdated. Like a Narayana Murthy, he knows it's his time to mentor fresh talent and ideas.
Mahesh Bhatt has the balcony view to his ideas now, and with younger blood breathing life into Vishesh Films, he knows it's a great view, at least of the bank.
And on the cards are:
Nazar:
The first Indo-Pak co-production starring Ashmit Patel and Meera, it was in the news for the leading lady's 'unorthodox' behaviour onscreen.
Pegged also at the global Indian Diaspora, it could be the first overseas territory tasting for Vishesh Films.
Blue Film:
Mohit Suri directs item girl Deepal Shaw (portraying a pornstar) and ex-child actor Kunal Khemu (
Zakhm
) in this gripping tale of a small town man's fight against the global porn racket.
Showbiz:
Will deal with the story of the winner of an
Indian Idol
-like talent hunt who then becomes a meal ticket for everybody around him.
Actress:
The story of a small-town Red Riding Hood's journey into the big bad world of glamour wolves and how she re-invents herself.
An untitled project: To start next year, starring Pakistani actress Meera, will uphold the cause of battered Asian wives in Bradford, UK, who are used by their exploitative husbands to smuggle narcotics.