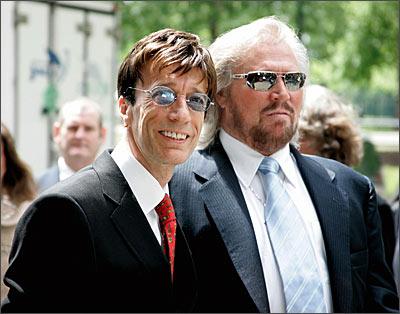 Bee Gees' songs have instigated a musical to be written for London's West End.
The project, which was already in the pipeline and could be ready for airing in the next 12-16 months, was announced by Robin Gibb as he unveiled a green plaque in central London honouring the group's achievements.
Robin said the plaque was an honour to his twin Maurice who died in 2003, as he unveiled it on the facade of the former home of the band's manager and producer Robert Stigwood, where they spent time rehearsing and composing songs between 1968 and 1980.
The tribute at 67 Brook Street in Mayfair is where the band wrote hits including Diana Ross's Chain Reaction and Dione Warwick's Heartbreaker.
The Bee Gees, comprising of Barry, Robin and Maurice Gibb, were one of the biggest acts of the 1970s and won multiple Grammy Awards during their career.
Gibb also revealed that it was at Stigwood's place that they first met actor John Travolta for the making of the film Saturday Night Fever.
At the unveiling of the plaque on Saturday May 10, Gibb spoke in remembrance of his twin brother.
'It's very special and more so because of losing Maurice in 2003 my twin brother,' BBC quoted him as saying. 
 
'It's an honour to him because he is no longer with us and because it is bringing up memories. It used to be a hub for meeting up and writing,' he added.
The tribute is the latest in a long line of green plaques celebrating the achievements of some of Westminster's most famous former residents, including Oscar Wilde, TS Eliot and Jane Austen.
To date, 77 plaques have been erected by Westminster Council to commemorate buildings in the city associated with people who have made lasting contributions to society.
Text: ANI | Photograph: Getty Images
In the photograph: Robin Gibb (L) and Barry Gibb of The Bee Gees at an event.